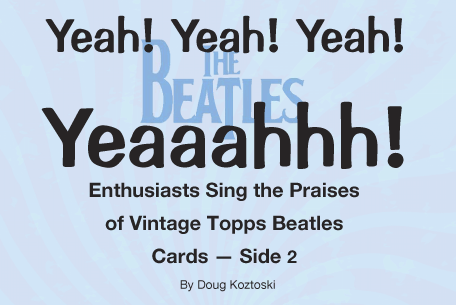 Bubbling with anticipation, a sea of young TV studio audience members exercised quickly evaporating patience. So, it was no surprise that just barely after variety show host Ed Sullivan finished saying, "Ladies and gentlemen, The Beatles," a flood of fans screamed with delight and helped welcome John, Paul, George and Ringo on their first and most famous appearance on the program: February 9, 1964.
Even though most people saw that historic broadcast in their homes that night via black-and-white TV sets (since color TV sets remained somewhat uncommon for a couple more years) it seemed almost as if pop culture in the U.S. and elsewhere switched from monochrome to living color that evening.
"It was a life changer," said Harry Kleiman, who as a youngster in Miami watched The Fab Four on that memorable night. "The Beatles changed everything, the way we dressed, the way we looked, music, it was the beginning of the generation gap," recalled the collector.
"I saw the first Black-and-White Beatles cards within about a month of that show," said Kleiman. Two more non-color sets, the hobbyist added, soon followed. (SMR's June issue highlighted that trio of Beatles sets).
Kleiman, who owns several Beatles cards on the PSA Set Registry, said the group's Color issue came out around the time of their 3rd Series Topps Black-and-White cards, followed by the full-color Diary offering. Pasteboards from the band's movie "A Hard Day's Night" rounded out the 1964 Topps regular Beatles sets. Other Beatles card collectors confirmed that basic distribution timeline as well.
When I'm 64
"The Color set is amazing," said Kleiman. "It includes images from "The Ed Sullivan Show" and to see the Beatles in color, their clothes, their guitars and the stage, was great then and now."
The Color collection clicks with Gerry Fitzgerald, too. He knows that set's look better than anybody since he recently reached the #1 ranking for it on the PSA Set Registry. Fitzgerald now sits atop the registry for all six regular-issue 1964 Topps Beatle offerings, All-Time and Current Finest. He said earning that accomplishment feels "amazing."
The enthusiast and several others emphasized that many of the Color cards are, all together now, "off-center," on average.
David Halpen said the Color set "drew me in." Halpen noted that certain Color photos in particular are consistently in high demand. "Cards #1 through #4, all headshots, and the last card (#64) are the most popular and they definitely sell at a premium," he said.
Except for card #47 (picturing Ringo Starr and John Lennon), all of the Color cards have at least one PSA MINT 9 sample, but only a handful from the set have made PSA GEM-MT 10, out of some 3,000 graded. With about 45 examples of each card residing in PSA holders, a solid number of PSA NM 7s and NM-MT 8s of all Color photos exist.
Wording on most of the PSA holders for the Color issue might confuse some novice collectors since who is shown on the card front is not often who answers a question on the back, so the label can seem like a typo. For instance, card #56 is listed as "Ringo/Paul Speaking," Ringo the drummer is shown on the front, but McCartney's response to an inquiry is on the reverse side.
The Color and the 3rd Series Black-and-White cards are the two most common 1964 Beatles issues found in higher grades and some of those entered the hobby about four years ago, according to dealer Mickey Campbell. "We purchased and opened four vending boxes of the Beatles cards – one Color and three were 3rd Series Black & White," said the owner of Mickey's Sportscards in Colorado.
"The Color vending box we opened of 500 cards did not have enough distribution to make even one set," he said. "In fact, there were probably no more than 35 different but they looked great and clean."
Yet, Campbell submitted only 25 of those Color vending cards to PSA for grading due to centering issues, but the ones that made the cut, he said, "did get mostly 8s and 9s." The dealer said the Color vending experience was noticeably different with the 3rd Series Black-and-White boxes since the latter cards were much better centered on average but, there were many double prints and possibly some triple prints.
Do You Want to Know a Secret? Do You Promise Not to Tell?
The other full-color Beatles card issue from 1964 contains diary-like entries against a notebook page background on the flipside of the photos.
Fitzgerald said the Diary set is "by far" the hardest to find in high-end condition.
Halpen characterized the Diary card centering issues as "just brutal." After several vending box finds, he added, "it's still hard to get even a PSA 9."
The PSA Population Report validates that statement. With around 1,550 Diary cards graded, only about 85 samples have landed in a PSA 9 holder and there is a single PSA 10 (#49A—Ringo). Diary PSA 8s (525) are prevalent. A few other cards in the set garner only a PSA 8 or 8.5 grade at best, excluding qualifiers: (3A, 7A, 14A, 18A, 20A, 29A, 32A, 60A—with all band mates on that playlist).
Whatever band member's words are featured on the backs of the 60-piece Diary issue is the one listed on the PSA holder label, so seeing a different name on the holder from who is pictured on the card fronts is common, similar to the Color set. And, Halpen pointed out that some shots from both sets seem to be from the same photo shoots.
Now Playing
By the summer of 1964, the Beatles' movie "A Hard Day's Night" arrived at theaters and quickly became a huge hit in the US, the UK and in many other locales. Topps distributed a card set based on the film, which still receives strong reviews, soon after the movie debuted.
"The set has a sepia-tone," said Fitzgerald, "it's a bit different." The avid Beatles fan said the "Hard Day's" pictures are "great both from the movie and behind-the-scene shots and they are very clear."
Fitzgerald said the movie issue also captured something extra. "It seemed to catch Beatlemania at its peak. This is how they looked, the haircuts, everything else, they seem relaxed, they had "made it" in the US," he said.
Halpen, who described the Beatles movie issue as "a fun and challenging set with unique imagery," said the collection is easily identified on the PSA label by the first few words of text on the card backs.
The finer condition Population counts on the 55-card movie collection feature some good "attendance" figures from about 1,600 encapsulated: PSA 8 (653), PSA 9 (320), PSA 10 (32).
Collector David Nance said a vending case of "Hard Day's" cards surfaced about a year ago. "It really drove down the prices of those cards," he noted. Nance, who consistently tracks Beatles card prices online, said PSA 8 commons from the movie set sell for $25-$30, with the Diary cards slightly more, but PSA 8 Color cards currently change hands in the $9-$15 range.
PSA 9s, meanwhile, run 1½ to 2 times the PSA 8 values. Lennon dominates the "first and last notes" in the Diary and Color sets and other occasional "star" cards in the color-related issues can easily run at least triple the price of commons in the same grade.
Kleiman said 1964 Beatles cards, in general, have a long way to go in terms of popularity and price. "They have not hit their peak, not even close," he said.
Collectibles auctioneer Rob Lifson added some verses to that tune. "Non-sport cards of this era are just starting to come into their own. The Beatles sets and other non-sport issues are pop-culture classics," said Lifson, who owns Robert Edward Auctions. He also underscored the non-sport card production numbers. "They are a lot scarcer than their sports card counterparts," he said.
You Say Goodbye and I Say "Shalom"
With several hit songs, a hugely successful movie and concerts packed with screaming fans, the Beatles seemed to make it all look so easy, almost effortless, in 1964.
Topps' experience, meanwhile, was more similar to the "workin' like a dog" lyric from the title track of "A Hard Day's Night," as they tried without success for some time to sign the band to a trading card deal.
But on February 9, 2010, exactly 46 years to the day of the Beatles' historic debut appearance on "The Ed Sullivan Show," trading card legend Sy Berger recalled what it took for collectors to gain pasteboard access to The lads from Liverpool.
"A few of us at Topps knew the Beatles were big overseas and we felt they would be big over here," began Berger. "We had people (Topps representatives) in London and couldn't get to meet with Brian Epstein (the Beatle's manager)."
Although he couldn't pinpoint the exact month of the excursion, Berger said the company's fortunes changed when he took a trip across the pond. "I happened to be in London trying to sign up some soccer teams for card sets and I was in a taxi and I saw the place where his (Epstein's) office was," said Berger, who worked for Topps from 1947-1997.
The card company rep did not have an appointment with Epstein, but he strolled inside anyway. "As I walked right by the secretary, she said 'Nobody can see him,' and I said, I can," Berger proudly recounted.
"He was sitting at his desk with his head down on his arms," said Berger of the band's ultimate gatekeeper, "maybe he was tired." Berger then played another crafty card.
"I said 'Shalom landsman," an old-school Yiddish greeting, since both men shared Jewish heritage. "And Brian slowly lifted his head and looked at me," said the former Topps employee.
With the ice broken, the two men started talking business. "He was pretty agreeable," said Berger. "In 20 minutes, we had a deal," noted the man who helped foster thousands of classic sports and non-sports trading cards.
"The Beatles cards were very successful," said Berger, "one of the best selling (Topps) products of that time period."
Any Time at All
Perhaps a portion of the back cover "liner" notes from the 1964 album "Beatles For Sale" helps best summarize this two-part article: "The kids of AD 2000 will draw from the music much the same sense of well being and warmth as we do today." In 2010, forty years after the band split, that sentiment seems as rock solid as ever, both for an array of Beatles songs and, for many who are at least young at heart, 1964 Topps Beatles cards, too.
I Should Have Known Better
Who would have thought to keep vintage card pack wrappers and boxes? Since most of this packaging got tossed out soon after opening the packs, relatively little of it survived, much less in top condition. Not surprisingly, 1964 Beatles card packaging remains in solid demand.
Although Topps distributed some 1964 Beatles cards in cello packs and vending boxes, most of the pasteboards likely came in 5-cent wax packs.
The basic 5-cent pack wrappers that came out in North America all have artwork of the band members in some form. The Black-and-White card wrappers have an illustrated "floating head" design against a yellow background; the "Hard Day's" wrappers devote film frames around the musician's visages; meanwhile, the full-color sets have the Beatles in a posed group shot against a dark backdrop accompanied by the words "Color Photos."
"The same wrapper was used for the Color and Diary sets," said Halpen, "they just put a "New Series" sticker on the Color box for the Diary cards." Beatles wrappers in Excellent condition commonly sell for $20-$30.
Empty Beatles Topps pack boxes in mid-range condition consistently change hands for about $150-$200, while nice samples have sold for $400 and up. Keep in mind that reproduction Beatles card boxes are also in circulation.
---
If you would like to comment on this article please contact Doug Koztoski at [email protected] Population Report and PSA Set Registry figures quoted were accurate at press time.