Topps executives must have died laughing all the way to the bank after they released their first monster series in 1959.
Showcasing creatures from the imagination of Jack Davis, of EC Comics and MAD magazine fame, these pasteboards sparked controversy upon initial release. Worried that the card images would traumatize their children, a group of mothers in Racine, Wis., reportedly protested against Topps and its advertisers.
"The art on the cards was really in the tradition of MAD magazine," explained Bill Bengen, who owns the top set on the PSA Set Registry, "and I remember my mother's reaction to MAD magazine, she wouldn't let me buy it. She said, 'You can buy Superman, but you can't buy MAD.' Today this set wouldn't even get a reaction. They would probably call it mild."
With this series, however, Topps discovered that negative publicity could be good for business. Fueled by their parents' disapproval, kids hoarded these cards and packs sold out across the country.
"The idea of the forbidden, the taboo, that definitely enhanced the sales," said Bengen.
Frankenstein and the Wolf Man are two familiar monsters featured in this 66-card issue, but ghosts, witches, Martians, skeletons and the devil also adorn card fronts.
"It's the brilliant color in the artwork that makes these cards stand out," said Jim Damiano, who owns the Registry's No. 4 Current Finest set.
Marty Quinn, owner of the Registry's No. 2 Current Finest set, expresses similar sentiments.
"Collectors love the Jack Davis art," he said. "The cards are really colorful and they came out great. His artwork was a key reason that this set became a hit."
A humorous caption was also added to the white-bordered card fronts.
"One of the things that Topps did to soften the impact of the monster was the use of gags on the front of the cards. This way, they could say, 'Well, it's not really a horror set. It's actually a funny set. These aren't scary monsters. These are funny monsters,'" explained Kurt Kuersteiner, webmaster of monsterwax.com and www.monstercards.org.
The backs feature the set name, card number and a collection of ghoulish cartoon creatures looming over a tombstone that displays a joke in red text. As would become the pattern with Topps when unveiling controversial, non-sports products, the manufacturer is listed as Bubbles Inc.

"When the set came out, Topps was a little concerned about a backlash, so they changed their company name on the cards to Bubbles Inc.," noted Kuersteiner, "They used an alias on the cards, hoping to throw off angry parents. It was a preemptive strike to derail efforts to get Topps in trouble."
This set was the first of a multitude of monster sets to hit the market over the next decade. Capitalizing on the popularity of the Creature Features shown on TV in the '60s, card manufacturers churned out numerous monster sets, many of which follow the same formula of mixing horror with humor.
"Back then, we only had three TV stations, so you didn't you have much of a choice. You would watch the Creature Features over and over," said Damiano.
Reportedly released right around Halloween, the 1959 You'll Die Laughing cards were distributed with gum in five-cent packs that say "Funny Monsters" on them. Chris Benjamin and Dennis W. Eckes's Sport Americana Price Guide indicates that Topps has records showing that one-cent, 10-cent and 29-cent packs were also produced, but examples of these have not surfaced. In general, cards from this series are more readily available than singles from most monster series from the same era.
"It was certainly a very popular set," noted Kuersteiner. "And another thing to keep in mind is that Topps had a more organized distribution process than a company like Nu-Cards did."
Quinn agrees.
"It's really not that hard to find cards from this set. Most Topps issues are more abundant than the more obscure issues like the Rosan or Nu-Cards," he said.
According to the PSA Population Report, the most submitted card from this series is #12, What Happened? You're White As A Sheet?, a pasteboard featuring two ghosts bumping into each other at night. Nineteen of these singles have been evaluated by PSA.
Bengen says one of his favorite cards is No. 26, a single that depicts the Wolf Man in a barber chair with the caption "Start With The Ankles." Card #53, Who Put Pepper In My Bubble Gum? features the monster from one of Kuersteiner's favorite movies, Curse of the Demon.
"That was an incredible monster that only appeared on film for a few moments," noted Kuersteiner.
A baseball scene is even incorporated into this set. On Card #54, the Wolf Man is pictured as an umpire, with the caption "Darn Few Arguments When Smedley Umpires A Game."
The PSA Population report reveals that the least submitted singles are #7 Doc, Those Hair Growing Pills Sure Worked, a card that showcases the Wolf Man at the doctor's office and the set's last card, #66, This Photographer Does Beautiful Work. This single features a male and female monster about to have their pictures taken. Only six copies of each of these cards have been graded by PSA.
Two witches are featured on the set's first card, I Just Came Back From the Beauty Parlor Can't You Tell? Just eight copies of this card have been evaluated by PSA.
"Usually, when you find that card, it has a bend on the corner," said Damiano, who owns a PSA EX-MT 6 example.
Despite Davis's esteemed artwork, these cards remain affordable.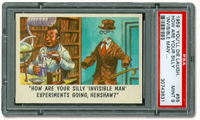 "If you want to start collecting 1950s non-sports sets, the prices for these cards are very reasonable," said Damiano. "You can put together a near-mint set for a fair price."
Quinn says that poor centering is the most common flaw with these pasteboards, but singles are relatively plentiful in high-grade.
"I got my set from a dealer who had taken the cards from a vending box. I still think there are some vending boxes and a lot of high-grade cards out there," said Bengen. "I'm not aware of any particular issues with any one card."
Kuersteiner points out that some of the images on these cards were reused in the 1969 Topps Pack 'O' Fun issue. The veteran collector says this 42-card set includes punch-out necklaces, foldees, finger puppets and a subset of You'll Die Laughing cards. These cards measured 3-1/8" by 5-1/4", and Kuersteiner says that Topps squeezed two of the original You'll Die Laughing cards onto each.
The 1959 set also spawned You'll Die Laughing sequels in 1973 and 1980. The 1973 issue was the first monster set that Kuersteiner collected. These cards share the same back design (with the exception of the red text) as the 1959 singles, but flaunt black and white movie photos on their fronts rather than drawings. For legal reasons, Topps superimposed employee faces over the faces of some movie stars.
Both the 1973 and 1980 cards were distributed in packs that say Creature Feature on them. The 1980 singles boast colored framing around the photos, while the backs exhibit a different color combination (red, green and yellow) than the previous You'll Die Laughing Series. A sticker was also offered in each pack of the 1980 product.
These sequels and the fact that its format was copied repeatedly in the '60s provide evidence that the 1959 You'll Die Laughing series is the most influential monsters set ever produced.
"This set was a template for future monster sets," said Quinn.
And 51 years later, card companies are still trying to create similar trailblazing sets that will have them laughing all the way to the bank.
Please feel free to contact Kevin Glew at [email protected] if you have any additional information or comments. A special thanks to Kurt Kuersteiner for his extra efforts on this article. Marty Quinn and Bill Bengen provided pictures for this article. Please note that the Population Report figures quoted and Set Registry rankings reported are those as of press time.