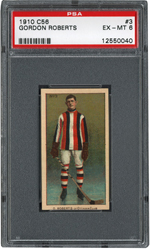 It's easy to understand why puck pioneer Art Ross is featured on two cards in the 1910-11 C56 Hockey set, but who exactly is Jack Marshall? And why, in a 36-card offering, did he warrant a pair of singles?
"I've wondered that myself," said Colin Yu, who owns the registry's No. 3, C56 set. "Back then, I think he was a highly regarded all-around athlete."
Marshall's starring role in the set also surprises Bobby Burrell, author of Vintage Hockey Collector.
"I think they were filling a sheet," he said. "I'm sure they could've chosen other players, but there may have been some legal issues."
Julius Narancsik, owner of the No. 1 registry set, also struggles to explain Marshall's prominence, but he points out that the little-known blueliner enjoyed a solid professional career.
"He's the only player to have played for four different Stanley Cup-winning teams," he noted.
Not only was Marshall a four-time Cup winner, he also notched 20 goals in nine games for the Montreal Shamrocks in 1907-08 and was the playing manager for the Stanley Cup champion Toronto Blueshirts in 1914. Marshall's accomplishments earned him induction into the Hockey Hall of Fame in 1965.
Aside from Marshall, this set - the first known hockey issue - also boasts rookies of Art Ross (#8, #12), Cyclone Taylor (#15), Newsy Lalonde (#36) and the Patrick brothers (Frank #1, Lester #26), and highlights players from the inaugural National Hockey Association (NHA) season. The NHA was the forerunner of the NHL.
"You've got a lot of history - both with the first NHA season and the first hockey set," said Narancsik. "The set is littered with a who's who of Canadian hockey, as far as the early pioneers. Not only were these great players, but a lot of them went on through coaching, managing and rule changes to basically develop hockey as we know it today."
Though many questions remain unanswered about this set, the cards were reportedly issued with Imperial Tobacco cigarettes. The size of these singles (1-7/16" by 2-5/8") seems to indicate that they were distributed in smaller packages.
"That's why they are narrow cards. They fit right in the pack. You open the pack and bang, you got a little card in there," speculated Burrell, adding that the larger packs or tins may have included multiple cards.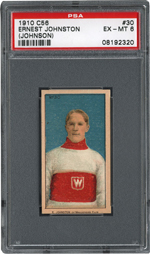 The fronts of these cards boast a color picture, as well as the card number, player's name and team. Printed in black, the backs showcase the series name ("Hockey Series") along with two crossed hockey sticks and a puck. A resume of the player's teams is also included. Burrell points out that three players also have an occupation listed: Art Ross (#8, #12) is listed as a sporting goods merchant, Bruce Stuart (#17), a shoe merchant and Riley Hern (#22), an employee of Semi-Ready Ltd., Tailors.
"I think these players were looking for a perk," said Burrell. "Hockey was sort of a secondary job to them."
Tracking down these cards in any condition can be a daunting task.
"There were so few of these cards issued and even now with the increased popularity of vintage hockey, the numbers are still very, very small," said Narancsik.
This scarcity, however, appeals to these tenacious collectors, as does the set's historical significance.
"I started collecting this set because it was the first (hockey) set and there were only 36 cards, so I thought it would be pretty easy to put together. I started with a goal of PSA (VG) 3 or (VG-EX) 4 and got a little bit carried away and now I'm hoping for (PSA EX) 5s and (PSA EX-MT) 6s," explained Yu.
But a number of condition issues have made this difficult for Yu.
"They were tobacco cards, so most of the cards I've seen have some sort of tobacco staining. There's a brown residue on the back - on some cards it's worse than others," said Yu.
Trimming, miscuts and poor centering also plague some of these cards.
"Bad centering is definitely a major problem," said Yu. "They were hand cut back then, so there are quite a few cards that are miscut."
Narancsik concurs.
"Not a lot of care was given to the cutting, so a lot of cards were miscut or poorly centered. To find a nice example that's well-centered and in good condition is definitely difficult," he said.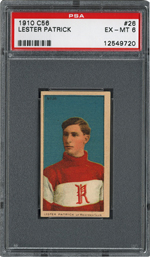 Frank Patrick, the first card in the set, is one of the toughest singles to uncover in high-grade. On top of the aforementioned condition issues, this card is also hindered by the wear and tear that comes with being the first card in a set. Of the 48 Patricks submitted, the highest grade issued has been PSA EX-MT 6. A PSA EX 5 sold for $1,226.69 on eBay in April 2007.
The set's last card (#36), Newsy Lalonde, is also elusive in top condition. The highest grade recorded for this card is PSA NM 7, and a PSA VG-EX 4 copy fetched $935 on eBay in October 2008.
Art Ross is another legend featured in this set. Of the two Ross cards included, his No. 8 card is a little more coveted.
"In high-grade, the No. 8 card is a little bit tougher to get than the No. 12 card," said Narancsik.
The Population Report reveals that there are two PSA NM 7s and three PSA EX-MT 6s of the No. 8 card, while there are four PSA NM 7s and four PSA EX-MT 6s of the No. 12 Ross single.
Ice immortal Cyclone Taylor (#15) is also part of this offering. PSA EX-MT 6 is the highest grade doled out for a Taylor card. A PSA EX 5 example sold for $1,876.95 on eBay in December 2008.
Bruce Ridpath (#34) is, perhaps, the most elusive common in pristine condition.
"Everybody who collects this set knows that the one real tough card to find in good condition is #34 Bruce Ridpath. For some reason, he's slippery. In low grade, you can find him without too much difficulty," said Narancsik.
Yu agrees.
"I'm still looking to upgrade my Ridpath. I only have a PSA (VG-EX) 4 right now, but they don't come by very often," he said.
Of the 35 graded, there have been just two PSA EX-MT 6s and one PSA EX 5. A PSA VG-EX 4 fetched $450 on eBay in April 2007.
The prices realized for cards like Ridpath illustrate how coveted these singles have become.
"I know that the price (of the set) has gone up since I started collecting them. I see more interest and there's obviously some deep-pocketed collectors trying to complete the set. It's very competitive to get the higher-grade cards," said Yu.
Narancsik shares similar sentiments.
"The market has just gone absolutely crazy with the C56 cards. I think there's been a real interest in the past two or three years," he said.
With this spike in interest, more people are learning about legends like Art Ross, Cyclone Taylor and Newsy Lalonde. And if they dig deeper, they will also learn that Jack Marshall is not only worthy of his prominent place in this set, but his name deserves mention as one of the true puck pioneers of his era.
Please feel free to contact Kevin Glew at [email protected] if you have any additional information or comments. Colin Yu provided pictures for this article. Please note that the Population Report figures quoted are those as of press time.