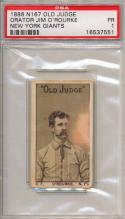 Check out a rare N167 Jim O'Rourke, a Gypsy Queen, some HOFers and many new variations. Graded cards come next, with a solid selection of quality tobacco and candy cards, a nice graded 1933 Goudey Ruth and many quality star cards through the late 1960s. The highlight of this section is a mini-find of some truly incredible 1953 Topps cards: there is a Smoky Burgess PSA 9 1/1, two other PSA 9s (Lollar and Stobbs), 8 and 8.5s of Berra, Campanella, Schoendienst, Slaughter and many other stars.
Baseball card sets include a lower grade E95 Philadelphia Caramel, a very near set of 1921 E121 American Caramel and some very clean Topps sets from 1960 through 1972 that are also completely fresh to market.
In this auction, Clean Sweep has perhaps the best selection of single signed balls in its history: there are many rare singles, key HOFers and great group lots. Highlights include Home Run Baker, Willard Brown, Roberto Clemente, Tony Conigliaro, Red Faber, Happy Felsch, Ford Frick, John Ganzel, Lou Gehrig, Warren Giles, Hank Greenberg, Jesse Haines, Gabby Hartnett, Russ Hodges, Elston Howard and Satchel Paige. Items include high and low grade Ruth/Gehrig signed ball and an incredible 1957 National League team ball tower that belonged to the owner of the Boston Braves.
Autographed baseball flats begin with some quality Perez Steeles, including a Cronin and a Paige. There is also a key Mantle/Mays/Snider card from the Greatest Moments set, a complete basic Greatest Moments set and a celebration set signed on uncut sheets with the key Campy card. Lots include some very desirable 1919 Black Sox 3x5s, including Felsch, Risberg, Cicotte and Gandil. You will also find a simply incredible selection of key HOFers on 3x5s, GPCs and album pages, including G.C. Alexander, Evers, Gehrig, Lazzeri, McGraw, Ott, two Babe Ruths, Tinker, Honus Wagner and Hack Wilson.
This auction offers some great letters and documents, including Cap Anson, Morgan Bulkeley, Barney Dreyfus, Charles Ebbetts, rare 1927 Yankee Johnny Grabowski, Cum Posey and Harry Wright. Following this are many desirable signed photos: Clemente, Cobb, Eddie Collins, Walter Johnson, Nap Lajoie, a vintage 1950s Mantle, Kid Nichols, Mel Ott, Hilton Smith and Honus Wagner.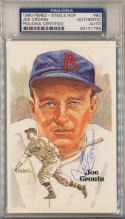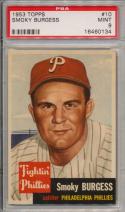 Leaving the world of sports, there is a fresh collection of desirable Astronaut signed 8x10s, including many of the heroes killed in the 1986 Challenger explosion. Check out Clean Sweep's solid selection of Presidential autographs with two John Quincy Adams, Monroe, William Henry Harrison, TR, FDR et al. Better historical autographs include a Jefferson Davis signed telegram, Amelia Earhart and two Thomas Edison autographs. This section concludes with our usual eclectic selection of entertainment signed photos and letters.
The other major sports now enter the auction in a big way with a superb ABA basketball, some very desirable boxing autographs, a 1969/70 Kansas Chiefs Super Bowl Ring, a Super Bowl XXXIX Trophy in the original box with an LOA from the team, clean football sets from the 1950s and the 1960s and some rare football autographs, including a stunning Ernie Davis 8x10 and also a football signed by him. This auction has the best hockey section ever, with autographs of Howie Morenz, Tim Horton, Terry Sawchuck and many others; there is also a run of clean hockey sets from the 1960s and the early 1970s.
Baseball memorabilia concludes the auction with a run of high grade press pins from the 1930s and the 1940s, some amazing condition Hartland Statues, a rare 1959 Yoo Hoo Mantle original sign, several game used jerseys and some better signed bats.
Bid Today! This auction closes on Wednesday, May 26th, 2010. Bids are welcome by phone (516) 338-8557 Monday through Friday 9 a.m. - 5 p.m. EST. You may also bid via Clean Sweep's website at: www.cleansweepauctions.com