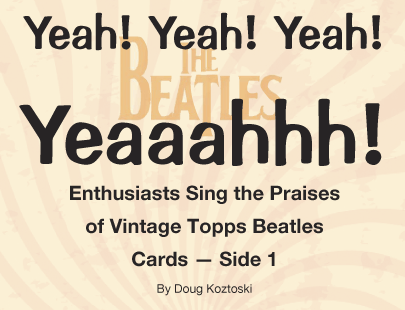 About forty years ago this May, Sgt. Pepper's Band called it a day.
That's right, The Beatles broke up in April 1970 and the next month marked the release of their last regular album, Let It Be. Since there had been some growing friction within the band for a couple of years before spring 1970, maybe the final album should have been titled, Let It Be Over, Already.
A much different atmosphere, however, swirled around the group in 1964. Fueled by a swelling fan base and coupled with historic TV appearances on The Ed Sullivan Show that February, The Beatles burst onto the U.S. pop culture landscape like a huge volcanic eruption. A wealth of catchy self-generated rock and roll songs by the band ultimately reshaped the era's music and, for millions of people, left a mountain range of great memories.
As soon as possible after the mop-topped English musicians arrived in the U.S. in 1964, Topps started producing trading card sets featuring the likes of John Lennon, Paul McCartney, George Harrison and Ringo Starr.
Tell Me Why
"I have always been a big fan of The Beatles and their music," said Gerry Fitzgerald, "The cards are a way of capturing a piece of 'Beatlemania,' something we will not experience again." Super fan might be a more accurate description of the hobbyist.
"I collect six different sets from Topps 1964," he said, "the three Black & White series, and the Color, Diary, and Hard Day's Night movie sets."
Fitzgerald's Topps Beatles card collection looks like the band's rank on the Billboard record charts, especially from 1964, as he has several top ratings on the PSA Set Registry, both All-Time and Current Finest.
Although the 165 cards are sequentially numbered and at a glance appear to be from the same set, collectors commonly look at the trio of Beatles Black-and-White card series' as three separate issues. The offerings feature a mix of posed and "natural" single and group shots.
One of those group photos begins the 60-card first series, the biggest of the three color-challenged sets. From a checklist standpoint, whichever band member's facsimile autograph appears on the card fronts of these three collections makes a difference. So, George's penmanship on card #1 gets him the nod as the set-starter. A Paul card, meanwhile, wraps up Series One.
Listing for $75 in PSA NM MT 8 and $125 in PSA MINT 9 in SMR, both "alpha" and "omega" pasteboards are about double the price of other single cards in the issue. Those values are identical to the first and last cards of Series Two and Three, as well, and the only "star cards" outside of those earning a high grade and/or with tiny population numbers.
The Long and Winding Road
"The Black-and-White Series One cards are extremely difficult to find in high grade," said Fitzgerald. And many others harmonize with him on this topic.
"People just don't realize how hard Series One is to find in nice shape," said David Nance, who possesses the #2 Registry set, Current and All-Time Finest, of this collection. "The centering is so tough on these," said the hobbyist, who likes to "listen to Beatles music all day long while using eBay."
Nance, added that the O-Pee-Chee (Canadian) and A&BC (British) versions of Series One cards "are even more rare, but the collecting public is still largely unaware of their scarcity."
In Series One, the top-condition tote board reads: PSA 9—30 examples, PSA 10—three.
A Ringo card (#6) does an impressive drum solo of sorts by leading the PSA 9 hit list in this series with four copies.
Low population PSA 8s often bring "$150 to $200," said Nance, while PSA 9 Series One cards have changed hands for $300-$400 at auction in recent years. The hobbyist said PSA 10s bring "upwards of $1,000."
Twenty samples are the most of any Series One card in the Population Report, with the set-starter at 16. Cards of Lennon (#7, #20) and Harrison (#46, #56) make up the low end with seven samples apiece.
A handful of Series One cards top out for now at PSA 7: John (#7) and Paul (#11, #60).
"The last card of the series (#60)," said Nance, " is an amazingly difficult card, some are really badly cut."
A Good Cover Version
Throughout the total Pop numbers of the 55-card Series Two (#61-#115), less than twenty examples of any card are the norm and there are only 17 PSA 9s, rivaling Series One figures. Series Two PSA 10s are like regular Beatles albums without a hit song, there are none. "But overall," said Nance, "Series Two is a little easier to find than Series One."
Good centering on Series Two cards tends to be a bit more consistent compared to their predecessors. But Nance cautioned, that this series' first card (John #61) "is tough to find centered."
Five cards from this series (#'s 71, 72, 81, 97, 115) only have PSA NM 7s as their highest grade so far. The Series Two photo appearing the least in a PSA holder is Sir Paul's #84 card. That one shows up just three times, but two are "encore worthy" with a PSA 8 and PSA 9 in existence.
Nance said Series Two also stands out visually. "There are some interesting and unusual shots in this series," he said. "More people seem to chase and buy this series," he added, "compared to the other two Black-and-White series'.
Prices for hard-to-locate top-condition Series Two cards are: PSA 8 ($40-$50) and PSA 9 ($200-$300).
Top of the Pops
While the first two Beatles series can be elusive in high grade, Series Three is more like what screaming girls were at a Fab Four concert.
"They are so easy to find it's almost ridiculous," said Nance of the last collection of these black-and-white cards (#116-#165).
And The Population Report clearly reinforces that claim. Each of the 50 cards shows up at least 25 times, a few are over 100 in number and PSA 8s and PSA 9s are generally plentiful.
About half of the cards have at least one PSA 10 rocking out in HobbyVille and #152, featuring John, has six samples in PSA 10. "Third series cards," said Nance, "are just usually better centered than the others."
Prices for Series Three cards in the highest grades, understandably, don't "chart" quite as high as their predecessors and generally bring more affordable prices: PSA 8 (10-$12); PSA 9 ($20); PSA 10 ($150-$200).
In another group shot, to round out Series Three (#165), George's facsimile signature adorns the photo of these "beach boys" running along the surf's edge. So, The Quiet Beatle, as Harrison was known, gets credit for beginning and ending these three series'/sets.
Got To Get You Into My Life
"I've found eBay a good place to find the cards," said Fitzgerald. "One needs to be patient in completing a set since availability can be scarce, especially for the harder to complete Black-and-White Series One and Two."
Nance said that whether you buy online or in person a collector needs to double check the condition of Beatles cards. "For some reason a lot of people wrote their name on the backs of those," he said.
"The non-sport card market is exploding," added Nance, and he expects Beatles cards in general to gain popularity. Fitzgerald is in tune with that mindset. "I have seen a lot more interest in the last five years for all the Topps Beatles cards from 1964," said Fitzgerald, "especially the higher graded PSA cards."
Coming up on "Side 2" of this article, in a future issue of Sports Market Report: a look at the two regular 1964 Beatles Topps full-color sets; the "Hard Day's Night" sepia-tinged collection; plus, a "bonus track," the story of just how the 1964 Beatles cards came about—with highlights from a 2010 interview with the man that made it happen, former Topps employee and trading card legend Sy Berger.
A Day in the Life ... of a Plak
Topps produced a Beatles "test" issue in 1964 known as Plaks, featuring bumper sticker-like slogans. "These cards are very hard to find," said Jim Damiano, #3 on the Current Finest and #5 All-Time for this offering, "and they are usually off-center."
Damiano, an avid collector of all-things Beatles, has worked on this set for over 30 years. "Some numbers are virtually impossible to find," he said.
Plaks routinely go for $20-$25 in PSA 7, $100-$150 in PSA 8, and, "if you can find one," said Damiano, PSA 9s bring "$200 and up." Out of nearly 1,000 PSA graded plaks, only one has earned a PSA GEM MT 10 grade (#17 Beatles! Beatles! Beatles!). Of the 52 PSA 9 plaks, the leaders, with five each, are: #11 (The Chairmen of the Board) and #22 (Thank you England).
Earlier this year, an uncut sheet of 33 of the 55 cards in this "test" set sold on eBay for around $550. The listing stated that only two of these uncut sheets are known.
Topps Plak images courtesy of Just Collect, Inc
Ticket To Grade
Beatles concerts are long gone but parts of the experience are still available, including some tickets and stubs to those shows.
This February, two Beatles concert tickets sold on eBay. A full unused ticket in PSA 8 of the band's August 1966 performance at New York's Shea Stadium brought nearly $400.
Meanwhile, a PSA 7 graded full ticket of The Beatles last main concert, at San Francisco's Candlestick Park in August 1966, went for $974. Only a handful of tickets have been graded from that final show.
---
If you would like to comment on this article please contact Doug Koztoski at [email protected]. Population Report and PSA Set Registry figures quoted were accurate at press time.