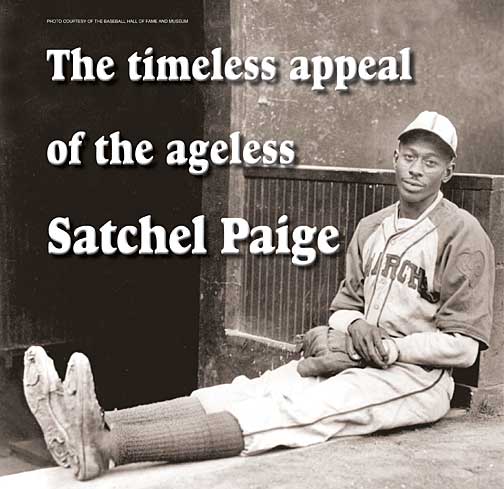 If a person attains legendary status within their lifetime, it usually comes late in their lives. To be sure, there have been exceptions. In modern times, Neil Armstrong took on legendary status by being the first person to step on the lunar surface at the age of 39. When President William McKinley was assassinated in 1901, a 42-year old Theodore Roosevelt became the youngest man to ever serve as the President of the United States, and 60 years later, John F. Kennedy would be the youngest man ever elected to the office.
The sports world, in which youth is a vital element, has perhaps given us the most individuals who have garnered "living legend" status at a tender age. But in one particular case, legendary status came to an athlete at a time when he was older than most of his teammate's fathers. Start a discussion about athletes and their ages with any serious baseball fan and you will quickly hear the name of the legendary and ageless Satchel Paige.
Leroy Robert Paige was born to a gardener by the name of John Paige and his wife, Lula, in Mobile, Alabama. That is a known fact. What is not so clear is when Leroy was born. It is widely accepted that the date was July 7, 1905, but that has been contested by many over the years. Lula herself was mostly responsible for the confusion surrounding her son's birth date being as that she changed her mind on the date on various occasions throughout her life. Paige himself added to the confusion by refusing to respond to questions about his age, usually brushing off the quarries by saying: "Age is a question of mind over matter. If you don't mind, it doesn't matter." His long time friend Bill Veeck, who owned many of the teams that Satchel played for, also sidestepped questions on the age of Paige by calling him: "Ageless."
If we are to accept 1905 as being the birth year of Paige, we then also have to accept that in 1965, when he pitched in his last game, Paige would have been 60-years old. Could that have been? Well, he is revered as the greatest pitcher in the history of the Negro Leagues and Joe DiMaggio, who certainly faced his share of legendary pitchers, often said that Paige was the best pitcher he had ever faced.
HIS EARLY YEARS
While much of Paige's early life is shrouded in mystery, it is believed that his nickname came from a friend by the name of Wilber Hines. If we are to accept the often-told legend, Leroy and Wilber used to go down to the Louisville and Nashville Railroad station in hopes of earning tips for assisting passengers with their luggage. Wilber supposedly tagged Leroy with the name "Satchel" when Paige was nabbed by the authorities for trying to make off with a satchel he was carrying. Other accounts of this story say Paige simply earned the handle by carrying satchels.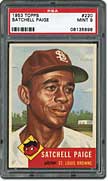 If in fact Leroy got his nickname by mischievous behavior, it would not be the last time he engaged in youthful indiscretions. In the summer of 1918, truancy and shoplifting charges saw the then-13-year old Satchel ordered to the Industrial School for Negro Children in Mount Megis, Alabama. He would later say that was the best thing to ever happen to him being as that it was there he learned and developed his pitching skills.
By the time Paige was released from the Mount Megis facility in late 1923, he had mastered his fast release pitch and signed on with the semi-pro Mobile Tigers where his brother, Wilson, had been playing. From there, he was offered a contract with the Chattanooga Black Lookouts of the Negro Southern League where he was used sparingly, until the early part of the 1926 season when he was tapped as a starter. Although he was given a raise in salary from $50 to $200 a month and a Ford Model A, Paige was lured away from the Lookouts by the Birmingham Black Barons of the Negro National League who ponied up an additional $76 per month.
Finishing his first season with the Barons with a record of eight wins, three losses, 80 strikeouts and 19 walks in 93 innings, he continued to impress over the next two seasons setting the Negro League single season strikeout record in 1929 with 184. The end of that season saw Paige offered $100 per game to play for the Santa Clara team in Cuba. Paige accepted but, once on the island, he hated everything about Cuba and lasted for less than a month. Returning to the United States, the 1930 season saw Paige suited up as a member of the Baltimore Black Sox who were the reigning American Negro League champs. As was the case with Cuba, Baltimore and Paige were not a good fit and he soon returned to Birmingham.
In 1931, the Depression was hitting the Negro Leagues hard and Paige's salary started to become an issue with the Birmingham front office. At the beginning of the 1931 season, knowing that either he or his salary would be cut, Satchel accepted an offer of $250 a month from the Crawford Colored Giants.
In the fall of 1934, Paige married Janet Howard. Married life must have agreed with him. That year, he went 13 and 3. In the spring of the following year, Paige left the Giants for an odyssey that for the following decade would take him to numerous leagues and teams including a stint in Mexico and with the Kansas City Monarchs. That life of ever-changing teams and domiciles didn't sit well with Paige's wife who served him with divorce papers in 1943. When the U.S. entered World War II, Satchel frequently pitched in exhibition games to sell war bonds and raise funds for war-related charities and in October of 1947, he married Lahoma Brown.
A DREAM FULFILLED
In 1948, Satchel's ultimate career dream became a reality at the age of 43. The Major League Cleveland Indians were in a pennant race and in desperate need of a pitcher. The team's owner, Bill Veeck called Paige and invited him to Cleveland. Before extending an offer to Paige, Veeck supposedly took him out to a field and placed a cigarette on the ground to represent home plate. Paige proceeded to place four out of five consecutive pitches right over the cigarette. Impressed, Veeck offered a contract and on July 7, 1948, Satchel Paige realized his lifelong career dream of signing a deal that would bring him to the Major Leagues. The terms of the deal called for him to be paid $40,000 for the remainder of the 1948 season and gave him the historic distinction of being the American League's first African-American pitcher and the seventh African-American to be offered a Major League contract. He would prove to be instrumental in assisting the Indians in winning the pennant that year. He started seven games, won six and turned in a 2.48 ERA.
While 1948 was a dream making year for Paige, the following year was a letdown. He finished out the year with a 3.04 ERA and a 4 and 7 record. At the conclusion of the 1949 season, Veeck old the Indians and Satchel was released. It appeared that his Major League dream would be one that would be short-lived.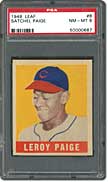 As much of a showboater off the field as on, Paige never saved a penny and, due to his extravagant spending habits, began rapidly heading towards financial disaster. In an effort to make money, he began barnstorming and, in1950, he was offered a contract for $800 per game to play with the Philadelphia Stars of the Eastern Division of the Negro American League.
The following year, Bill Veeck got back into baseball buying the controlling interest of the St. Louis Browns. His first act with the Browns was to contact Paige and offer him a job. On July 18, 1951, Paige once again suited up as a Major Leaguer. In his first outing on the mound, he pitched six perfect innings before giving up three runs in the seventh. He finished the 1951 season with a 3 and 4 record and a 4.79 ERA.
By the top of July of the following season, Paige had made his mark in the Majors. Casey Stengel was so impressed by him, he pushed for him to have the opportunity to become the first African-American pitcher to be named to the American League All-Star team. That game was called after the fifth inning due to rain and Paige never got the chance to throw even one pitch. Stengel was so upset that he made a public announcement that he would see to it that Paige would be named to the team the following year. Satchel went on to finish 1952 at 12 and 10 with a 3.07 ERA. Not bad when you consider the Browns lost ninety games that year.
In 1953, Satchel was in fact named to the All-Star team again although it had everything to do with Stengel's promise and nothing to do with Paige's performance. He turned in a lackluster 3 and 9 record with a 3.53 ERA. At the end of the season, Veeck sold his percentage of the team and Paige was released.
Again returning to the life of a barnstormer, Paige hooked up with Abe Saperstein and they established a baseball version of Saperstein's hugely popular Harlem Globetrotters. In fact, Paige actually joined the Globetrotters for a short time bringing the game of hardball to the hardwood by pitching a basketball to Goose Tatum who would take a swing, round the bases, and then dramatically slide into home. Paige was never a formal member of the Globetrotters but his appearances were extremely popular with fans and the pay was good.
While Satchel's showboating style was perfect for the Globetrotters, the team's grueling road schedule became difficult and was taking its toll on Satchel and his wife who had four children. Putting out the word that he was interested in taking up with a real team again, Paige was soon offered a deal that would pay him $300 a month and a percentage of the gate to return to the Monarchs.
In August of 1955, Paige made another professional move by signing on with the Greensboro Patriots of the Carolina League. That move proved to be a complicated one when his signing was contested as having been invalid. Whether it was or not was a moot point, before a decision was rendered Bill Veeck once again surfaced to play yet another role in Satchel's career.
After taking over the Phillies' Triple-A farm team, the Miami Marlins of the International League, Veeck once again brought Satchel into his fold with the offer of $15,000 and a percentage of the gate. The team's manager, Don Osborn, wasn't happy about having Paige on his team and had no qualms in letting that be known to Veeck who cut a deal with him. Veeck asked him to have nine of his heaviest hitters face Satchel promising to shell out $10 to any one of them who could hit off Paige. Osborn took Veeck up on the deal and Satchel retired each one of them earning a regular place on the team's roster. Paige wrapped up that season with an 11-4 record and a ERA of 1.86 with 79 strikeouts and 28 walks.
While the Marlins finished in sixth place in 1957, Paige chalked up a 10-8 record with 76 strikeouts and a 2.42 ERA. The following year, he turned in a 10-10 record and then left the team because of differences with the Marlins' new manager Kerby Farrell. At the conclusion of the season, Paige moved from the mound to the silver screen appearing in "The Wonderful Country" in which he played a Union Army cavalry sergeant of a segregated black unit. Although he had hopes of becoming a professional actor, the offers never came and throughout the following years, he sporadically played ball for whoever would offer him a paycheck.
In 1961, Satchel Paige reportedly turned 56. At a time when most players would have hung up the cleats by 20 years, Paige signed on with the Triple-A Portland Beavers of the Pacific Coast League. In the mid-1960s, the Kansas City Athletics offered the then 60-year old Paige a contract to play in just one game. Arranged by the Athletics owner, Charles O. Finley, the game took place on September 25, 1965 against the Boston Red Sox. Finley had invited veterans from the Negro League to be introduced before the game. Paige first pitched to Jim Gosger who was sent back to the dugout on a pop foul. The next batter, Dalton Jones, unsuccessfully tried to turn a single with an infield error into a triple. Paige's third batter, Carl Yastrzemski hit a double, and then Tony Conigliaro's fly ball wrapped the inning. Paige held on till the fourth inning when he was replaced. As Satchel walked off the field, the crowd stood and sang "The Old Gray Mare."
The following year saw Paige pitch his last game with the Carolina League's Peninsula Pilots of Hampton, Virginia. Facing the Greensboro Patriots, Paige gave up two runs in the first inning and then threw a scoreless second inning before being taken out of the game. Leroy "Satchel" Paige would never stand on a field as an active player in professional baseball again. He did, however, go on to pitch for the semipro Anchorage Earthquakers, appeared again with the Globetrotters, and also played with the Indianapolis Clowns who were a baseball version of the Globetrotters.
In 1968, Satchel's career went in a very different direction - he was named deputy sheriff of Kansas City. The appointment was done purely for political purposes to give Paige credibility to make a run for the Missouri State Assembly. While Satchel's name appeared on the ballot, he never campaigned in any serious way. Voters in his district viewed his campaign as a joke and he was defeated by a landslide. The following year, William Bartholomay who owned the Atlanta Braves offered Satchel a job as a pitching coach. The contract, which ran through the end of the 1969 season, had little to do with Satchel's coaching skills and everything to do with Bartholomay trying to generate publicity and fan interest for his team. That year also saw William Eckert replaced by Bowie Kuhn as the commissioner of Major League Baseball.

One of Kuhn's first actions as commissioner was to seat a recommending committee to identify and nominate Negro League players to be enshrined into the Hall of Fame. When the committee came to their conclusion, they all agreed that Paige should be the first Negro League player enshrined to the Hall, but there was a problem. Being as that Paige had pitched as recently as 1966 for Greensboro, he would not have been eligible for the Hall of Fame until 1971. Kuhn seemed to purposely drag his feet on making the decision but as soon as Paige was eligible, he was in fact named as the first Negro League player to be enshrined.
In 1981, Satchel worked as an advisor on the made-for-television movie about his life titled "Don't Look Back." That year also saw Paige named vice president of the Triple-A Springfield Redbirds of the American Association, a position that really required him to do nothing except lend his name. That was fine with Satchel being as that his health was in decline. In August of 1981, he was the special guest at a reunion of Negro League players held in Ashland, Kentucky. The attendees paid homage to Paige who was by that time clearly in poor health. In just 10 months, on June 8, 1982, Paige would suffer a fatal heart attack at his home. He was a month short of turning 76 when his body was laid to rest in the Forest Hill Memorial Park Cemetery in Kansas City.
Twelve years after his death, "The Sporting News" ranked Satchel Paige number 19 on their list of the 100 Greatest Baseball Players, and nominated him as a finalist for the Major League Baseball All-Century Team. In July of 2006, a statue of Paige was unveiled in Cooper Park, near the Baseball Hall of Fame to honor all of the Negro League players.
THE LEGEND'S CARDS
Leroy "Satchel" Paige truly was a legend in his time, and today, his legend continues to grow. His cards are highly sought-after by collectors, especially the 1948-49 Leaf # 8. Many experts in the hobby believe this to be one of the most difficult post-war cards to find, and it is unanimously agreed upon that in high grades it is THE toughest card of the entire 1948 Leaf offering. In high grade, the selling price of this card rivals a high end luxury vehicle.
The Leaf # 8 was a limited "short print" production. Add to that fact that the Leafs from that set all had problems due to the use of inferior paper. These cards are also notorious for centering problems, print defects, poor registration and inconsistent color. When a collector becomes the owner of this card in high grade, they have the centerpiece of their collection - a piece of baseball history and Americana that transcends the hobby.
The other most desired Paige card is the 1949 Bowman #224. Far more in the financial reach of collectors than the Leaf # 8, this is still a very tough find in high grade and many collectors experts feel this card is a far more visually appealing card than the Leaf offering.
Most of the Bowman #244 cards that have surfaced, suffer the problems that are inherent with the set. Centering, reverse staining and poor color quality are the key problems. If you come across an example of this card with vibrant color and clean white borders, be aware that you are looking at something very desirable.
The one other Paige card that is of interest to collectors is the 1953 Topps #220. This was Paige's only Topps card and is part of an incredibly popular set, along with key cards of Mickey Mantle and Willie Mays.