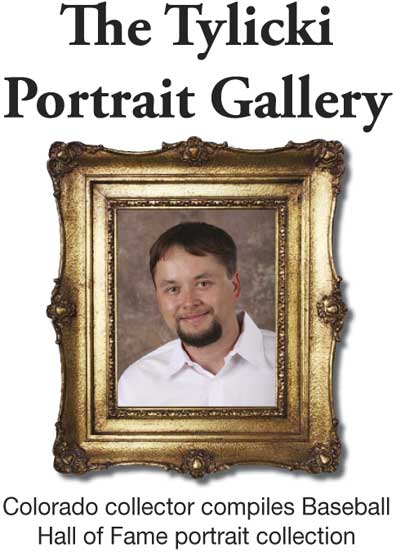 One of the most fascinating things about sportscard collecting is how, over the years, collectors have tailored what and how they collect to suit their own personal interests. Mark Tylicki of Colorado, a lifelong collector of various things, began collecting sportscards when he was in his early teens. Almost from the beginning, Mark was not satisfied to collect any particular set, team, player or era. He wanted a Baseball Hall of Fame collection; and to make his HOF compilation a bit more unique, he decided to make it a collection of only portrait cards.
Having an appreciation for the artistic and creative ways things such as bottle caps, coins, stamps and cards have been offered, Mark has always been especially fond of the work of the legendary Spanish painter Pablo Picasso. Ironically, while his artistic affinity leans to the Modernistic and Cubism works of Picasso, when it comes to the art and photography of cards, he favors the style of traditional realism.
Today, along with his work as a software consultant, Mark also owns and operates Rusty Willy Collectibles, a web site and small collectibles business based out of Denver.
Sports Market Report recently caught up with Mark in Cleveland, Ohio as he was consulting with one of his many clients. Constantly on the road and juggling an incredibly hectic schedule, Mark graciously gave us some of his time to talk about his unique card collection.
SMR: Mark, tell us a bit about how you first got involved with collecting?
Mark Tylicki: I was born and raised in Denver where I still live. As a kid, I was never really into baseball. I never played baseball. I did, however, play basketball in high school and softball in college. But I was never really much into baseball or card collecting. Now, while I didn't collect cards, I was by all means a collector of one thing or another from since I was a kid. I mostly collected coins and bottle caps.
SMR: How and when did you get interested in cards?
MT: I first got interested in cards when I was around 13-years old. I ran into some kids in my neighborhood playing with some 1987 Topps Baseball cards. I started looking over their cards and I was very attracted to one card – a Dave Winfield card. I liked his name. I thought it was a great baseball name – ya know, Win... Field. I had been attending quite a few coin shows back then and, when I went to those shows, I began to notice more and more coin dealers were also offering sportscards. It was at one of those shows that I picked up a Dave Winfield rookie card, which was the first card I ever owned. That was what kicked off my interest in the hobby. Then, by 1990, I really started getting into card collecting, and, by the following year, I was regularly buying packs.
SMR: Were you collecting anything special back then?
MT: I had really gotten into the Bowman craze and was also picking up a lot of rookie cards. I would try to find the best rookie card of every player from the early 1990s. I did that for a long time and then, in 1993, when I was a freshman at the University of Colorado in Boulder studying anthropology, I got the idea to collect portrait cards of Baseball Hall of Famers.
SMR: What was it about portrait cards that intrigued you?
MT: I always thought portrait cards were a classic way to present a player. Think of all the classic American paintings of presidents you have ever seen, they are always done in portrait pose. I knew I wanted to do a Hall of Fame collection and what I wanted to do was to compile a collection of cards that represented the players in an honorable way. I also like the fact that, with a portrait card, you get a bit of an idea of the player's personality. You can tell something about them if they are smiling or looking upset. Sometimes their sense of humor comes out like with the Roger Clemens card where he is grinning – it's a hilarious card. With portrait cards, you can really see what the players look like. In most action poses, you really can't see the player's face very well.
SMR: OK, so there you were, attending the University of Colorado and trying to put together a collection of Hall of Famer portrait cards. How did you get from there to where you are today, professionally and from a collecting standpoint?
MT: After I completed my undergrad work in anthropology, I went back for my Masters Degree in Business Administration. By the way, ironically, I am not working in either Anthropology or Business. Today, I am a software analyst working as a consultant for SAP (Systems Application and Products) which is the largest software company in the world after Microsoft and Oracle. I work in the area of global trade. I work with companies to help them in their import and export scenarios. So, while that is where I am professionally, from the collecting side, I now have a personal collection that includes one portrait card of each Hall of Famer, along with those whom I feel will be future candidates. I have everybody from Hank Aaron to Robin Yount.
SMR: Give us an idea of how this collection began and progressed?
MT: I purchased a 1968 Joe Morgan card from Brian Drent, who is a PSA Authorized Dealer. It was that card that really started my portrait collection. From there, I started picking up my favorite portrait card of every Hall of Famer. I did a lot of research to determine what, in my opinion, would be the best portrait card. As time went by, I had a lot of tribute cards as a part of that collection, and after I had a significant part of the collection completed, I decided that I wanted to modify the collection a bit. That was when I came up with the idea to incorporate different types of cards. I wanted it to be a "type" collection while maintaining the portrait theme and that's what I have been working on since. I now have over 200 different types of cards represented in my collection with almost a complete run of Topps from 1952 through 1987, a complete run of Bowmans, a lot of exhibit cards and numerous T206's with different backs. The collection is comprised of portrait shots of every baseball Hall of Famer including executives, managers, players, and umpires. There are over 225 sets represented within my collection, including different T205 and T206 cigarette brands, Goudeys, Play Balls, 1948-55 Bowmans, nearly every major Topps issue pre-1990, and dozens of tough regional cards. The collection includes items from Canada, Cuba, Puerto Rico, the United States and Venezuela. I also have several rookie cards in the collection including those of Ernie Banks, Max Carey, Joe DiMaggio, Ted Lyons, Eddie Mathews, Gaylord Perry, Brooks Robinson, and Warren Spahn. I really like the diversity of the card types. I like how the collection represents the wide range of products baseball cards have marketed over the years – bread, caramels, cereal, chocolate, gum, hot dogs, ice cream, periodicals, potato chips, and tobacco.
SMR: Now there are some Hall of Famers who have never had portrait cards issued for them. What do you do when it comes to those players?
MT: In my current collection, I have all but ten Baseball Hall of Famers represented in portrait in some way with about 80% of those cards being ones that were issued during the player's career. I am only missing ten players which include the Negro Leaguers that don't have an issue at all like Effa Manley or Frank Grant. I really wish that Topps or one of the major card manufactures would issue something for them. If there is no card for the player, I will do a placeholder. I bet there will be card collectors out there who will be surprised to learn that some Hall of Famers don't have portrait cards. They are only available in action poses. So, in some cases, I have a place holder or a tribute card that honors them but it is really just an open slot. Now, in some case, I have a placeholder or tribute card simply because I don't have the money to purchase the card I want. An example would be the Lou Gehrig 1934 Goudey. While that card is fairly common, I haven't really put my financial focus on that card yet. The same would be true of some of the Negro Leaguers. Look at Oscar Charleston. The Charleston card I want is a $10,000 card and my wife and I are looking to buy a house, so that just can't be a priority for me at this time. So, for now, I have a tribute card for Charleston.
SMR: Along with price, what has been some of the tougher challenges you have faced in putting this collection together?
MT: The three cards that were the most difficult to come by where the George Davis card and my Martin DiHigo card of which there are only three known to exist. It was also difficult to get the Ted Lyons rookie card that I own. That is a very rare card and, as far as I know, my Lyons card is the only graded example known to exist.
SMR: Are those tough cards some of your favorites in the collection?
MT: (Laughing) I love them all! And each one has a unique story. To be honest, it is very difficult to have favorites in a collection like this because I can clearly recall the circumstances surrounding the purchase of every card. But I would say the Ted Lyons rookie card is a favorite of mine because there are so few around and no other example has ever been graded. I also love the Martin DiHigo card. That is just an incredible card. I especially think my card is awesome because someone pasted a little newspaper clipping on the card that says "The Immortal Pitcher" in Spanish. Someone else obviously tried to scrape it off but, even though it hurts the grade, I like that personal touch. I also really like DiHigo. He was a famous Cuban player who many people believe to be one of the best all-around players ever. That is definitely one of my favorites. I also have some items in my Hall of Fame portrait collection that are not cards that I like. I have a Don Drysdale Topps coin that has been graded by PSA and a Bid McPhee pin from 1898. I also love my Eddie Matthews rookie card.
SMR: Mark, your collection is completely graded. Can you share your feelings about graded cards and what you feel PSA has brought to the hobby?
MT: Well, while all of my cards are graded, my first purchase was a raw card, which I got before grading became what it is today. Since then, I have purchased both raw and ungraded cards and then had the raw cards graded. Today, if I see a card I am considering in person, I may buy it raw. But, if I'm purchasing it online, I am only comfortable buying graded cards. When you buy a graded card, you know what you are getting. There is a high level of comfort when you buy a graded card. I think along with grading, the most important thing PSA has done for the hobby is to establish the PSA Set Registry. The Registry has raised our competition as collectors and inspired us to put together the best collections possible. I love meeting other collectors I have gotten to know through the Registry. The camaraderie is great and getting to meet so many of them at the National is something I really look forward to. I also like having a serial number associated with my cards. That is wonderful. It is a unique tracing mechanism. If anything from your collection was ever stolen and it had been PSA graded, when you file a claim, it is nice to have that unique identifier and an assessment of its value based on other sales. That, in conjunction with SMR, is a great tool to assess the values of cards for insurance purposes as well as to play a significant role in how business is done in the buying and selling of cards. The bottom line is that PSA is the market leader.
SMR: Mark, you are a newlywed. How does your wife feel about the passion you have for your collection, and perhaps more importantly, the financial commitment you have made to make this collection a reality?
MT: My wife, Jaci, and I met in 2001 and were married in May of 2007. She is incredibly supportive of my collection and I am very lucky about that. During the first week I met Jaci, I told her about my collection. Now most girls aren't too interested in a guy's sportscard collection. But, on our second date, Jaci told me she checked out my web site and thought my collection was really neat. I thought that was incredible.
SMR: And what about your non-collecting friends and colleagues at work. What do they think of you putting major financial resources into old pieces of printed cardboard?
MT: (Laughing) I think some of my friends think I'm nuts when they hear I have spent $5,000 on a card. But I have different circles of friends, including some who could care less about my cards. They all think it's neat, but I can't have a substantive conversation with them about the cards. My other circle of friends consists of other collectors whom I love to communicate with in online chat rooms and meet up with at the National. We will talk about our cards and do trades. That is incredible. Since starting my collection, I have met all kinds of people from doctors to machinists. It's nice to know you are in a very diverse hobby with so many different personality types. That's a great part of the hobby. Some of these folks in the hobby have become very good friends of mine. Without card collecting, I would have never met these people. I really like that so many people in the hobby like you for who you are and not just because you collect the same things. There are a lot of really good people in this hobby.
SMR: Besides compiling your Hall of Fame portrait collection, what are some of the other things you enjoying doing?
MT: I also collect stamps from around the world that feature the art of Pablo Picasso's paintings. He is my favorite painter so I love those little Picasso's I have. I also collect U.S. coins and bottle caps which I have highlighted on my web site. I have over 3,000 different bottle caps which I have been collecting since I was five-years old. I am also an avid snowboarder. I love to play tennis and Jaci and I love to spend time with friends. We love to have people over to play board games and I love to play Texas Hold 'Em. We enjoy watching movies and going to sporting events. We also really love to travel. We've been to Brazil, all throughout Europe, and to Mexico.
SMR: You also maintain a web site and a small on-line collectibles business. Can you tell us a bit about that?
MT: Back when I was in college, I started toying with the idea of designing a web site to display some of my collections, my coins, bottle caps, Picasso stamps, and sportscards. I was hoping to sell some of the items via the site so that I could fund more purchases. My site and my business is called Rusty Willy Collectibles, which sells professionally graded sportscards in all four major sports issued between 1887 and 1969. However, I am looking to expand my inventory to offer items for virtually every type of card collector, from investment quality graded cards and rare inserts, to autographed cards and quality rookie cards.
SMR: Hope you don't mid us asking but, who the heck is Rusty Willy?
MT: (Laughing) That name came from my college days. Back in 1994, I went to this (theme) party that a friend of mine was throwing. As you walked in the door, she gave everybody a name and a name tag. Now she knew I was going through a bit of a drought period when it came to the ladies so she named me Rusty Willy and it sort of caught on. A friend of mine designed the Rusty Willy logo of the little red-haired boy that I use. Someday, I will expand my site to make it a real showcase presentation of my collections and an educational site about all the things people collect. I would also like it to be a site that I can use to assist collectors in buying and selling items. I want to offer a comfortable environment and friendly customer service to meet all collecting needs. But that will be down the road. As for doing that right now, well, I just don't have the time.
SMR: You have been working on your Hall of Fame portrait collection for quite some time. Is there anything that you are thinking about getting into next?
MT: My next project is going to be a portrait card collection of every Football Hall of Famer. I have already started the collection so I'm on my way.
SMR: Mark, You have a passion for your Hall of Fame portrait collection that is palpable. What is it about this collection that means so much to you?
MT: I am a first generation American. I'm the son of two immigrants from Poland. So, as a collector, I wanted to compile a collection that was very American and for that you can't top baseball. That's why I got into this. I'm a collector at heart. I have loved collecting since I was five-years old. I also love the fact that you can trace various advertising and marketing trends through these cards. Whether they were selling candy or tobacco, I think it's fascinating to look back and see how companies have used these cards as advertising and promotional tools to sell their products. I have a business degree so I have great appreciation as to how these companies marketed their products by use of baseball and these cards. This collection is truly my pride and joy!
---
Mark would love to have you visit him at his web site where you can communicate with him. Stop by and say hi to him soon at: www.rustywilly.com.