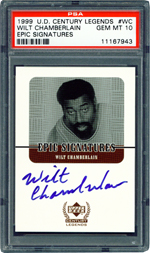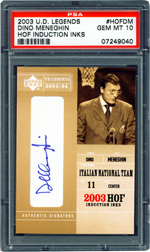 Hobbyists attempting to acquire an autograph from every player in the Basketball Hall of Fame must feel like Muggsy Bogues trying to dunk over Yao Ming. Their chances of success are unlikely, if not impossible.
But, despite the seemingly insurmountable odds, a determined group of collectors are forging ahead in their quests. The lifeblood of a lively thread on the PSA Set Registry Message Board, these hobbyists are more passionate about 1950s court legend Neil Johnston than Kobe Bryant.
Unfortunately, unlike baseball or football, the history of basketball isn't widely celebrated, and most reading this are probably wondering who Neil Johnston is.
"You mention some guy who played in the NBA during the 1950s and people's eyes start glazing over," said Walt Peters, owner of one of the best vintage basketball autograph collections in the world. "It just bothers me that today's sports fans don't really care about the history of the game."
Art Sainsbury, proprietor of the No. 2 Basketball Hall of Fame Players Autographs set on the PSA Set Registry, shares similar sentiments.
"If you went up to an average, young NBA player and said to him, 'Who's (Hall of Famer) Clyde Lovellette?' He wouldn't have a clue," he said.
Sainsbury says the dearth of old video footage and vintage card sets help explain this ignorance of hoops history.
"Basketball history is kind of like a ghost. There's nothing to grab. People can't relate to it. The records are there on paper and you can talk about them, but you can't actually see films of the players performing against competition and what they look like," said Sainsbury.
Some of this apathy can be attributed to the sport itself, which has been slow to acknowledge its history. Though formed in 1959, the Naismith Memorial Basketball Hall of Fame didn't open its doors until 1968 - nearly 29 years after the National Baseball Hall of Fame.
"Some of the guys died well before they were enshrined in the Hall of Fame," said Bob Zimmer, who owns the registry's top Basketball Hall of Fame Players Autographs set.
The hoops hall also differs from the pro baseball and football shrines in that amateurs, international pros and a significant number of women have been inducted. Tracking down autographs from these inductees - who tend not to remain in the spotlight - can be taxing.
Hobbyists up to the challenge, however, can collect the Basketball Hall of Fame Players Autographs set on the PSA Set Registry. This set requires hoops enthusiasts to amass an autographed card of each of the 136 honorees.
The most obvious obstacle to conquering this set is that some of the pre-NBA players, international inductees and female honorees don't have cards.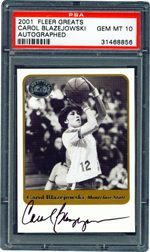 Over the years, however, sets have been issued that have aided these hobbyists in their quests. The 1968-74 Hall of Fame Bookmarks set, for example, offered the first cards of many legends. Measuring 2-7/16" by 6-3/8", these collectibles boast a blue tinted picture of the inductee at the top of the front, with the name and biographical information printed below it. The cards are not numbered and the backs are blank.
Sainsbury says he was able to obtain a Bernard Borgmann autograph on a bookmark after this set came out.
Action Packed produced sets celebrating hoops Hall of Famers in 1993 and 1995. Each of the 38 players - with the exception of Pete Maravich - in the 1995 offering signed at least 500 copies of their card. Bob Cousy (#39AU) and Bill Russell (#40AU) were only featured on autographed cards.
In recent years, more certified autograph and cut signature cards have been produced.
"Cut signatures will be the only way to get some of these guys," said Zimmer.
Upper Deck unveiled a six-card, Hall of Fame Induction Inks insert set in its 2003-04 Legends Basketball series. This insert series includes an autographed card of Italian basketball legend Dino Meneghin.
"It's the only signature he ever had and they put it in a card form, so we jumped all over it," explained Sainsbury.
There are a number of pre-NBA players that still don't have basketball cards, but cut signature cards are a possibility for these Hall of Famers in the future. Among the elusive, pre-NBA players are Thomas Barlow, John Beckman, Joseph Brennan, Tarzan Cooper, Max Friedman, Branch McCracken, Jack McCracken, John Schommer, Barney Sedran and Christian Steinmetz.
"You may have to pay a little more for Wilt Chamberlain or Bill Russell, but you can find them. If you want them, you can find them," said Peters. "If you want a Barney Sedran autograph, you can't find it. No matter how much money you have in your pocket, it's just not there."
A rare autograph of one of these pre-NBA players could fetch a lot of money.
"If something like that came up on eBay, in a well-publicized auction or in one of the big auction houses, I think the sky's the limit. I would certainly pay a lot for it," said Peters.
But there are also a number of Hall of Famers who do have cards, but their autograph is elusive. Here are some of those players:
Ed Wachter
One of professional basketball's (early 1900s) first superstars, Wachter was featured in the 1933 Sport Kings set (Card #5). The 1961 inductee spent a quarter of a decade playing professionally for a number of teams, including the Troy Trojans. He died in 1966.
"Ed Wachter is very difficult," said Sainsbury.
Zimmer purchased a 1961 Hall of Fame First Day Cover honoring James Naismith with a Wachter autograph on it for $300.
Bobby McDermott
Another pre-NBA star, McDermott was once considered the greatest long distance shooter in pro basketball. Featured on a 1948 Sports Champion Exhibits card (#22), he died in 1963 and was inducted into the Hall of Fame in 1988.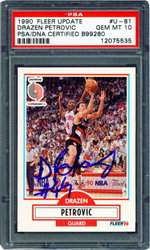 Peters has never seen a McDermott autograph on eBay, but he guesses that a signed three-by-five card would sell for $60 to $80. A PSA/DNA certified copy of his Exhibits card would likely sell for several times that amount.
Neil Johnston
This Philadelphia Warriors great topped the NBA in scoring for three consecutive seasons (1952-53, 1953-54, 1954-55). His sole card is his 1957 Topps issue (#3). He died in 1978.
"He's difficult on anything, so I can imagine how difficult he would be on a 1957 Topps card," said Peters.
Sainsbury purchased a signed Johnston index card for $200 almost two years ago. An autographed 1957 Topps Johnston card certified by PSA/DNA would likely sell for considerably more than that.
George Yardley
Yardley was the first NBA player to score 2,000 points in a season (1957-58). The Detroit Pistons star's only card is in the 1957 Topps set (#2). He passed away in 2004.
Sainsbury owns a signed 1957 Topps Yardley.
"That's one of the gems of my collection. It's a really, really tough card," he said.
Sainsbury believes his signed PSA/DNA authenticated Yardley card would fetch $350 to $500. Fleer also unveiled a Yardley cut signature card in its 2005-06 Fleer Greats of the Game Great Cuts series; Zimmer recently purchased one of the three of these cards (3/3) for $1,500.
Maurice Stokes
An All-Star in his only three NBA seasons, Stokes suffered a head injury during a game that eventually rendered him a paraplegic. He died in 1970, but wasn't inducted into the Hall of Fame until 2004. His only card is in 1957 Topps (#42).
"I would say for the sake of the Basketball Hall of Fame Players Autographs registry, he would be the No. 1 guy," said Sainsbury. "I've never seen that 1957 Topps card signed - ever."
Peters, who owns a Stokes autograph on an index card, expresses similar sentiments.
"Maurice Stokes is one of my searches on eBay and I've got to tell you, I don't see any autographs," he said.
SMR lists a signed three-by-five Stokes card at $500.
"I would personally go as high as $1,500 for a signed (1957 Topps) Stokes card," said Sainsbury.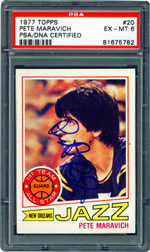 Pete Maravich
Maravich was featured on a number of cards and was a good signer until his death in 1988. The legendary court wizard almost exclusively signed "Pistol Pete." Autographs that showcase his full name are rare and generate a significant premium.
"Maravich is by far the most coveted autograph. He's really, really tough to find," said Sainsbury.
A "Pistol Pete" signed three-by-five card is valued at $300 in SMR. Press Pass released the first cut signature card of Maravich (his name inked in full) in its 2006-07 Legends series. One serial-numbered (1/5) example was offered on eBay for $5,499 in February 2007.
These elusive autographs make completing the registry's Basketball Hall of Fame Players set a daunting task. It's a challenge, however, that more hobbyists seem to be embracing.
"I think it has gotten a little more popular," said Peters.
Zimmer agrees.
"It's starting to take off a little more . . . I'm banking that these autographs are just going to take off in popularity. They're popular now but, when it comes to some of the lesser known players, you can still pick them up really cheap," he said.
Please feel free to contact Kevin Glew at [email protected] if you have any additional information or comments. Bob Zimmer, Walt Peters and Art Sainsbury provided pictures for this article.