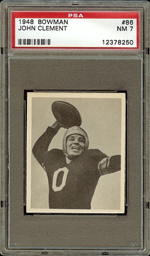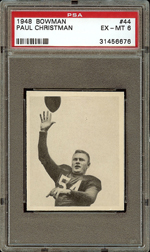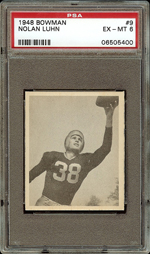 Veteran hobbyist Frank Massaro calls the 1948 Bowman Football set the most overlooked of all gridiron issues.
Unlike the colorful 1948 Leaf set, the Bowman offering - with its black and white photos - hasn't exactly dazzled collectors.
"To me, if I had to make a comparison (between 1948 Leaf and 1948 Bowman), it's like color television or black and white, which was better? . . . If you were to take these cards (1948 Bowman) and compare them to their '48 Leaf cousins, I would say that the Leaf are five times more popular," noted Massaro, owner of the registry's No. 4 Bowman set.
The savvy collector does believe, however, that the Bowman set is undervalued. Measuring 2-1/16" by 2-1/2", the singles in the 108-card Bowman offering showcase black and white photos surrounded by a white border on their fronts.
"I think that the black and white is really nice . . . They're mostly portraits (pictures on the card front) too, so I like it for that reason," said Doug Spannring, proud proprietor of the registry's No. 8 set.
The card backs feature the player's name, position, team and biographical information.
"The backs are really interesting, too," added Spannring. "A lot of the guys, particularly the ones that weren't big name stars, were veterans from World War II. It's fun to read about them."
Bowman's gridiron debut, the 1948 cards were reportedly distributed in one-cent and five-cent packs. It's believed that this product was printed in three sheets of 36 cards. Cards on the third sheet boasted all the card numbers that were divisible by three (card numbers 3, 6, 9, etc.) and are noted as short prints.
"A third of the set is short prints, so it's pretty difficult from that standpoint," said Spannring.
Jeff Mazzeo, who owns the registry's No. 5 Current Finest set, agrees.
"The biggest challenge is getting the short print cards in reasonably high-grade," he said.
The fact that it's Bowman's first foray into football is what inspired Mazzeo to collect it.
"I decided to collect the set because it was Bowman's first football issue. To me, that makes the set significant and interesting," said Mazzeo.
With rookie cards of 10 Hall of Famers, the player selection is impressive. This set also boasts a number of rookies that are not part of the Leaf set, including Joe Tereshinski (#1), Elbert Nickel (#60), Alex Wojciechowicz (#61), Mike Holovak (#65), Leslie Horvath (#71), Marshall Goldberg (#81), Bruce Smith (#104) and Buford "Baby" Ray (#108).
The short-printed Ray card is difficult to find in mint condition. Of the 60 cards evaluated, the top grade given has been PSA NM-MT 8.
"It's the last card in the set. You don't see it come up very often. Even low-grade copies don't come up very often. It's just really a bear of a card," said Massaro.
The position of the Ray on the sheet also adds to its condition sensitivity. An uncut sheet of 1948 Bowman cards sold at auction in February 2006 revealed that these sheets consisted of four rows of nine cards. The Ray is the last card in the third row, a position that makes it susceptible to miscuts and damage.
Surprisingly, Joe Tereshinski, the set's first card, is not quite as tough in high-grade as one might think. Of the 78 submitted, there have been three PSA Mint 9s and 11 PSA 8s. A pair of PSA 9 Tereshinskis sold for $3,123 in 2004 and $2,627 in 2006 respectively.
"It's not as hard as some of the other No. 1 cards in other sets," said Massaro. "It's one of those cards that you don't see come up very often and I would say, in the last year or so, I think I've seen one (PSA) 8 come up on eBay."
Legendary quarterback, Charlie Conerly (#12), is another short print. Of the 78 Conerly cards sent in, there have been two PSA 9s and 13 PSA 8s. Sid Luckman (#107), another high profile signal caller, is also part of the set. Though not a short print, his card is the set's second last card, making it susceptible to condition woes. There have been four PSA 9s and 13 PSA 8 examples of Luckman.
Hall of Fame pivot Sammy Baugh's card (#22) is the most coveted. Of the 213 graded, there have been three PSA 9s and 29 PSA 8s.
"A lot of them (Sammy Baugh cards) seem to be off-center to me, but maybe it's not the norm," said Spannring.
Centering problems are relatively common with these singles.
"You get a lot of off-center (cards) . . . You get a lot of cards that have creases . . . and wrinkles on the back of the card," explained Mazzeo.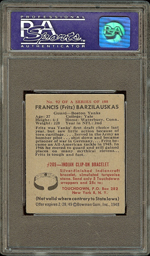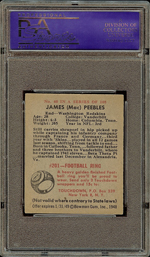 Discoloration is another problem.
"I don't know if it's because of the black and white, but you see a lot of toning and staining that becomes very noticeable in the borders," said Spannring.
Now 60 years old and still relatively affordable, this set is considered a good investment by some hobbyists.
"This set has nowhere to go but up. As football cards continue to rise (in value), the wave is eventually going to catch this set and bring it up with it," said Massaro.
More collectors are already starting to jump on the 1948 Bowman bandwagon.
"I think the competition has definitely increased since 2000," said Spannring.
Mazzeo agrees.
"I think, in general, there's more people collecting football cards," he said.
So, it may have taken six decades but it appears that hobbyists might finally be warming up to the once overlooked football set.
"Anybody who starts building the set now is going to be happy five years down the road," said Massaro.
Please feel free to contact Kevin Glew at [email protected] if you have any additional information or comments. Doug Spannring provided pictures for this article. Please note that the Population Report figures quoted are those as of press time.