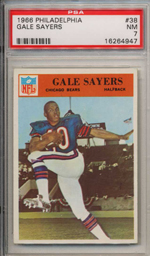 The auction opens with a very interesting collection of 28 different 19th century players, including Cy Young, Phenomenal Smith, Tommy Corcoran and much more. It continues with 120 lots of 8x10 photos. There are many solid groupings, and singles of usual suspects DiMaggio, Mantle, Mays, Williams and many scarcities.
The auction also has a major selection of 3x5s. There are many interesting group lots, and better singles of Pepper Martin, a possible Rookie Willie Mays, Kid Nichols and Jackie Robinson. There is also a run of very high quality cut signatures, including Hodges, Reulbach and Speaker. Many interesting single signed books follow, along with some better signed programs from the 1940s and 1950s and our usual run of signed Perez Steele postcards. Collectors of signed cards can choose from many scarce signed cards from the 1940s through the 1960s.
Single signed balls are the next major category in the auction. This category has many better deceased singles, including Red Barber, Chuck Connors, Joe Dugan, Burleigh Grimes, Ray Kroc, Billy Martin, Bill Shea and Jean Yawkey. A run of very high grade HOF singles follows. Collectors of current players will have much to choose from, including Howard, Jeter, Pujols and A Rod. A respectable run of team balls from the 1950s through the 1980s concludes day one of the auction.
Day two of the auction opens with a terrific selection of vintage scorecards. These are being sold in team lots; all of these are from a single collector and these have been in a closet for decades. Nothing has been cherry-picked, and there is a possibility for some rarities in these lots. There is also a fine selection of scarce minor league programs, including a 1927 Ruth/Gehrig barnstorming program and a 1954 Clemente minor league program. A wide selection of World Series Programs and yearbooks from the 1940s through the 1960s conclude our selection of pubs.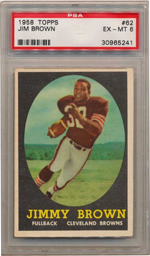 Higher grade baseball cards from 1959 to the present are the next major category. There are some interesting oddball sets from the 1960s, and a run of high grade Topps sets from the 1973 - 1985. In a first for Clean Sweep, they have many of the better Tiffany sets from the 1980s and 1990s, including the 1988 Score and Score Traded, 1989 Topps Traded and 1989 Bowman. There are lots of high grade singles from the 1960s, including many PSA-graded 6s and 7s of Mantle and Clemente. A clean run of 1961 Topps high numbers is also worthy of attention, as well some clean 1959 and 1966 Bazooka singles.
Basketball comes next. There are several quality Larry Bird signed items, and a selection of higher grade cards and sets from the 1970s and the 1980s.
Football is the next major category. There is a strong run of signed footballs, including a 1965 Chiefs, Ray Lewis, Peyton Manning, Dan Marino and Joe Montana. There are some better Goal Lines, including the scarce Rozelle. There are many vintage 3x5s, photos and key HOFers on 8x10s. There is a quality selection of better grade football cards from the late 1950s through the 1980s; highlights in this section include a 1958 Topps Jim Brown Rookie in a PSA 6 and a 1966 Philadelphia Sayers Rookie in a PSA 7. There is also a near-complete run of 1972 Topps football high numbers as singles. Higher grade sets from 1973 - 1989 conclude this section.
Baseball memorabilia concludes the auction. There are some interesting bats, a run of press pins from the 1940s through the 1960s, some better photos, including the iconic Jackie Robinson breaks into Major League Baseball. We have some clean vintage pennants and some very high grade Hartlands, including Babe Ruth in the original box.
Bid Today! This auction closes March 24 and 25, 2010. Bids are welcome by phone (516) 338-8557 Monday through Friday 9 a.m. - 5 p.m. EST. You may also bid via Clean Sweep's website at: www.cleansweepauctions.com. Clean Sweep Auctions is one of the largest auctioneers and sellers of vintage sports cards, autographs and memorabilia in the world - offering both outright sale and auction items.