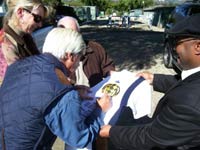 Hall of Fame Trainer, Bob Baffert, signs on a new line of signature collectible sportswear to benefit thoroughbred care and horse racing fans nationally.
"This is what the industry needs" said Baffert, as he signed the first of what many will consider a merchandising solution to enhance thoroughbred awareness. The Hall of Fame Championship Achievement Jersey guarantees to take fund raising for thoroughbred charity to the next level.
Endorsed by Breeders' Cup, Churchill Downs, Santa Anita, and The National Museum of Racing and Hall of Fame, the limited edition championship achievement jerseys will be featured on derby day, April 3rd, at Santa Anita. Bob Baffert will sign the PSA/DNA authenticated jerseys for racing fans and collectors in attendance.
Jack Mutz is the owner of MVP Athletic Apparel, a Santa Clarita family-based sportswear company that manufactures Hall of Fame athletic sportswear for professional athletes and major sports teams nationally. Jack and his partners have brought a nostalgic, professional spark to jump-start Hall of Fame merchandising in the thoroughbred industry.
Bob And Jill Baffert have designated proceeds to benefit Old Friends Equine -- a Kentucky retirement facility for thoroughbred race horses in Georgetown, Kentucky.
Baffert Stables, MVP Athletic Apparel, and Santa Anita are planning a charitable event to launch the new line April 3rd, 2010, at Santa Anita.