As a kid, did you ever sit in a Major League stadium and, with awe, think about how you were breathing the same air as The Say Hey Kid or The Mick? Did you ever sit in front of an old Zenith with your father on a fall afternoon and watch Johnny U, Broadway Joe, The Blonde Bomber or Roger the Dodger hurl a pigskin 45-yards downfield with pinpoint precision? Can you clearly recall where you were on an early-April evening when Hammerin' Hank stepped up to the plate in the fourth inning at Atlanta-Fulton County Stadium and swung on an Al Downing fastball?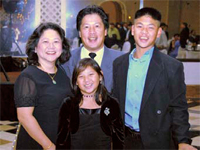 Houston Sports Connection owner Howard Lau with His wife, May, son, Jason, and daughter, Mellissa.
If you can answer those questions with a resounding "yes" then it is a pretty good bet that, when you were a kid, the local grocery or candy store was an important destination.
While those retail outlets of the 1960s and early-1970s sold all sorts of food, dry goods, magazines and newspapers, you were probably oblivious to the majority of their offerings. It is probably safe to assume that, while you may have been known to walk out of such an establishment with a comic book or a bag full of confections from time to time, the real reason you reveled in visiting those retro retailers was to pick up a pack or two of wax wrapped cards and gum.
Unlike today, with our cookie-cutter convenience stores and impersonal cyber shopping, kids of the 1960s and early-1970s actually knew the names of the proprietors of the shops where they bought their cards. In fact, just about anyone over the age of 40 can still close their eyes and call up memories of those shops and the folks who ran them.
Howard Lau, the founder and owner of the Houston Sports Connection, spent a lot of his childhood in one of those little grocery stores. "My father ran a small grocery business in Houston," said Howard. "That is how I started collecting cards. This was back in the early-1970s. My father used to sell packs of cards and I couldn't wait for the new packs to come in. As a kid, I was especially attracted to cards from 1973 and 1974. I also liked the 1960s Topps cards. Now it wasn't easy collecting those cards being as that they were expensive for a kid. So, I started saving money and that was when I got into putting together my first set – a 1960 Topps Baseball set."
Along with his love of cards, Howard was also an avid sports fan and athlete from an early age. "I always loved sports and I played high school baseball and basketball for two years," he said. "I only participated in organized high school sports for two years because, back then, there was a freshmen, a junior varsity and a varsity team and you really had to work to make the team. Well, after my first two years, it was obvious that I wasn't good enough for the varsity team so that was the end of my high school sports career. Realizing I wasn't going to go any further as a high school player, I just got into following the local teams – the Houston Astros, the Houston Oilers and the Houston Rockets."
After graduating from the University of Houston with a business degree in 1985, Howard walked out of the halls of academia with no clear direction. "When I left college I was really a lost soul," he admitted. "I really didn't know what career path to take. My father was always an entrepreneur – always owned his own business – so I had that business background. But I was really searching during that time of my life."
Howard said that while he was trying to decide what he wanted to do for a living, the idea of dealing in sportscards was a recurring thought that kept popping into his head. "This was the late-1980s and the baseball card market was really hot," said Howard. "I had contacts I had made through my father's business – the candy wholesalers and the Grocery Supply Company who supplied everything for grocery stores. Back then, we purchased our baseball card packs through them. We ordered them by the case for $182 and flipped them for $275. This was 1987, the year that Benito Santiago hit in 34 straight games during his rookie year and when another rookie by the name of Mark McGwire hit 49 home runs. Baseball was on fire that year. Jose Canseco started getting hot that year and his 1986 card was in high demand. That's when I really started focusing on the idea of selling cards. I knew I could make close to $100 on a case of baseball cards and I thought there was a real business opportunity there. Now this had never been my plan. I never thought I would ever get into the sportscard business. I always figured I would get my degree and go to work for some big corporation. That never happened. Instead, I got started with the business of selling cards in the latter part of 1988."
Soon after beginning his business, Howard started to look into doing shows. "I really didn't know what the card shows were all about when I started," he revealed. "But, when I began to learn about them, I realized they would be an important part of my business. Back then, there were shows every week and they were just unbelievable. I was a 24-year old kid who would set up at a show and do very well. I would walk away from every show having made money."
It was by attending those shows that Howard made valuable contacts with people from all over the United States. "Attending the shows and getting to know other dealers helped me develop a network with people in the hobby," he said. "Then, when the Web came into play, it gave me and other dealers who knew one another an edge because we would work together and share information. Remember, back then prices and values were only starting to become established. It was rough to make intelligent purchases or sales during that time because prices were all over the place and they could raise or drop substantially from week to week. Knowing and working with other dealers was a big help in trying to figure things out."
Howard said that while the business of buying and selling cards was a bit scattered at that time, he feels he also had another edge. "When I first opened my store, I went into it with a business mind," said Howard. "Most people who got into the sportscard business back then were serious collectors who had gotten into it to increase their own collections and also for the pure love of it. That was not the case with me. While I had collected as a kid, I went into buying and selling from a pure business perspective from day one. I had created a business plan and knew where I wanted to be by the five year mark and where I wanted to be within 10 years. From day one, I was always striving to reach my goals."
Beginning his business on both the wholesale and the retail side, Howard said he felt it was important to be diverse in the way he did business. "At that time, while I had a very small retail store, I was mostly doing wholesale selling. You have to remember, when I started out, there were hundreds and hundreds of cards stores all over the country. If I tell you I was selling fifteen-hundred or two-thousand cases of cards a year, believe me, that is no exaggeration. But I always knew that what goes up must come down. I knew that, at some point in time, the hobby would slow down, many of these small shops would not survive, and that I would have to fall back on retail."
According to Howard, his awareness that the hobby would eventually slow down became a reality about five years after he started his business. "I would say that when you look at the sportscard business, 1994 was a turning point," said Howard. "For the most part, that was due to the baseball strike. Things got very soft after that. I know a lot of collectors who got out of the hobby after that season. Some came back and some didn't. There were also other factors that had to do with the softening such as an influx of product and an increase in companies. Manufacturers started producing a huge amount of product during that period and, because there was so much out there, consumers got confused as they do from time to time. They just didn't know what to collect. That was when many card collectors turned to autographs. Things began to change and I have always tried to stay on top of the changes. Back in 1993 and 1994, when the Houston Rockets were really popular, when they won the World Championship, I got into private signings. Hakeem Olajuwon and Clyde Drexler weren't just great stars of the time, they had been classmates of mine at the University of Houston. So, I made contact with them and they started doing private signings for me."
Today, Howard still does a little wholesale business but not much being as that there are not many stores left to do business with. "My business today is predominantly retail," he said. "I still do a lot of private signings. I've adapted to the changes in the hobby and got involved with whatever has been popular and in demand at any given time."
He also said that the way the sportscard business operates today is much better than the one he entered 22 years ago – largely because of PSA. "Back then, the authentication process wasn't what it is today," said Howard. "I just authenticated everything myself. But then when eBay came into play, the hobby was in need of grading services and third party authenticators. Even then, being old school, I thought I could just continue to authenticate things myself. What I used to do was take a picture of everything being signed and then provide a letter of authenticity from me. Now that was great for the people here in town who knew me and trusted me but, with eBay, I was dealing with people who never heard of Howard Lau from Houston Sports Connection. If I was dealing with a guy in California, he would have no idea if I was legit. That's when PSA came into play for me. PSA completely changed the way the sportscard and memorabilia business operates. It was an innovative and brilliant idea on their part to offer third party authentication and grading. Today, I am a strong proponent of PSA because it offers protection against problems, especially forgeries."
Howard also points to the Sports Market Report Price Guide as being a tremendous help to him and his customers. "It is invaluable when it comes to cards and signed memorabilia," said Howard. "PSA has been extremely helpful to me because I used to sell a Hakeem Olajuwon signed basketball in my store for $149. Now I knew what I paid Olajuwon to do a signing. So, if I went online and saw an Olajuwon signed photo selling for $19, I know there is no way a dealer could make a profit by selling a real signed photo for that price. The SMR helped me prove that a customer could see that simply by the low asking price that it was a forgery. Something like that would never be authenticated by PSA, but my $149 signed ball would be. That is why PSA has and always will play a big role in the hobby."
Still a collector himself, Howard said he still has that 1960 Topps set he put together when he was a kid. "Every once in a while, I pull it out and look it over," he said with a laugh. "It brings back a lot of memories when I'm bored or my wife sends me to the dog house."
Howard and his wife, May, were married in 1987. They have two children – Jason who just finished his freshman year of college and Mellissa who is 13-years old. "When my son, Jason, was born in 1990, it had only been two years since I opened my store," said Howard. "We had a bit of a dilemma in choosing what we would do as far as caring for him. My wife was working as an accountant and I was running the store. So, when Jason was born, we thought that instead of hiring someone to run the store or going the childcare route that May would leave her company and come and work for me. That way we could take care of our son ourselves. Jason literally grew up in the store."
May and Howard continued to work side by side until five years ago. "When we got to a point that the business had slowed down a bit, there was really no need for both of us to be at the store," said Howard. "So May went back into the business world and today she has a job that is very flexible so she still has a lot of time to spend with our kids."
When he's not working at the store, Howard and his family enjoy traveling. "We try to take a family vacation every year," he said.
When he's back at the shop, Howard still applies his business acumen on a daily basis– always thinking of where the hobby is going and how to make it stronger. "I think the hobby will remain strong because the desire to collect will never go away," said Howard. "For people – Americans especially – collecting is in our blood. We are a nation of collectors – everything from cans and bottles to sportscards."
He does, however, have a strong belief that people who work in the collecting business have to start giving more thought to the future. "What we as dealers have to do, and more importantly what the manufacturers have to do, is start getting kids involved in sportscards again," he opined. "This hobby has forgotten about the kids. Everybody is catering to the adults who have the money. That is a very dangerous thing because it does not capture the next generation. People love sportscards because they are a connection to their childhood. They bring about memories. Today's kids will have no memories of collecting cards when they become adults. By not catering to kids, we are not preserving the hobby. Everyone who is involved with the hobby, and I mean everyone, needs to start thing about how to get kids – the next generation – involved with collecting. We have to start making this hobby exciting for kids who don't have big money to spend."
Howard said that his desire to get kids involved in collecting is just one of the things he tries to do to positively promote the hobby. "I have always been the kind of guy who promotes the hobby more than I promote my personal business," he said. "I feel that by promoting the hobby it will benefit me. If you promote the hobby and earn a reputation of dealing with people fairly and with integrity you are going to get your share of the pie. I promote shows in Houston and used to have my own weekly radio talk show in which I would promote the hobby. I also do a charity Hall of Fame Football show every year where I work with the NFL Players Association and bring in 29 or 30 Hall of Famers sign. Over the past 22 years, I have been involved in every aspect of trying to strengthen the hobby."
Howard also believes that the future of sports collecting is bright due to the fact that sports play a role in just about every American's life. "Almost everyone has participated in sports when they were a kid or when they were in high school or college," said Howard. "Almost everyone follows a team and many people have kids or grandkids that are active in organized sports. Just about every family and person in the nation has a connection with sports in one way or another. We are a country that has been infatuated with sports and athletes for a long time. Perhaps, in this bad economy, it is also an escape for people. The big thing is that the enjoyment of sports is a natural for families. Following a team is something every member of the family can be involved with and sports collecting can bring about a real bond between parents and their kids. It's a wholesome and enjoyable way for families to come together."
In retrospect, when he looks back over his years as a professional sportscard dealer, Howard could not be happier about the career choice he made. "For 22 years, I have looked forward to coming to work every day because I have never looked at this as work," he said. "It's like Kobe Bryant playing basketball. Kobe gets paid for playing, it is his job, but at the end of the day, it is fun for him – he loves it – that is the same thing with me."
Established in 1987, Houston Sports Connections stages and participates in many collectibles shows in the Houston and San Antonio area. You can visit them on line at: houstonsportsconnection.net or in person at: 12230 Westheimer Rd. #48, Houston Texas 77077. You can also connect with Howard Lau by phone by calling (281) 589-9600 or by e-mail at: [email protected].
ft caption" style="width:220px;">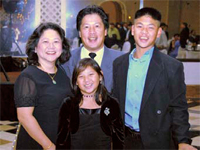 Houston Sports Connection owner Howard Lau with His wife, May, son, Jason, and daughter, Mellissa.