Imagine what life is like at the top. You would have no financial worries, wake up every day free to do whatever you pleased, and when you weren't playing golf, you could spend your time amassing the finest example of one of the most desired sets in sportscard history. Such is the life of collector Jim Nahigian who, after running a successful business for close to three decades, now lives life at the top and has recently assisted a lifelong friend in establishing the top 1955 Topps All-American Football set on the PSA Registry.
In 1950 and 1951, Topps made the decision to create a set of football cards that highlighted collegiate stars of the era. In 1955, they again released a gridiron set known as the 1955, Topps All-American Football set that included the cards of some of the greatest men to ever don a helmet and pads. Most notable for the fact that it included the only regular issues for Don Hutson, Jim Thorpe, Red Grange and Ernie Nevers, the set also includes the offerings of cards bearing the photos of Ace Packer, Wilber "Fats" Henry, Mel Hein, the legendary Knute Rockne and four men who played for Rockne – Don Miller, Harry Stuhldreher, Jim Crowley and Elmer Layden, more famously known as The Four Horsemen of Notre Dame.
The set, that includes the offerings of eleven Heisman Trophy winners, including Jay Berwanger who won the first Heisman, is made up of 100 cards. Thirty five of the cards in the set are short prints including the #68 Four Horsemen card, the #97 Don Hutson card, and the #100 Wilber "Fats" Henry card.
The cards measure 2 5/8 inches by 3 5/8 inches in both horizontal and vertical designs. Artistically, the cards are unique in that the front artwork features a white border around different colored fields and a colorized photo of the player over a black-and-white action photo. Under the double image, the card features the player's name and position as well as the logo of the college or university he attended. The back of the cards include a cartoon, various fun facts and trivia or a quiz on the rules of the game. While the cards offer no statistical information, they do include highlights of the players accomplishments.
The set is known to have suffered numerous errors. There are examples in which the information on the Gaynell Tinsley #14 card was erroneously printed on the #21 Whizzer White card and the back of the #19 Bruce Smith card was printed on the #38 Amos Alonzo Stagg front. Other mistakes included the misspelling of Nile Kinnick's name on the #6 card, a photo of Howard Odell on Bob Odell's #91 card, and the identification of Red Grange as a quarterback rather than a halfback on the #27 card.

Widely desired for their eye-appeal and unique design, the 1955 Topps All-American Football cards are magnets for serious card collectors – especially when they are in top-grade condition. That is why more than a few eyes went wide and jaws dropped within the hobby when Southern California collector Jim Nahigian and a childhood friend of his recently assembled the finest set of the 1955 Topps gridiron offerings. Those eyes widened further and those jaws dropped even lower when Nahigain revealed that he and his friend have been sitting on a substantial stash of pristine boxes and unopened packs of 1955 Topps All-American Football cards.
As a young boy growing up in the prestigious Pacific Palisades district of Southern California, Nahigian became attracted to sportscards when he was seven-years old. "I began collecting baseball and football cards in 1962 and I loved all sports," said Nahigian. "I grew up during the Sandy Koufax and Don Drysdale era so I was a huge Dodger fan."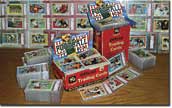 As a child, Nahigian's best friend lived three doors away. "When we were kids, we played together all the time," said Nahigian. His father had been a wholesale toy dealer in Los Angeles in the 1950s. During that time, he was handling trading cards and he especially admired the 1955 Topps All-American Football cards. He had a real affinity for them and kept quite a few of them for himself. So, when he got out of the toy business in the mid-1960s, he had boxes of 1955 All-American Football unopened cello packs."
According to Nahigian, his friend's father stored his unopened boxes and packs away in a closet where, for many years, they were given little thought. "We're talking about an extremely important Topps offering that were time-capsuled in his closet," said Nahigian. "They were just sitting there for years in untouched, pristine condition."
As the years went by, and Nahigian got caught up in living his life, he always kept in contact with his childhood friend. "I took up golf in high school and then continued to play when I went to college at University of the Pacific,' Nahigian recalled. "I graduated with a BS in Business Administration in1977 and then traveled the country for several months with my old childhood friend."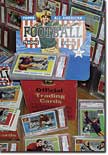 While the two friends were off finding America, Nahigian received a call that his father had taken ill. "I felt it was incumbent on me to run our family business," said Nahigian. "It was a plastics company that had evolved from the surfboard industry. My father had been a supplier of polyester resins and foam for the surfboard industry. From there, the company evolved into dealing in Plexiglas. So, when my father's health failed, I took over the business in 1977. We went on to become the foremost supplier of Plexiglas in Southern California doing a lot of display work for large department stores."
In 1980, Nahigian married his college sweetheart, Allie, and the couple had two sons, Paul and T.J. During this time, Nahigian continued to stay in touch with his childhood pal and mourned alongside him when his friend's father passed away in 1986. "Soon after my friend's father died, he came across the unopened 1955 Topps cards in his closet," Nahigian said. "Well, as soon as he dug them out, he came to me because I'm an avid card collector. He showed them to me and asked me what I thought. I was floored. I knew that unopened vintage Topps cards were very scare and in high demand so I advised him not to sell them and not to open them. I told him to just sit on them and that I would watch the marketplace."

In 2004, after almost 28 years of running the business he inherited from his father, Nahigian decided to retire. "I sold the business and began playing golf two or three times a week, usually at Woodland Hills Country Club or Riviera Country Club," said Nahigian. "I'll spend a couple hours out of every day managing some personal and family owned real estate investments and I believe in giving time to my community so I serve as the president of the board of directors of our local park. I also do some fundraising work with a charity that fights Parkinson's disease and, when I'm not doing any of those things, I love to go for walks on the beach."
With his sons having finished college and moved on to their respective careers in investment banking and insurance, one of the simple pleasures he enjoys is spending time with Allie and the couple's dogs, a Welsh Terrier named Dewey and a Wire Fox Terrier named Lindsey. That changed when his old buddy called and said he felt the time was right to start doing something with his 1955 Topps cards.
"Being retired, I had the time to help him deal with his cards," said Nahigian. "Now he and I are both pretty well off so we were not approaching the cards as a money-making venture," Nahigian explained. "In fact, we sat on them for a while longer and then, about two years ago, we felt the time was right to deal with the cards. I had been watching the market very closely and saw that these Topps All-American Football cards were in extremely high demand. They were one of the most desired football card sets in the hobby."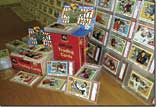 Nahigian and his friend finally pulled all the cards out of the closet and began to take serious inventory of what they had. "I'll be honest," laughed Nahigian. "We really didn't know what to do with them. So, I took an unopened box of cello packs and went over to PSA in Santa Ana."
"Well, when I went to PSA, I walked in and unwrapped this 53-year old box of unopened, pristine 1955 Topps All-American cards and you can imagine the reaction," said Nahigian. "The representative's eyes got real big and he asked me if I could take them and show them to Joe Orlando. He did and Orlando was impressed."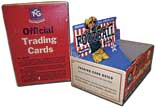 "Sports Market Report" recently sat down with Jim Nahigian and questioned him on what path he, his friend, and their coveted cards have taken since that day he rattled the halls of PSA.
Sports Market Report: Your story about walking into PSA with those cards is priceless. What happened after that meeting?
Jim Nahigian: Since that day, my friend, who has asked to remain anonymous, and I have worked hand-in-hand with PSA to have several of the unopened packs graded. We have also opened several packs and had those cards graded as well. We thought about what we wanted to do with the cards for a long time and finally decided our goal would be to try to amass the number one 1955 Topps All-American Football set on the PSA Registry and then put together six other really high-grade sets. We stared opening the packs in 2008 and would then take them to PSA to be graded. As you can imagine, we had some extremely positive results early on including some Gem Mint 10s.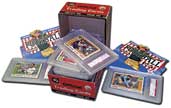 SMR: Having given the cards so much thought, you must have considered not opening the packs.
JN: That's right. When we first started dealing with the cards, I researched selling the cards the way they were, in their unopened state. There were a couple of big name collectors and dealers who were very interested. One of the hobby's top dealers of unopened material flew out to look over our inventory and he went ape when he saw it. He was extremely interested in working with us. About a week later, he called with an offer of $300,000 for 100 unopened packs. He had a very big heavy hitter in the collecting world who really wanted them. Well, to make a long story short, we turned him down. Then we got a call a month later and the offer was upped by $50,000. Now, I have to admit, that was tempting. We pondered it for a week or two but, as time went by, we decided that because we didn't need the money, we would just have fun with this. Now believe me, my wife thought we were wacky. She was astonished by the whole thing and couldn't believe we turned down an offer of $350,000! But she also knew we were having fun and that these cards were our passion.
SMR: That's every collectors dream! To have fun with your passion and give no thought to money!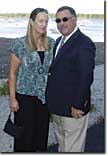 JN: Well, what happened is that as we started working closely with these cards, we started to fall in love with them. We really began to have a great appreciation for their beauty. So we were just having a great time opening packs, getting them graded, and working to put together the finest set, which was a real challenge because the number one 1955 Topps All-American Football set on the PSA Registry had a grading of 8.99 which is basically Mint. It was one of the highest graded 1950s card sets on the PSA Registry. To be honest, no one ever thought that set could be challenged and there we were trying to take it down. So, as time went by, we began buying high-grade cards because not every one of the 100 cards in the set was in the packs we had. We were constantly on the search for low-population, high-grade 1955 Topps All-American Football cards which are very expensive and not easy to find. Well, we finally got it done this past year. We now have the number one set on the PSA Registry with a grade of 9.12, which everyone believes will never be touched unless someone has a find like we had. My friend has named the set RVS in honor of his father. RVS were his father's initials so it is a way for him to connect with his late father.
SMR: So now that you have reached your goal, what's next?
JN: We haven't reached our goal. We have only completed two sets. So, now we have the number one and number three sets on the PSA Registry and we are still working on four more sets. Two of the four are pretty well along, but it will take us quite some time to complete the next four. Our future is to continue to work toward our goal of compiling six high-grade sets. I spend at least two to three hours a day managing the All-Americans. That time involves searching for high-end cards for our sets, getting cards graded and selling cards.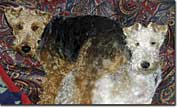 SMR: Do you still have any unopened packs?
JN: We have not opened all of our packs and, in fact, we had several unopened packs graded. We took a lot of them to the last National in Cleveland and displayed them. At the National, we also consigned some of our unopened packs and some individual cards. That was very successful and a lot of collectors got some magnificent, pack-fresh, perfect cards.
SMR: Outside of dealing with these cards, do you still personally collect anything?
JN: I do still collect both baseball and football cards. I have virtually every baseball set, mostly vintage ones in mid-grades, from 1957 to 2000. I have lots of football cards from the 1950s, '60s and '70s and plenty of other artifacts as well. I have a few signed balls, bats, jerseys and programs. I also have some pretty cool golf items.
SMR: Any favorite items?
JN: I love the 1957 and 1966 Topps Baseball sets mainly for their cool design. I also have two favorite golf items. One is something that I can't get specific about, but let's just say it involves O.J. Simpson. The other is a Riviera Country Club history book that has been signed by Arnold Palmer, Jack Nicklaus and Ben Hogan. That book also includes a personal anecdote written by a Riviera member who is also one of the greatest sportswriters in history – Jim Murray. That said, there is no question that the 1955 Topps All-Americans are unquestionably my favorite.
SMR: What is it about these particular cards that so strongly fuel your passion?
JN: It's simple – my love and respect for the heroes of sports, the uniqueness of our find, and our ability to amass the finest quality sets of these beautiful cards.
SMR: Jim, what do you think the future will hold as far as the interest and desirability in the 1955 Topps All-American Football set?
JN: The demand for this set will get stronger and stronger. In my opinion, they are easily the most beautiful, unique and desirable football cards ever made. Joe Orlando has alluded to them as one of the top football sets in his recent book. The demand in the past several years has really taken off. With our find, several collectors have been able to acquire great cards and have started working on this set because of the availability of some pack-fresh, quality cards.
SMR: We interview a lot of collectors who are passionate about their collections, but you are really living life at the top when it comes to the pure fun, passion and enjoyment you are getting from these cards.
JN: (Laughs) As someone who has been a collector his entire life, and has a great appreciation for beautiful sportscards, I just love these cards. Every time we open a pack and pull out a beautiful, colorful, pristine Four Horseman card, it is just so much fun. We have had 29 cards graded PSA 10. Not bad when you consider there are only 36 PSA 10s in the population of this set. We completely dominate the Gem Mint 10 population for this set. It's just such a thrill to know you are dealing with the top cards in existence. It just doesn't get any better.