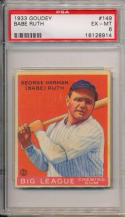 As the Yankees won the 2009 World Series, Clean Sweep has built an auction around autographs, cards and memorabilia from the great Yankee teams in history.
The auction opens with a very nice Ruth/Gehrig ball straight from the estate of a Red Sox trainer from the 1930s; there are about 20 additional team balls from his estate throughout the auction as well. Lot two is a remarkable ball signed by Babe Ruth and Rogers Hornsby the day of Babe's historic three-home run game in the 1926 World Series!
The auction continues with terrific Yankee team balls from 1925, 1926, 1928 - 1930, 1932- 1933, 1935, 1937, 1940-1, 1944, 1948-9, 1951, 1953, 1956, 1961, 1976 & 78 with real Munsons and a 1996. We believe this to be one of the largest offerings of Yankee team balls in some time.
Collectors of single signed balls will also have some great items to peruse.. We have singles of Willard Brown, two Ty Cobbs, Mort Cooper, Lou Gehrig, an incredibly rare Kid Gleason that may be one-of-a-kind, Connie Mack, Rube Marquard, John McGraw, Richard Nixon, a gorgeous vintage Satchel Paige, Babe Ruth and stunning vintage singles of Bob Shawkey and George Sisler.
The next section is something new for us: a selection of high quality antiquarian books. We have a superb 4-volume Shakespeare folio from 1817 that belonged to the Roosevelt family, and came from them, an 1802 edition of The Federalist Papers and many great FDR-related vintage books. We follow this with a nice selection of scarce early baseball books. Presidential, historical and entertainment autographs come next. This is also a strong point of the auction. We have a Jefferson/Madison signed document, a stunning engraving of Grant signed as President, signed cabinet photos of Sherman and Sheridan, a double-signed Mark Twain and a terrific John Jay piece from his grandson. For the entertainment collector, there is a fine John Wayne 8x10, a lovely Frank Sinatra 8x10, many terrific group lots and a broad selection of photos and letters.
Going back to sports, we have a Michael Jordan signed jersey and Peter Max piece, along with many graded cards. Football collectors can choose from a wide variety of vintage card sets and autographed photos. We have two of the rarest Goal Line cards: Gene Hickerson and Alex Wojciechowicz. Our hockey section contains nice PSA-graded cards: 54 Topps Howe, 58 Topps Hull and 66 Topps Orr.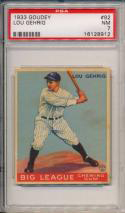 Baseball autographs come next, and this is another high point of the auction. There are many desirable signed cards, three very rare Perez Steeles: Paul Kerr, a Greatest Moments Richie Ashburn and a Celebration Judy Johnson. Autographed photos include a Clemente, Eddie Collins and Babe Ruth. 3x5s, GPCs and cuts include two Grover Cleveland Alexanders, Rogers Bresnahan, Mordecai Brown, Clemente, two Jimmie Foxx's, Lou Gehrig, Herman Hill, two Nap Lajoies, Thurman Munson as a Rookie and a very nice Ruth/Gehrig.
We have a number of very unusual 1919 Black Sox items, including a Comiskey letter, many programs from the 1912 - 1919 era of the Black Sox and several cards of Shoeless Joe Jackson.
Baseball cards include complete and near-complete sets from 1933 R337 Eclipse Import, 1951 Bowman, 1955 Bowman, 1955 Topps, 1957 - 1960 Topps and some very clean 1964 - 1972 Topps sets. Of special note is an incredible full 1956 Topps uncut sheet.
Graded cards are especially deep in pre-World War Two singles. There are PSA-graded Old Judges of HOFers Clarkson, Comiskey, Kelly and Sam Thompson and some interesting 19th century oversize pieces. There is a nice selection of early tobacco and caramel cards. We have some extremely fresh and fine 1933 Goudeys, including a Ruth in a 6 and a Gehrig in a 7 holder. For the dealers and value-oriented collectors, we have quite a few higher-end group lots of PSA 8s and such. The auction concludes with three unopened rack packs: a 1975 mini with Ryan, a regular 1975 with Schmidt and a 1982 Topps with Ripken. This is an auction that should have something for almost any collector.
Bid Today! This auction closes on January 27, 2010. Bids are welcome by phone (516) 338-8557 Monday through Friday 9 a.m. - 5 p.m. EST. You may also bid via Clean Sweep's website at: www.cleansweepauctions.com.