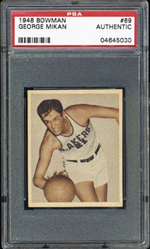 Among the scarcest and most unique Hall of Fame basketball rookie issues is without question the multiple test variations of George Mikan's iconic 1948 Bowman issue, an example of which is proudly offered in this lot featuring the enticing and almost impossible tandem of both the exceedingly rare "Triple Back" overprint as well as the gray-printed obverse background.
Like all surviving test examples from Bowman's inaugural and groundbreaking hoops issue, the featured scarcity has been deemed PSA Authentic, as a result of having been sheet cut, but nevertheless presents in remarkably well-preserved NM or better condition, with NM qualities evident only at the corners, and brilliant NM/MT or better facets evident elsewhere, particularly in the obverse centering and in the registration of Mikan's uncommonly well-focused image.
To be clear about the variations, the well-documented "Triple Back" is characterized by the overprinting of three separate impressions, one of the regular Mikan card back, one spy card back from the America Salutes the FBI set, and one Hollywood Movie Star card, all three of which were issued by Bowman in 1948. According to an old article in Ragtyme Sports, only three Mikan examples with this improbable "Triple Back" overprint, including the offered copy, are known to exist. Like the offered example, all are believed to feature the gray obverse background variation, which can also be found without the "Triple Back" overprint, and are comparatively common albeit still intensely pursued in that blank back form.
Ask any of the major players in the high-grade hoops scene where the other two known "Triple Back" Mikan rookies reside, and you'll quickly hear the response; they reside in two of the most accomplished basketball collections in the hobby. Distinguish your hardwood collection and join the ranks of the collecting elite with the acquisition of this hobby-renowned printer's proof variation of George Mikan's 1948 Bowman rookie issue.