Mile High Rings in the New Year with Exclusive Winter 2010 Premium Auction
Colorado's Mile High Card Company is pleased to kick off the New Year with its first-ever Exclusive Winter Premium Auction, a decidedly smaller and more select event than the company's traditional auctions, which have averaged anywhere from $2 to $3 million in sales based on 1200 to 1500 lots over the past 15 years as the hobby's leading and most trusted clearinghouse for premium sports cards and collectibles. In a new twist for the ever-evolving company, its forthcoming January 21 Premium Auction will feature just 474 lots of the hobby's very finest high-grade sports and non-sport cards, sets, and memorabilia. A few key scarcities include a powerfully presentable T206 Eddie Plank graded PSA 3 VG, one of the hobby's single finest examples of Honus Wagner's E93 Standard Caramel issue, a completely graded 1952 Topps Baseball Card set with a commendable 5.49 GPA, a complete 1957 St. Louis Cardinals Stan Musial game-worn uniform, and a 1917-19 Ty Cobb game-used bat from the renowned Louisville Slugger Archives. The auction will commence on Monday, January 4 and close on Thursday, January 21. Following are some additional highlights from this highly-anticipated Exclusive Winter 2010 Premium Auction.
19th CENTURY & PRE-WAR HIGHLIGHTS
Leading the way in Mile High's pre-war selection is a delightful 1887 N690 Kalamazoo Bats issue of Harry Wright, the so-called father of professional baseball, graded PSA 2 GOOD. Another fascinating 19th Century piece is the scarce 1880s trade card for Wm. Blair & Company's famous "Dark Town Battery" mechanical bank, arguably the most coveted trade card of the entire genre. Next is an outstanding line-up of exceptionally high-grade E93 Standard Caramel issues. On the T206 front, collectors will be pleased to encounter a presentable VG 3 example of the infamous Eddie Plank card, as well as a staggering array of stars and Hall of Famers featuring scarce advertising backs, from Cycle and Tolstoi to American Beauty and Red Hindu, among others. Not to be overshadowed, the 1915 Cracker Jack selection includes both "Wahoo Sam" Crawford and Chick Gandil offered in NM/MT 8 condition. Finishing off Mile-High's pre-war selection is a compact group of high-grade Goudeys.
POST-WAR HIGHLIGHTS
Jumping a few decades ahead, Mile High is pleased to present the first and only example of Hank's 1972 Topps Cloth Stickers issue to grade GEM MINT 10 by PSA. Interested bidders will also find Mile High's usual litany of high-grade, low population star and common players from all sports, with a heavy focus on baseball and 1950s-60s hockey. Here are some of the highlights: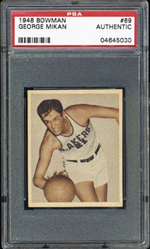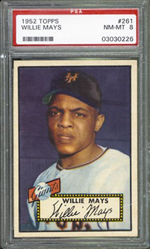 1948 Bowman #69 George Mikan Triple Back Variation PSA Authentic
1952 Bowman Large #30 Sammy Baugh PSA 8.5 NM/MT+
1952 Topps #261 Willie Mays PSA 8 NM/MT
1953 Bowman Color #59 Mickey Mantle PSA 9 MINT
1953 Topps #82 Mickey Mantle PSA 8 NM/MT
1957 Topps #1 Nat Clifton PSA 8 NM/MT
1957 Topps #119 Bart Starr PSA 8 NM/MT
1958 Topps #66 Bobby Hull PSA 6 EX/MT
1958 Topps #487 Mickey Mantle All Star PSA 9 MINT
1965 Topps #122 Joe Namath PSA 8 NM/MT
1971 Topps Triple Stickers Hawkins/Mullins/Alcindor PSA 10 GEM MINT
1972 Topps Cloth Stickers Hank Aaron PSA 10 GEM MINT
1994 Fleer Procards #633A Michael Jordan Error Variation PSA 10 GEM MINT
SETS
Highlighting the set selection of Mile High's forthcoming Winter 2010 Premium Auction is no doubt a completely graded 1952 Topps Baseball assembly boasting a 5.49 GPA with an exceptionally presentable SGC 70 example of Mickey Mantle. Other notable sets include the following: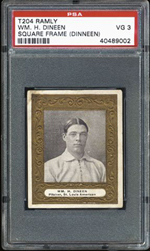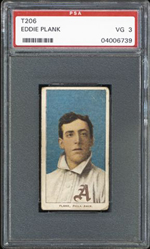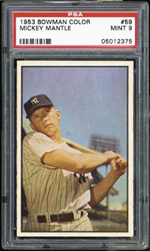 1929 R316 Kashin Publications #4 PSA Set Registry
1934 Goudey Complete Set Completely PSA Graded
1951 Connie Mack Book Complete Set Completely PSA Graded
1954 T129 Red Man American Indian Chiefs #3 Current Finest PSA Set Registry
1956 Topps Pins #2 Current and All-Time Finest PSA Set Registry
1959 Fleer Ted Williams Complete Set Completely Graded PSA 8 NM/MT
1963 Topps High-Grade Complete Set with PSA Graded
1964 Kahn's Wieners Complete High Grade Set Completely PSA Graded
1973 Topps Complete High-Grade Set with 444 PSA Graded
1984 Donruss #2 Current and All-Time Finest Master Set Registry
MEMORABILIA, NON-SPORT, & UNOPENED
In addition to the aforementioned 1917-19 Game-Used Ty Cobb bat and 1957 St. Louis Cardinals Game-Used Stan Musial Uniform, highlights from Mile High's memorabilia selection include one of the hobby's very finest 1955 Brooklyn Dodgers Team Signed ONL Balls, a 1938 Minneapolis Millers Team Signed OAA Ball with Ted Williams, a Honus Wagner and Rogers Hornsby signed ball with LOA from PSA/DNA, and a Satchell Paige signed ball. Also included is an original Charles Conlon portrait photograph of Ty Cobb, signed by Cobb and hailing directly from the family of Cobb teammate, Tubby Spencer, as well as signed photos of Babe Ruth and Lou Gehrig, and game-used jersey of Roger Clemens (2000 World Series Road) and Alex Rodriguez (1996 Road from ARod's Batting Title Campaign). Counted among Mile High's impressive unopened selection is a complete 1975 Topps Mini case as well as a tremendous offering of sealed wax and vending boxes and an appealing line-up of unopened wax and cello packs, including a 1957 Topps Football cello with John Unitas on front and George Blanda on back. On the high-grade, non-sport front, enthusiasts will be pleased to encounter PSA 10 GEM MINT examples from the 1956 Topps Davy Crockett and 1966 Batman A Series sets, as well as an impressive selection of high-grade singles from the 1933 Indian Gum and 1934 National Chicle Skybirds sets, among others.
Registered bidders can expect Mile High's Winter 2010 Premium Auction catalog to arrive at their doorsteps by the end of the first full week of January. New bidders can register for the forthcoming auction at www.MileHighCardCo.com or by calling (303)840-2784. Striving for nothing but unsurpassed levels of expertise and customer satisfaction, Mile High sincerely encourages interested bidders to communicate all questions and concerns to the Mile High staff well in advance of the auction closing date of Thursday, January 21. The auction will be available for viewing and bidding online starting Monday, January 4. Returning to its regular-sized auction format of approximately 1,500 lots, the company is already accepting consignments for its April 2010 event and invites all interested consignors to explore their various options with the company.