Legacy Sports Rarities of Traverse City, Michigan has just put the finishing touches on their "Winter 2010 Vintage Trading Cards and Memorabilia" catalog/internet auction. The sale will feature 327 lots of important rarities, legendary Hall-of-Famer issues, and complete and partial sets. Bidding will begin on January 9th, 2010 and will end on January 30th, 2010. Catalogs for the sale will be mailed on January 4th, 2010. An online preview, at www.legacyrarities.com, will begin on January 2nd, 2010.
Highlights of the auction include: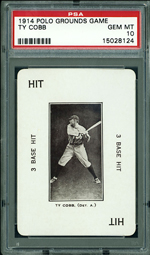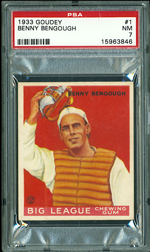 Pre-War Baseball:
An important E102 Ty Cobb (VG/EX)
A rare 1911 Kotton Cigarettes Ty Cobb (Authentic)
A perfect 1914 WG-4 Polo Grounds Game Card Ty Cobb (PSA 10)
A rare 1923 V100 Willard's Chocolate Babe Ruth (PSA 5)
An extraordinarily scarce 1929 Kashin Premium Babe Ruth (EX/NM)
A high-grade 1933 Goudey #1 Benny Bengough (PSA 7)
A spectacular near set of 1941 Double Plays
A beautiful 1941 Play Ball #71 Joe DiMaggio (PSA 8)
Post-War Baseball:
A complete high-grade 1948 Bowman set
An outstanding 1948 Leaf #1 Joe DiMaggio (PSA 8)
A high-grade 1948 Leaf #79 Jackie Robinson rookie (NM/MT)
A spectacular 1952 Berk Ross complete set
A comprehensive selection of high-grade 1952 Red Man cards, including Ted Williams (PSA 8)
A complete set of 1952 Star Cal Decals Type 2
A classic 1952 Topps #261 Willie Mays (NM/MT)
A gorgeous, very appealing 1952 Topps #311 Mickey Mantle (PSA 6)
A scarce high-number 1952 Topps #333 Pee Wee Reese (PSA 8)
An incredibly scarce 1953 Glendale Meats Art Houtteman (VG/EX)
An outstanding 1953 Bowman Color #59 Mickey Mantle (MINT)
A high-grade 1953 Red Man Tobacco complete set
A very scarce high-grade 1954 NY Journal American Willie Mays (PSA 8)
A beautiful 1954 Red Man Tobacco near set
A virtually perfect 1954-56 Spic and Span Hank Aaron (PSA 9)
A spectacular 1955 Red Man Tobacco complete set
A high-demand 1955 Topps #123 Sandy Koufax (PSA 8.5)
Two complete sets of the popular and scarce 1956 Topps Pins
A flawless 1962 Topps #387 Lou Brock rookie (GEM)
A complete boxed presentation set of 1962 Salada Coins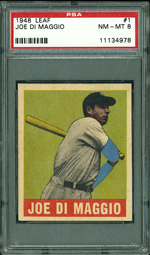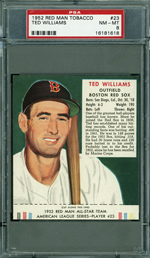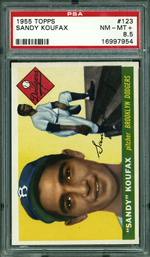 Other:
An important 1935 National Chicle Football #9 Knute Rockne (NM/MT+)

A group of high-grade 1949 Leaf Football cards

A rare 1948 Bowman Basketball #69 George Mikan Blue Print Variation (Authentic

An extremely high-grade group of classic 1938 Horrors of War
Full color catalogs are available free of charge, either by calling Legacy at (231) 922-8037, or through their website at www.legacyrarities.com. Online registration can also be done at www.legacyrarities.com.
Lots are available to be viewed in person at Legacy's Traverse City, Michigan office. Viewing is by appointment only and anyone interested should call (231) 922-8037.
Legacy's owner, Greg Bussineau, comments: "In addition to our usual wide selection of high-grade and rare single cards, we are also pleased to offer a number of outstanding complete sets in this auction. The vast majority come from a single old-time Midwestern collection, and haven't been publicly offered before."
Legacy Sports Rarities
PO Box 6047
Traverse City, MI 49696
Ph: (231) 922-8037 * Fax: (231) 922-9593
Legacy Sports Rarities was founded in 2002 by veteran dealer Greg Bussineau.. Bussineau founded Superior Sportcard in 1982 and Superior Sports Auctions in 1996. Superior Sports Auctions was purchased by Collectors Universe in 1999, upon agreement that Bussineau would stay on and run the company for three years. At the end of this agreement, Bussineau decided to go back into business for himself and formed Legacy Sports Rarities.
In addition to buying and selling virtually every major important sportscard ever produced, Bussineau has been instrumental in helping to assemble some of the greatest sportscard collections in history. He was chosen to auction off the personal memorabilia collection of basketball Hall-of-Famer Bill Sharman, as well as the personal sportscard collection of PSA founder David Hall. Bussineau was also one of three people who helped to formulate the original grading standards employed by PSA - the world's largest independent sportscard third-party grading and authentication service.