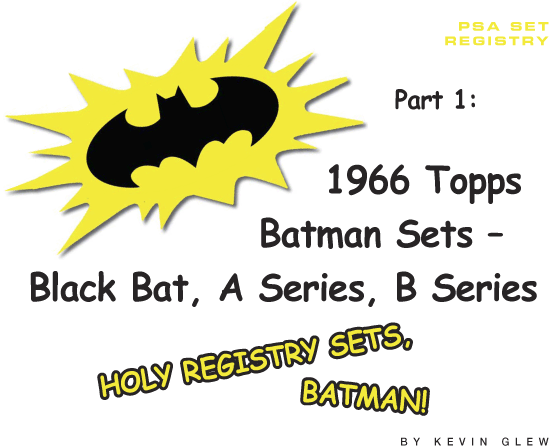 Scene: Batman and Robin together in the Bat cave
Robin: Holy bubble gum cards, Batman. They sure made a lot of cards of us in 1966.
Batman: Yes, old chum. Indeed they did. The question is why my faithful friend – why and just how many sets were produced?
Robin: It sounds fishy to me, Batman. It sounds like the work of The Joker. It wouldn't be above him to try to capitalize on our fame.
Batman: Not likely, Robin. That loopy laughing larcenist is not capable of such breathtaking artwork and prolificacy.
Robin: Who's responsible then, Batman?
Batman: My sources tell me that it's a card manufacturing company named Topps, but I'll turn on my bat collecting radar device to find out more.
Robin: Holy hobby news, Batman. The radar says there's a two-part series of articles discussing these sets in SMR.
Batman: And look Robin, we can read the first article on the bat monitor.
(Batman and Robin proceed to read the following article on the bat monitor.)
With over 500 Batman products reportedly hitting the market, the Caped Crusader certainly packed a punch in 1966. Inspired by the popular TV show debuting that year, Topps created its own Batmania by unveiling several sets featuring Gotham City's most devoted guardian.
The brainchild of Bob Kane, the original Batman debuted in 1939 in Detective Comics. Bruce Wayne, the man behind the mask, dedicated himself to crime-fighting after witnessing the murder of his parents in a street robbery. The character clearly resonated with readers and soon triggered its own comic book series in 1940.
Though without superpowers, Batman, and his trusted sidekick, Robin, have defeated a quirky cast of criminals over the years with keen intellect, astute detective skills and an extensive arsenal of bat gadgetry.
These assets are on display in three Batman sets released by Topps in 1966. Showcasing the artwork of Norm Saunders, the Black Bat, A Series (Red Bats) and B Series (Blue Bats) pasteboards are highly coveted by PSA Set Registry enthusiasts.
"I love Norm Saunders' work. His artwork is legendary," said Brian Karl, owner of several 1966 Topps Batman Registry sets. "Everything he touched was collectible, because of the care he put into all the sets he worked on. They were his babies, every one of them."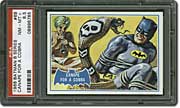 Tom Pernice, also a Batman collector on the PSA Set Registry, agrees.
"When I first saw the cards, I was struck by the illustrations and the color. I love the vibrant colors that were used," he said.
These hobbyists also fondly recall watching the campy TV series that featured Adam West as Batman and Burt Ward as Robin.
"It was almost like a cult thing when the show first came out," described Karl, who was nine when the TV series began. "We'd rush home to watch the show . . . I think it really captured the imagination of kids way back when."
Black Bat Series (also known as Orange Backs)
The 55-card, Black Bat series (named as such because the card title is surrounded by a black bat graphic) was the first Batman set issued by Topps. The card fronts flaunt colorful action drawings, while the orange backs boast a description of the picture, as well as a cartoon of Batman running towards the reader.
"I really think the Black Bat set is the best one," said Pernice. "A lot of the Batman collectors feel that the quality went down with each subsequent set. So the Black Bat set would be the best. The Red Bat would be second and the Blue Bat would be a distant third."
Distributed in five-cent wax packs and in vending boxes, this set boasts four different sub-series, featuring The Joker (#3 to 13), The Penguin (#14 to 24), Cat Woman (#25 to 35) and The Riddler (#36 to 46). The last nine singles (#47 to 55) are standalone cards.
The set's first two cards – featuring Batman and Robin respectively – are very desirable. Of the 102 Batman singles (#1) submitted, there are no PSA GEM-MT 10s and just seven PSA MINT 9s. One PSA 9 sold for $1,800 on eBay in August 2009. There are two PSA 10 Robin cards (#2), one fetched $2,861 on eBay in August 2009.
The PSA Population Report reveals that #42 Robin In Peril is the least submitted card from this series. Just 59 have been evaluated, with only four receiving a grade as high as PSA 9.
The set's last card, #55 (Hidden Loot), is also coveted. There are no PSA 10s and just four PSA 9s. A PSA 9 sold for $404 on eBay in May 2008.
"The first and last cards are always tough," pointed out Karl, adding that miscuts are prevalent on these cards, as well as on singles in the A and B Series.
"You could buy a whole pack of cards and get nothing good out of it. The cards were cut really, really badly," said Karl.
A Series (Red Bat Series or Puzzle A Series)
The second series released by Topps is known as the A Series or the Red Bat series. The name of this 44-card offering is derived from the card title being surrounded by a red bat graphic. Distributed in five-cent wax packs and vending boxes, these singles showcase color action pictures surrounded by a thin red border. An "A" is included after each card number on the backs. The backs also exhibit a short description of the picture and a puzzle piece. The card backs can be merged to form six different puzzles, including six-piece puzzles of The Joker, Cat Woman, The Penguin and The Riddler and two separate, 10-piece puzzles: one of Batman and one of Robin.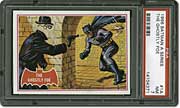 Card #1A The Ghostly Foe is a key single in this set. Just 29 have been evaluated by PSA, making it the least submitted card for this issue. Only one card has received the vaunted PSA 9 grade. A PSA NM-MT 8 sold for $177.50 on eBay in November 2008.
The set's last card #44A (Batman On Broadway) is also difficult to uncover in top condition. Of the 30 evaluated, just one has been deemed a PSA 9. That card commanded $1,186.11 on eBay in November 2008.
Another low population card is #39A Stopping The Sub. Thirty have been sent in and so far, no card has graded higher than a PSA 8. A PSA 8 copy fetched $203.50 on eBay in November 2008.
B Series (Blue Bat Series or Puzzle B Series)
Singles in the B Series or Blue Bat series showcase card titles surrounded by a blue bat graphic. Pasteboards from this issue boast drawings enclosed in a thin blue border and are numbered 1B through 44B. These cards can be found with two different backs: the most common back (known as Puzzle Backs) boasts a short description of the picture and a puzzle piece. These cards can be merged to form six distinct puzzles, including six-piece puzzles of Robin, The Joker, Batman and the Dynamic Duo together and two different 10-piece puzzles of Batman climbing a rope and The Riddler being tied up by Batman.
Often deemed Cowl Backs or Blue Bat Backs, the less common backs showcase solely the description inside a blue bat.
One of the most coveted singles is Card #1B – The Joker's Icy Jest. Of the 24 submitted, there has yet to be a PSA 10 and just two PSA 9s. A PSA 9 sold for $763.98 on eBay in May 2008.
The set's last card – # 44B (Riddler Robs A Rainbow) – is also elusive in top condition. Of the 19 evaluated, a PSA 9 is the highest grade recorded.
Other low population singles include #23B (The Joker's Juggernaut), #25B (Dragged From Death's Door) and #31B (Batman Bucks Badman). Just 13 examples of each of these cards have been submitted to PSA.
Foreign Sets
Batman was not solely an American phenomenon. Sets were also produced in the United Kingdom, the Netherlands, Canada and Australia. Produced by A&BC Gum, the English sets feature the same cards as Topps but in a smaller format. They generally sell for less than their Topps equivalents. The Canadian cards were manufactured by O-Pee-Chee and are identical to the Topps singles, aside from the "PTD. IN CANADA" notation on their reverse.
Reprint Set
Topps also reissued the Black Bat, A Series and B Series sets together in a factory set in 1989 to coincide with the release of the Tim Burton movie.
"That reprint set is fairly coveted. Some people are willing to pay upwards of $30, $40 or $50 for that set," explained Pernice.
These reprint cards boast a glossy surface and are marked "1966 Deluxe Reissue Edition" on their backs.
So, while Batman cards arrived with a BANG and a POW in 1966, cards showcasing the Caped Crusader may be even more popular today.
"More and more people are buying Batman cards. More and more people are grading them. More and more people are putting them on the Registry. So there's more interest now than I've ever seen," said Karl.
But these cards showcasing Norm Saunders' artwork represented just three of the Batman sets Topps introduced in 1966. Stay tuned for another article that will explore two more Topps Batman sets in an upcoming issue.
Revert to scene with Batman and Robin in the Batcave again. They have just finished reading the first article on the bat monitor
Robin: Holy collectibles, Batman. This Topps company really issued a lot of products of us, didn't they?
Batman: Indeed they did, old chum. Indeed they did. I can't wait to read the next article and see what else this crafty company had in mind for us.
---
Please feel free to contact Kevin Glew at [email protected] if you have any additional information or comments. Brian Karl provided pictures for this article. Please note that the Population Report figures quoted and Set Registry rankings reported are those as of press time.