In a scene in the Adam Sandler movie Little Nicky, Dan Marino offers his soul to the devil for a Super Bowl win.
It's a humorous cameo for the Dolphins great, but it's probably not far from the truth. A surprising number of NFLers would undoubtedly sell their soul for a ring. This insanity is spurred by the widely held belief that while statistics and individual accolades can make you great, "legend" status is reserved for champions.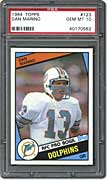 It's a silly notion really. After all, how can you not count Ty Cobb or Ted Williams – two other elite athletes without championship rings – as sports immortals?
Like Cobb and Williams, Marino was one of the greatest in his sport – period.
"Marino just never had those complementing players," explained Greg Montieth, a fan of the Miami quarterback for over 20 years. "The Dolphins always had a good passing game, but the defense and running game were just abysmal."
Let's not forget that Marino almost single-handedly guided the Dolphins to an AFC Championship in 1984, before the San Francisco 49ers defeated the Fish in Super Bowl XIX.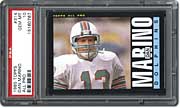 But championship or no championship, the Hall of Fame pivot racked up a remarkable 3,000 or more passing yards in 13 different seasons and owns the highest touchdown to interception differential (168) in NFL history. He threw for an NFL record 5,084 yards in 1984 and remains near the top in almost every all-time passing category.
So, it seems fitting on the 25 anniversary of Marino's NFL debut to celebrate his career. A group of Marino PSA Set Registry enthusiasts feels the same way. Thanks to their devotion, four Marino sets have been created on the PSA Set Registry: Basic & Collector Issues (314 items), Master (1,722 items), Basic Topps (17 items) and Master Topps (149 items).
"Marino was so great to watch. He didn't have a defense half the time. It was all offense. So, if the Dolphins had to win a game, he had to do it, and no game was ever over until the clock ran out," said Jack Craig, who owns the No. 1 Marino Master Set on the PSA Set Registry.
Montieth agrees.
"He walked on that field and you knew who was in charge of that team," he said.
John Boyte, who's just two cards shy of completing the Marino Basic & Collector Issues Set, agrees.
"I followed Marino his whole career and I'm probably his biggest fan on the West Coast," said the California native.
The Hall of Fame quarterback's 1984 Topps (#123)rookie is his most renowned single.
"There are some print defect problems with the rookie card and there are centering issues," said Craig.
Montieth has noticed the same flaws.
It just seems like there's always a small defect on that card," he said.
Of the 14,929 rookies submitted to PSA, there are 190 PSA GEM MT 10s. A PSA 10 sold for $905 on eBay in August 2008.
Collectors must also be wary of counterfeit rookies. The characteristics of the fake Marino cards are outlined by Andrew Chrisman on his web site at http://sportscardinfo.wordpress.com/2008/05/21/how-to-spot-a-fake-dan-marino-1984-topps-123-rookie/. The best way to ensure the authenticity of your card is to buy it already graded by PSA.
More elusive than his rookie in high-grade is Marino's second-year card, 1985 Topps (#314).
"The black borders on the 1985 are just brutal," said Craig.
Montieth agrees.
"That's his only regular Topps card that I don't have in PSA 10," he said.
There are just 19 PSA 10 copies. A PSA 10 sold for $400 on eBay in May 2008.
The green borders on the 1986 Topps Marino (#45) also make it evasive in pristine condition. Poor centering hampers it as well.
"I think that centering is the big issue. I've seen tons of 1986 Marino cards that were in focus, the color was OK, but then they were off-center," said Craig.
A non-mainstream Marino that's difficult to find is his 1987 Ace Fact Pack issue. Shaped like playing cards and distributed in the United Kingdom, these cards feature a photo and personal information about each player. To obtain the Marino card, hobbyists initially had to purchase the Dolphins team set. The scarcity of these cards in North America helps explain why ungraded Marinos generally sell in the $150 range. Just four 1987 Ace Fact Pack Marinos have been graded by PSA. There are three PSA MINT 9s and one PSA NM-MT 8.
"I don't have one of those in my set. I actually saw one of those at The National. I think it books for $150 and a guy had one and I offered him $150. He wanted around $400 for it," said Craig.
Montieth says the 1988 Monty Gum singles are also difficult to track down. Like the Ace Fact Pack cards, these blank-backed, 1-15/16" by 2-3/4" singles were manufactured overseas. Though these cards don't showcase specific players, card #38 is a Miami Dolphins pasteboard featuring Marino. There is a white cardboard version, a thin paper version and a sticker version. The sticker version is generally the toughest to track down.
"I've only seen a couple of these in my life and I own both," said Montieth. "I'd say the Ace Fact Pack cards are not as tough to find as the Monty Gum."
Another elusive card is Marino's 1990 FACT Pro Set Cincinnati issue (#181). Cards from this series were distributed to fourth graders in 29 Cincinnati schools. Employed as learning tools to promote health and education, these were issued in 25-card cello packs for 15 consecutive weeks starting in October 1990.
"Kids played with them. They're very hard to find," said Craig.
Montieth agrees.
"This is definitely one of the tougher Marino cards to get. They gave these out to kids and kids aren't necessarily going to keep good care of the cards," he said.
Just two have been evaluated by PSA, one received a PSA 9 grade, while the other was deemed a PSA 8.
A number of oddball Marino cards are also tough to find in flawless form. Boyte needs two Kenner Starting Lineup cards (1992, 1999) to complete his Marino Basic and Collector Issues set.
"I have all his Kenner Starting Lineup figures. I'm just apprehensive to open them up. I opened a few of them and submitted some of those cards. It's a gamble, and I like to keep those intact," said Boyte. "I did it on a couple and I was lucky to get a few PSA 10s, and then I got a couple of (PSA NM) 7s, so after that, I was afraid to open any more."
On top of the thrill of the hunt in tracking down these elusive singles, the fact that Marino is a good citizen has also inspired these collectors. The Dolphins great has created the Dan Marino Foundation to raise funds for a variety of children's charities in Florida.
"Even today, Marino is a stand-up guy. He's never had any trouble with the law. He's just a stand-up American hero, in my opinion," said Craig.
Montieth agrees.
"After he was in the NFL, you never heard anything negative about him. During his career, he wanted to play and he always played 60 minutes,' he said.
Boyte shares similar sentiments. He had a mission to obtain Marino's autograph in person and he finally achieved his goal at a hotel in San Diego in 1999.
"I'd gone to several hotels to see him but I would never see him, or if I did catch him, he was gone quick or had guards around him. Then one time I got a full-size helmet signed from him and it was the highlight of my Dolphins collecting career," recalled Boyte. "I told him I've been trying to get an autograph from you forever. He said, 'Well, it looks like you finally got me.'"
So Marino may not have a Super Bowl ring, but don't tell these Set Registry enthusiasts that he's not a legend.
---
Please feel free to contact Kevin Glew at [email protected] if you have any additional information or comments. Minyoung Sohn provided pictures for this article. Please note that the Population Report figures quoted are those as of press time.