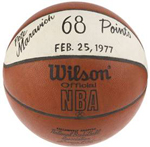 DALLAS, TX -- A Babe Ruth game used bat, dating to the Boston Red Sox' 1918 World Series winning season – arguably the most important bat from baseball's most iconic player - realized $537,750 at Heritage Auctions Oct. 1-2 Signature® Sports Memorabilia Auction. The auction totaled just more than $4.2 million. All prices include 19.5% Buyer's Premium.
"It's a testament to what happens when you bring the hobby's best collectibles to the industry's largest bidding clientele," said Chris Ivy, Director of Sports at Heritage Auctions. "Heritage is able to set new records in every auction because nobody is more aggressive than we are in seeking out bidders willing and able to pay top dollar for special pieces."
The Babe Ruth bat, used by the iconic slugger during the Boston Red Sox' historic 1918 World Championship season and later returned to the Louisville Slugger factory to be used as a template for future Ruth lumber, became just the second to summit the half-million dollar mark at auction, and is topped only by the model used to club the first home run in Yankee Stadium history on April 18, 1923.
Much of the pre-auction media coverage focused on a trove of Lenny Dykstra memorabilia, consigned by Beverly Hills, CA "Pawnbroker to the Rich & Famous" Yossi Dina, when the troubled slugger and one-time "financial genius" failed to redeem a ticket at Dina's place of business. As in his playing days, "Nails" didn't disappoint, as his lots were the subject of intense bidding resulting in more than $160,000 realized for 11 lots. It was Dykstra's 1986 New York Mets Championship ring that brought the highest price and the fiercest competition, tripling the pre-auction low estimate by bringing $56,762.
More than 20 years after the sudden and tragic passing of Basketball Hall of Famer "Pistol Pete" Maravich, the beloved cult hero continues to rewrite the record book, eclipsing two longstanding marks for top auction prices realized. Most notable is the ball with which Maravich netted his 68th point during the most dominating performance of his professional career on February 25, 1977.
"The auction result of $131,450 sets a World's Record as the highest price ever paid at auction for a game used basketball," said Ivy.
Maravich's presence on a basketball signed at the 1987 Hall of Fame induction ceremony was also the key to establishing the new world record price on an autographed basketball, $20,315, which exceeded the pre-auction low estimate by a multiple of 10.
The trading card portion of the auction, which closed Thursday Oct. 1 in an Extended Bidding format, carried the auction almost to the midway point of its final tally, with strong showings across all disciplines of tobacco, candy and bubble gum cards, both sports and otherwise.
"The most noteworthy result was arguably the $77,675 result realized for a PSA VG 3 example of the rare T206 Eddie Plank card, a figure well in excess of those achieved for every VG-EX 4 and EX 5 specimen sold by Heritage Auctions' major competitors over the past five years. The same $77,675 figure was garnered by another profound rarity of the T206 set, the coveted Ty Cobb with Ty Cobb Back, exceeding the result of another Fair 1.5 example realized by a top competitor in 2008 by more than $10,000.
Other highlights of the sale included, but are not limited to:
HSC specializes in rare and collectible sports cards, as well as uniforms, equipment, and related vintage sports memorabilia. Consignments for future Signature Sports Auctions are currently being accepted. Prospective consignors or sellers of quality vintage sports cards and sports memorabilia are encouraged to contact:
Chris Ivy at 800-872-6467 Ext. 1319 or email:
[email protected]
Mike Gutierrez at 800-872-6467 Ext. 1183 or email:
[email protected]
Lee Iskowitz at 800-872-6467 Ext. 1601 or email:
[email protected]
Mark Jordan at 800-872-6467 Ext. 1187 or email:
[email protected]
Jonathan Scheier at 800-872-6467 Ext. 1314 or email:
[email protected]
Stephen Carlisle at 800-872-6467 Ext. 1292 or email:
[email protected]
Peter Calderon at 800-872-6467 Ext. 1789 or email:
[email protected]
Heritage Auctions is the world's third largest auction house, and by far the largest auctioneer of rare collectibles, with annual sales more than $700 million, and 470,000+ registered online bidder members. For more information about Heritage Auctions, and to join and gain access to a complete record of prices realized, along with full-color, enlargeable photos of each lot, please visit www.HA.com.
Want to get the up-to-the-minute updates and breaking news stories about Heritage Auctions? Get them as they happen at: www.Twitter.com/HeritagePress ;www.Twitter.com/JimHalperin Facebook: Heritage Auction Galleries. To view a compete archive of Heritage press releases go to: www.HA.com/PR. To link to this press release on your blog or Website: www.HA.com/PR-1741.