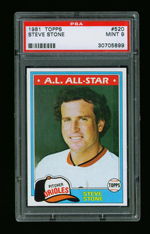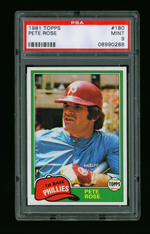 If you grew up in the '80s, how can you forget Fernandomania or Super Joe Charboneau?
The 1981 Topps Baseball set, though devoid of Hall of Famer rookies, boasts the inaugural singles of these two colorful personalities, as well as the first cards of some of the decade's most memorable characters.
"If you had to pick the key cards in the 1981 Topps set, it's the rookie cards of players that were famous in the '80s," noted Frank Smith, who owns the No. 2 set on the PSA Set Registry. "The Fernando craze really started in 1981. I can remember going to card shops and wanting to get a Fernando rookie card because he was on TV and started off so fantastic that year."
Armed with a devastating screwball and an unorthodox delivery, the rotund Mexican left-hander was indeed fantastic. Valenzuela went 8-0 with an 0.50 ERA in his first eight starts and would win the National League Rookie of the Year and Cy Young awards in his first season. Valenzuela's rookie card (#302), which also features Mike Scioscia and Jack Perconte, is relatively difficult to track down in top condition.
"It's tough to find centered," said Smith. "The centering varies all over the place, but the printing on the card is awful. It always has smudges."
Of the 377 Fernando rookies submitted, there has yet to be a PSA GEM-MT 10. A PSA MINT 9 sold for $47 on eBay in March 2009.
Valenzuela is just one of many rookies in the 726-card, 1981 Topps set. Matt Morse, a well-known 1981 Topps collector on the PSA Set Registry, says these cards were distributed in wax packs, rack packs, cellos and vending boxes. Card fronts feature a color photo with the player's name below it, as well as the player's team and position on a baseball cap in the lower left. The red and gray backs feature the usual stats and brief biographical information and cartoon(s) if there's space for them.
You could also purchase this set in sheet form from Topps for $24. On each of the six sheets of 132 cards, 11 cards were double-printed. The most notable double-prints are Mike Schmidt (#540) and Alan Trammell (#709).
Subsets that are part of this issue include League Leaders (#1 to 8), Record Breakers (#201 to 208), postseason cards (#401 to 404) and team cards (#661 to 686).
Aside from Fernando, Joe Charboneau (#13) is another rookie in this set that was once wildly popular. When the free-spirited Indians outfielder wasn't dying his hair or opening beer bottles with his eye socket, he was hitting home runs and having songs written about him ("Go Joe Charboneau" hit No. 3 on the Cleveland charts). In his rookie campaign, Charboneau belted 23 homers and was named the American League Rookie of the Year. Unfortunately, back problems would end his career in 1982.
"I can remember that time because I had cousins in Cleveland and I went back there that summer and when we played, they wanted to be Joe Charboneau and wanted to have Joe Charboneau cards," said Smith. "He was a true phenomenon... for the one year anyway."
Tim Streich, proud owner of the Registry's No. 4, 1981 Topps set, says that Super Joe is a difficult card to find in pristine condition. Of the 28 evaluated, there has yet to be a PSA 10. A PSA 9 fetched $32.33 on eBay in January 2007.
The rookie cards of Harold Baines (#347), Tim Raines (#479), Jeff Reardon (#456) and Tony Pena (#551) are also in this set, as are the cardboard debuts of several key postseason performers. Who can forget Kirk Gibson hobbling around the bases after he belted his walk-off homer against Dennis Eckersley in Game 1 of the 1988 World Series? Gibson's rookie (#315) is in this set.
"The Gibson card is tough. It generally has poor centering," said Morse.
Smith concurs.
"It's a card that has lots of issues. I find them with weak corners and weak centering," he said.
Of the 117 submitted, there has yet to be a PSA 10. A PSA 9 sold for $77.32 on eBay in April 2008.
Another Fall Classic hero whose rookie is in this set is Mookie Wilson (#259). Mookie, of course, hit the ground ball that went through Bill Buckner's legs in Game 6 of the 1986 World Series. There are 22 PSA 10 Wilson rookies, one sold for $47.50 on eBay in August 2008.
On the flip side, the rookies of some players remembered for dubious postseason performances are also featured. Though he slugged 147 home runs in his career, former Cubs first baseman Leon Durham (#321) is perhaps best known for the ball that eluded him in the seventh inning of Game 5 of the 1984 National League Championship Series. The misplay allowed the Padres to tie the game and eventually win the series. It was later revealed that Durham spilled Gatorade on his glove before taking to the field that inning. In Cubs lore, the play has become known as the "Gatorade Glove Play." Of the 14 Durham rookies graded, just one has received a PSA 10 grade.
Charlie Leibrandt's rookie (#126) is also featured in this set. The versatile lefty won 140 games during his 14-year big league career, but he's best recalled for the walk-off home run Kirby Puckett hit off of him in the 11th inning of Game 6 of the 1991 World Series. Three PSA 10 Leibrandts have been uncovered.
Renowned Hall of Famers like Schmidt, Ozzie Smith (#207), Nolan Ryan (#240), George Brett (#700) and Rickey Henderson (#261) are also highlighted in this set. Streich says the Henderson card has centering issues, while Morse believes that the second-year card of the all-time stolen base champ is undervalued.
The Reggie Jackson single (#400) is also difficult to track down in top condition, says Morse.
"Centering is the problem with that card," he said.
Streich agrees.
"The centering is poor on that card, especially the backs. The backs are the worst," he said.
Of the 254 Jacksons submitted, there have been just two PSA 10s, one sold for $525 on eBay in December 2008.
A number of commons are also evasive in PSA 9 condition or higher. One of the most elusive is Glenn Adams (#18).
"It's out of focus a little bit. It has print lines running through it. He has black print splotches on his face. The print on almost every Adams card I've looked at is horrible and most of the ones that I've owned were centered low and to the left," said Smith.
Just six Adams cards have been evaluated and none have graded higher than PSA 8.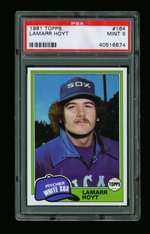 Like Adams, Benny Ayala (#101) is also elusive in flawless form.
"It's just an ugly looking card," said Smith. "Centering seems to be inconsistent on the card. Sometimes it's off left to right. Sometimes it's off top to bottom. There is also extra print, and on the white background of the Orioles jersey and on his white hat, it shows up very easily."
All four Ayalas submitted to PSA have been deemed NM-MT 8s.
Centering and print issues are common on cards in this set, but there are other condition issues as well.
"The challenges are the skinny borders and the mushy card stock," said Morse. "A lot of people jump out of the set because they can't find mint examples."
Streich shares similar observations.
"I think the main condition issues are the pictures being out of focus and centering," he said.
These condition issues make this set challenging for collectors to complete in high-grade.
"I'd say 1977 and 1981 Topps are the toughest two sets between 1975 and 1985," said Morse.
But these condition challenges make tracking down high-grade examples all the more rewarding for collectors. And the fact that the 1981 Topps set offers hobbyists who grew up in the '80s a relatively inexpensive trip down memory lane doesn't hurt either.
"The nice thing about the 1981 Topps cards is the affordability. It's a great set that people can collect. You get the stars of the years around it, but you can do it in a fairly reasonable price range," said Smith.
Please feel free to contact Kevin Glew at[email protected] if you have any additional information or comments. Frank Smith, Matt Morse and Tim Streich provided pictures for this article. Please note that the Population Report figures quoted and Set Registry rankings reported are those as of press time.