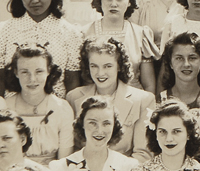 The autograph of teenage Marilyn Monroe, on a 1941 class photo from Ralph Waldo Emerson Junior High School in Los Angeles, is being auctioned by RR Auction.
"Marilyn Monroe signed this photo like every hopeful, slightly awkward young girl," said Los Angeles-based commentator and entertainment collector Tom Gregory, who believes this to be one of the most important signed Marilyn photos ever to hit the market. "This was the malleable person Monroe tried to reconnect with time and time again on screen."
The class picture shows 15-year-old Norma Jeane Baker (later Marilyn Monroe) at her most innocent and vulnerable, easily identifiable to the right of center in a sea of fresh faces. The reverse of the photo is neatly inscribed in fountain pen: "To a super and swell friend (date at that) I mean it Bobby! Norma Jean Baker '41."
After a stint in the Los Angeles Orphans Home, a succession of foster homes, and brief stays with her mother, Norma Jeane was likely living with her mother's friend Grace McKee during the period that this photo was taken. She would soon meet James Dougherty, marrying him the following year and changing her name to Norma Jeane Dougherty.
Antiques Roadshow appraiser and RR Auction consultant Jasmani Francis estimates that bidding on the photo will reach an unprecedented level before ending on October 14.
"We're talking about a pair of rarities here: a gem of a junior high school photo picturing young miss Baker, and a most desirable, virtually unobtainable early autograph of the future starlet ... the only 'Norma Jeane Baker' autograph we've ever seen," Francis said. "Don't be surprised if the item surpasses the $20,000 mark."
Headquartered in Amherst, NH, RR Auction is globally recognized as the trusted source for authentic autographed memorabilia and rare signed documents. Since its inception in 1976, the firm has published 350 consecutive internationally-distributed monthly autograph catalogs. The firm recently auctioned an autographed photo of Albert Einstein with his tongue wagging for a record $74,340, and the check astronaut Neil Armstrong signed the day he left for the moon for $27,350.