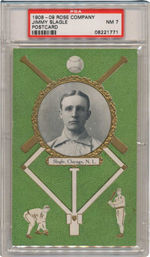 Clean Sweep Auctions is one of the largest auctioneers and sellers of vintage sports cards, autographs and memorabilia in the world. Clean Sweep's latest auction is one of their best ever. This very well balanced and diverse auction. This auction begins with baseball autographs. This section contains many extremely rare autographs, and also many autographs that are exceptional in terms of quality. Any serious autograph collector will have a field day with this catalog! We begin with the best run of signed Perez Steele cards ever offered at public auction. We have quality signed examples of the rare Satchel Paige, Lloyd Waner, Earl Averill, Joe Cronin and Walter Alston cards. We also have a fine complete set, with a complete run of the newer HOFers.
The auction continues with a simply outstanding collection of 3x5s, GPCs and Cuts. Highlights include a 1960 Pirates collection with Clemente, a 1961 Yankees collection with Maris, Grover Cleveland Alexander, a Lou Gehrig GPC, Cuyler, Foxx, Lajoie, Risberg, a stunning Ruth, Wagner and a Cy Young GPC.. We continue with some great Burke photos, including a Ruth, Al Simmons and many 8x10 signed Burkes.
Photo collectors will also have some great stuff to choose from: an early 1960s Yankee team issue set with Mantle and Maris, a super-early Rogers Hornsby, a fine 1930s Walter Johnson, Kid Nichols, an awesome Satchel Paige as a Negro Leaguer in the 1940s, Wilbert Robinson (the 1st we have ever heard of), Joe Tinker, Honus Wagner and Cy Young. Other notable autographed items include an Urban Shocker signed album page, a Thurman Munson pre-Yankee contract, front-signed Yellow HOF Plaques of Bancroft, Foxx & Hubbard. Autographed cards contain a fine run of the very popular 1948 HOF Exhibit cards, a 1960 Fleer Foxx, a 1963 Topps Ken Hubbs and a 1964 Topps Giant Dick Farrell.
Autographed baseballs come next. We have some fine multi-signed balls, and better single signed balls of Home Run Baker, Benny Bengough, Roberto Clemente, Stan Coveleskie, Howie Fox, Lou Gehrig, Joe Gordon, a superb Hank Greenberg, Harry Hooper and Waite Hoyt. Better team balls include a 1916 Dodgers Reunion ball, 1936 and 1938 Yankees, 1955 Dodgers and an extraordinarily clean 1956 Yankees ball.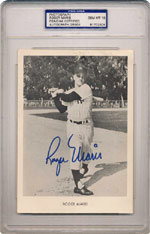 Presidential and historical autographs come next. This is BY FAR the deepest selection we have offered in this area. We have some quality Presidential autographs and a startling array of fascinating historical and entertainment letters and photos. Highlights include a Robert E. Lee ALS, a Thomas Edison signed document, signed Presidential memoirs going back to Truman, a Jimmy Carter letter criticizing Ronald Reagan, a Katherine Hepburn contract buying a house in 1938, and eclectic signatures of August Belmont, King Hussein of Jordan, Enrico Caruso, Cecil Rhodes, Mother Theresa, Pat Garrett, Cary Grant, Father Flanagan, an early Jimmy Stewart and Oliver Wendell Holmes.. Even if you do not collect these items, this section should make for some fascinating reading!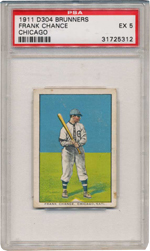 We get back to sports memorabilia next. We have several College football Championship Rings from the 1970s and 1980s, a Four Horseman fully signed photo, a quality run of complete football sets from 1955 to 1971 and some better hockey game used sticks. Baseball memorabilia contains a 1916 World Series Program, trophies from the 1984 Tigers and 1997 Marlins, high quality Championship Rings from the 1997 Marlins and the 1998 Yankees and some nice game used equipment.
Baseball cards conclude the auction. We begin with a run of sets going from the E93 and T201s from the early 20th century through some truly extraordinary condition Topps sets from 1969 - 1975. There are near sets of Zeenuts from the 1920s worthy of mention as well. The collector of graded cards will have over 150 lots to peruse. Highlights include several Old Judge and 19th century HOFers, a Rose Postcard in a PSA 7, a Brunners Bread Chance in a PSA 5,some very fine 1920s Exhibits, including a 1925 Cobb PSA 6.5, a 1927 Speaker PSA 6. a 1928 Gehrig PSA 8 mk and a 1939-46 Salutation Exhibit Gehrig in a PSA 5. We have a nice run of PSA graded Sport Kings (all 5s to 7s), many clean 1950 Drakes and PSA 9s of a 1969 Topps Rose, a 1969 Topps Mays and a 1970 Topps Rose.
Bid Today! This auction closes on Wednesday, September 30, 2009. Bids are welcome by phone (516) 338-8557 Monday through Friday 9 a.m. - 5 p.m. EST. You may also bid via Clean Sweep's website at: www.cleansweepauctions.com
Clean Sweep is currently accepting consignments for their December affordable autograph and memorabilia auction (deadline October 1), and their next major auction in January 2010 (deadline December 1).