Four names are most often mentioned when puck pundits debate who's the greatest hockey player ever.
Wayne Gretzky, Gordie Howe and Mario Lemieux have their passionate supporters, but perhaps the most boisterous group believes that No. 4 – Bobby Orr – is No. 1.
"Bobby Orr is unquestionably the greatest defenseman ever, and arguably the greatest hockey player ever. He, without a doubt, revolutionized the game," said Howard Sher, owner of the PSA Set Registry's No. 5 Current Finest Basic Orr Set.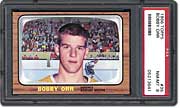 Don Johnston, who recently sold the cards in his top Orr Master set, agrees.
"I would say Orr is the best. He changed the game. It was unreal how he could carry the puck. He was just head and shoulders above the rest of the players," he said.
Though limited by chronic knee troubles, the Bruins blueliner was a nine-time all-star and was named the league's top defenseman eight times. He remains the only defenseman to lead the league in scoring – a feat he accomplished twice (1969-70, 1974-75) and was the playoff MVP of two Stanley Cup-winning squads (1970, 1972).
With all this in mind, you can understand why competition for cards in Orr's PSA Set Registry Sets – Basic (23 cards) and Master (87 cards) – is fierce.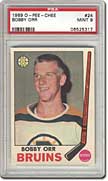 "There's an enormous amount of competition for his cards," said Ray Millette, who owns the Registry's No. 6 Current Finest Basic and Master sets.
Sher concurs.
"Competition really is fierce. I've been collecting for a long time and it seems like there have been a lot of new people who have gotten hot and heavy into trying to collect Orr. A lot of the prices have gone crazy," he said.
Millette, a Massachusetts native, was inspired to collect Orr by boyhood memories. He was a fan of the Big Bad Bruins teams in the 1970s.
"It was a natural inclination to start collecting one of my childhood idols," he said.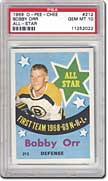 Growing up in Detroit, Joe Henninger, proud proprietor of the Registry's top Current Finest Master Set, idolized Howe. His dad worked at GM and had the opportunity to get tickets to two Red Wings games in 1968, one was against Orr's Bruins and the other, he believes, was against the California Seals. He opted for the Seals game because he wanted to see his beloved Wings win.
"I didn't actually get to see Orr play live and my brothers still remind me about that decision to this day," said Henninger. "It wasn't until later on that I realized what a mistake I'd made. I had a chance to see Orr in his prime."
But there's no questioning Henninger's commitment to Orr these days. He paid $47,593.20 for the only PSA MINT 9, 1966-67 Topps Orr rookie in a Mastro Auctions sale in April 2007.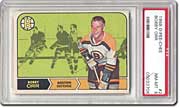 "It's a one of one. It's centered. It's mint and it's beautiful," said Henninger of his Holy Grail acquisition. "Everybody thought it would go for a lot more."
Even more elusive for collectors is a Topps Test version of the Orr rookie. Part of a rare 66-card, U.S. test set reportedly introduced in California, this Orr single was printed in limited quantities (some reports have the production run as low as 100 sets). The design is similar to that of the regular 1966-67 Topps set. The only differences are that the borders on the test cards are a lighter shade and the information on the back is in English only. Brian Roberts, who was interviewed for a previous article on the 1966-67 Topps Hockey set, believes this test set was released during the 1967-68 campaign.
"According to the records and the bottoms of the boxes . . . they (the 1966-67 U.S. Topps test version cards) were actually distributed through the 1967-68 season," said Roberts.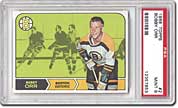 Regardless of when it was released, the Orr test rookie is very rare.
"I think maybe one (PSA-graded Topps Test Orr) has come up on eBay over the last three years since I've been following the Bobby Orr Registry," said Tim Matte, who owns the No. 5 Current Finest Master Orr Set.
Like several other singles in the test issue, the Orr is hampered by a white stripe on the right side of the front of the card. Roberts says that this white stripe is an indication of authenticity. Counterfeit Orrs reportedly exist without the stripe.
A PSA EX-MT 6 Orr test rookie sold for $7,200 on eBay in November 2008.
Another card that's difficult for collectors to track down in flawless form is Orr's 1968-69 O-Pee Chee card (#2). This single is the third card in the bottom row of the 1st-series sheet.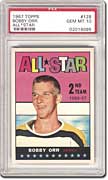 "It's miscut on the left side and on the bottom of the card. On the bottom left corner, there's excess cardboard," said Gerry Chartrand, owner of Gerry's Sports Cards in Dorval, Que., when interviewed about the 1968-69 O-Pee-Chee Hockey Set.
David Susko, whose set currently ranks fourth on the Orr Basic Set Registry, has also noticed centering problems.
"The 1968-69 Orr #2 is notoriously difficult to find in high-grade condition because of its poor centering," he said.
Matte has also had problems tracking down this card in high-grade.
"Because of the number of the card, it was at the top of the deck," explained Matte. "The cards at the top received more abuse than the ones in the middle."
Of the 72 sent in, there have been two PSA MINT 9s and one PSA NM-MT 8. A PSA NM 7 sold for $969.59 on eBay in September 2008.
A number of oddball Orr cards in the Master Set are also tough to find.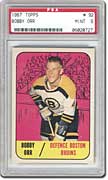 "The toughest part about collecting the Orr Master set is finding all of the scarce oddball and insert cards and stamps," said Susko. "These had smaller production numbers than the regular issue Topps and O-Pee-Chee cards, and because many of these were stamps, they were often taped or glued into collector books."
The 1969-70 O-Pee-Chee double stamp is one such item.
"The double stamp is, by far, the hardest item to find," said Johnston.
One of 22 pairs of stamps distributed in 1st-series packs of 1969-70 O-Pee-Chee cards, Orr was issued in tandem with Minnesota North Stars forward Ray Cullen.
"Finding a double stamp that hasn't been torn apart, that hasn't been stuck anywhere, is very difficult," said Millette, who owns a PSA 9 example.
Sher agrees.
"People would pull them apart and stick them on the back of the cards," he said.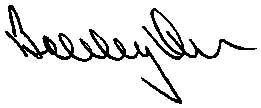 The demand for and scarcity of issues like these have helped make graded Orr items very solid investments.
"I believe he's probably the best investment of any hockey player," said Johnston.
Susko agrees.
"Orr's greatness has stood the test of time, which is why he will always be one of the most sought-after players for years to come," he said.
Henninger expresses similar sentiments.
"The Orr cards just seem to be money in the bank. The longer you hold onto them, the more they're worth.
---
Please feel free to contact Kevin Glew at [email protected] if you have any additional information or comments. Howard Sher and Joe Henninger provided pictures for this article. Please note that the Population Report figures quoted and Set Registry rankings reported are those as of press time.