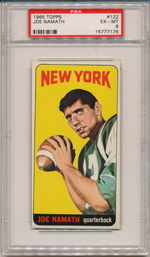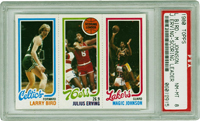 The auction is loaded with higher grade complete sets from the 1960s and 1970s, better condition Rookie cards from all of the major sports and many better grade star cards, including several Mantle PSA 6s from the 1960s.
The auction starts with basketball cards. We have a 69/70 Topps Alcindor RC, Havlicek RC and Chamberlain, a PSA 8 Bird/Magic RC and a PSA 7 86/7 Fleer Jordan Rookie. Sets begin at 72/73 Topps and go into the late 1980s. Football contains many very high grade 1962 Post Cereal cards, including several key single-prints, a PSA 6 Joe Namath Rookie, very clean starter sets from 1963, 1965, 1966 and 1969 Topps, a 1970 Kelloggs set and complete sets from 1973 through 1989 (many of which are of exceptional quality).
You can find some better hockey sets from the 1970s and 1980s. Baseball cards are the heart of this style auction. Highlights here include complete sets of 1960 Fleer, 1964 Topps Giants, 1965 Topps Embossed (very high quality), 1967 Topps (very near set), 1968 Topps, 1970 Topps and most sets from 1973 to the present, including a 1975 Topps set with 8s and 9s. Also included are many very clean common lots from the 1960s.
Single baseball cards are dominated by Rookie and star cards. Highlights include Rookies of Rose, Carlton, Yaz, Stargell, Ryan. There are many very clean 1961 Topps high numbers and clean examples of nearly every Mantle Topps card from the 1960s. There is also a 1969 Topps White Letter Mantle and many fun oddball issues from the late 1960s and early 1970s. In short, a perfect auction for the collector of higher grade cards from 1960 to the present.
Bid Today! This auction closes on Sunday, September 2, 2009. Bids are welcome by phone 516-338-8557 Monday through Friday 9 a.m. - 5 p.m. EST. You may also bid via Clean Sweep's website at: www.cleansweepauctions.com.