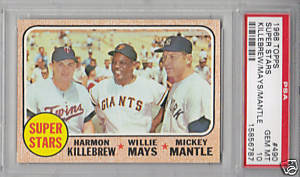 Be sure to check out this rare, low pop PSA Gem Mint 10 featuring HOF'ers Mickey Mantle, Willie Mays and Harmon Killebrew!
"This is a special card that would be an asset to any collection. With only 5 known examples in PSA holders this card would certainly bolster your Set Registry standing within the 1968 Topps Set!" said Scot Maxwell, Vice-President of OSCI. "We believe this particular card to be the best known example with eye-popping color, four untouched corners and precise 50/50 centering! A truly amazing find!"
Auction is now live and ends on Sunday, August 23rd. Click here to view.
InfinitiSportsCards is a sister company of Orange County Sports Investments, which has been recognized in the eBay marketplace with over a decade of active membership within the sellers' market. OCSI is committed to assisting all types of collectors including members of the PSA Set Registry to complete, fill, upgrade or start their modern and vintage card sets. Orange County Sports Investments: Building Your Championship Collection! You can reach OCSI at: 714-373-9800 or email at: [email protected].