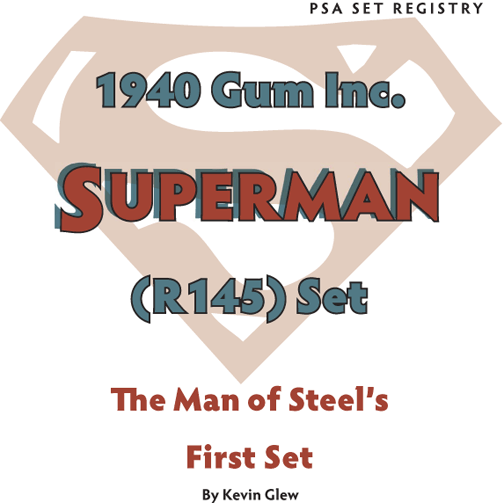 When high-grade cards from the 1940 Gum Inc. Superman (R145) set come up for sale, collectors have to be "faster than a speeding bullet" to buy them.
These superhero singles are highly sought-after and rarer than most sports cards from the same era.
"The biggest challenge in putting the Superman set together in any grade is its relative scarcity," explained Mickey Campbell, owner of Mickey's Sportscards in Estes Park, Colo. "Nearly 50% of the cards in the set submitted to PSA, grade PSA (EX) 5 or lower."
Matthew Gallegly, who owns the PSA Set Registry's No. 4 Current Finest Superman set, agrees.
"You can find a whole box of 1952 Topps baseball, but try finding one Superman pack," he said.
Released in yellow, blue and red penny packs, these 1940 pasteboards comprise the first Superman set. This set is so desirable that the wrappers can command several hundred dollars. One sold for $458.40 in a Hake's Americana & Collectibles auction in December 2008.
"It's definitely one of the most popular of the pre-war, non-sports card sets. There's a big three in baseball sets (T206, 1933 Goudey and 1952 Topps), and this set is one of the big three for non-sports (along with 1938 Horrors of War and 1940 Lone Ranger)," noted Campbell.
Measuring 2-1/2" by 3-1/8", the singles in this 72-card issue boast colorful drawings of Superman's adventures.
"The graphics, the color and the way the cards were made back then are just unbelievable," said Brian Karl, who owns the Registry's No. 3 Current Finest Set. "If you look at the detail work on these cards, it's amazing."
Campbell agrees.
"We always seek out this set because of the amazing quality of the artwork. In this instance, it is very similar to the Lone Ranger set of the same year. They are both like miniature works of art," he said.
The backs of these cards feature text describing the drawings. Also showcased is the card number, a black and white Superman design and information about the Supermen of America Club.
The high-number cards (#49 to 72) have proven to be the most elusive.
"The high-number series of 24 cards is about three to four times tougher to find than the lower numbers," said Campbell.
Karl, who was given several dozen 1940 Superman cards by his grandfather, agrees.
"There wasn't one high-number card in all of the cards my grandfather had. Not one. And I probably had 70 or 80 Superman cards," he said. "I actually thought the card set stopped at #48."
Gallegly has had a similar experience.
"The high-numbers are really difficult. Cards numbered 49 to 72 are virtually extinct now," he said.
High-number singles in top condition are even more elusive.
"It just seemed like the high-numbers were very difficult to find in good condition. And if you found one in good condition, you were going to pay through your nose," said Karl.
Why the high-number cards are so difficult remains a mystery. Hobbyists don't have a concrete explanation. Gallegly has heard that the high-numbers may have only been test marketed in certain regions.
"The high-numbers were clearly printed in much lower quantities than the lower numbers," noted Campbell.
And, as a result, the high-number cards tend to command a significant premium.
"If a PSA NM-MT 8 high-number card was out there, I bet you would see four or five guys bid it up to $3,000 or $4,000 easily," said Karl.
This set's first card – the solo Superman single – is also highly coveted and elusive in pristine condition.
"A lot of those theories about the first card being exposed to the most wear are not borne out by the pop reports but, in this case, it was definitely a factor. The first card is definitely the key to the set, along with the high-numbers," said Campbell, adding that it's nearly impossible to obtain the first card in a grade about PSA EX 5.
Of the 24 evaluated, just one has graded as high as PSA NM-MT 8.
The set's last card – Superman vs. Torpedo (#72) – is even more evasive in top form.
"To me, the Holy Grail of this set would be #72," said Karl.
Gallegly shares similar observations.
"The #1 and the #72 are the most highly coveted because kids would put them in a rubber band and those two cards would get damaged the easiest," he said.
Just one #72 example of this card has graded as high as a PSA NM 7.
General wear and tear seems to be the most common condition issue associated with these cards.
"I don't think centering has ever been an issue. The low grade comes from either kids playing with them or them just not being handled properly. There are a lot of nicked corners and rounded corners," said Karl.
Campbell has noticed a common print defect on these cards.
"Like many of the Gum Company issues of the period, the common defect on the card is the presence of a horizontal print line," he explained.
Various comics, TV series and movies have kept Superman in the spotlight over the years. Collectors witnessed a spike in interest after the most recent Superman movie was released in 2006.
"When a movie comes out, it kind of jumpstarts your childhood and then you reminisce about the day that you had the cards or you watched the show, and more people start collecting them," said Gallegly.
He believes the value of this set will rise in the future.
"It's something that I consider a pop culture 401(k). It has investment potential that's unlimited," he said.
---
Please feel free to contact Kevin Glew at [email protected] if you have any additional information or comments. Mickey Campbell, Matthew Gallegly and Brian Karl provided pictures for this article. Please note that the Population Report figures quoted and Set Registry rankings reported are those as of press time.