(Tustin, CA) - It's the ultimate collection for the ultimate Yankee fan.
Memory Lane Inc., has been chosen to sell a unique and valuable accumulation of World Series ticket stubs and press pins in its Summer 2009 auction.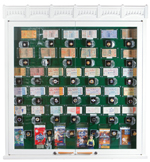 Yankee fans, World Series ticket stub collectors or those who favor press pins will be able to fill any hole in their collection when Memory Lane brings each and every Yankees World Series stub and press pin ever issued to the marketplace on August 8
Memory Lane's Summer Auction arrives as the Yankees spend their first season in the 'new' Yankee Stadium. Recollections of the first, however, are ingrained in the minds and memories of every baseball fan. The team's unmatched success included World Series appearances on a regular basis through every decade. The press pins and Series stubs available provide a snapshot of each era of Yankee greatness. Colorful, unique and limited, they are certain to attract significant attention amid a mind-boggling array of high-grade vintage sports cards and memorabilia.
The Yankees have not only appeared in more World Series than any team in baseball history, the club's winning percentage tops all. The franchise owns 26 wins in 39 appearances for a .667 pace.
From the Yankees' first World Series appearance in 1921 through the club's last visit to the Fall Classic under Joe Torre in 2003, each is represented with these unique souvenirs, painstakingly collected and preserved for future generations to enjoy.
Included in the collection is a 1926 World Series game four stub from the Yankees' victory over the Cardinals, a contest that saw Babe Ruth belted three home runs. The fabled 1927 Yankee team is represented, as well as the 1932 "called shot" Series and the dominating 1956 Mantle-Ford-Berra triumph.
From Ruth and Gehrig through DiMaggio; Ford and Mantle through Reggie and Munson and on up through the Jeter and Bernie years, the stubs and pins tell the Yankees post-season story like no other collectibles can.
Bidding can be done at www.MemoryLaneInc.com and via phone or fax. Call 877.606.LANE (5263) to register and obtain a full-color catalog or complete the process online. It's an opportunity to take part in what is always one of the hobby's most talked-about and significant events.