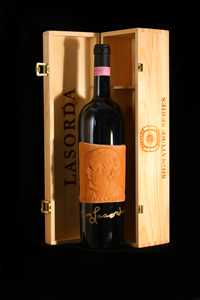 When it comes to living luminaries, few celebrities are as beloved as Thomas Charles Lasorda. From the Big Apple to the City of Angels and beyond, "Tommy" is known as the Norristown, Pennsylvania native who evolved into the legendary player, manager and goodwill ambassador of the Brooklyn and Los Angeles Dodgers; the manager of the Gold Medal-winning 2000 USA Olympic Baseball Team; and a 1997 inductee to the Baseball Hall of Fame.
Tommy is also known for something else - his love of great Italian food. You can "fagetaboutit" when it comes to great review from the New York Times, a top rating from Zagat, a wall full of International Hotel and Restaurant honors, or an award of Mobil diamonds or American Automobile Association stars. If you REALLY want to know you are waking into a world-class Italian restaurant, just look around the lobby for a photo of Tommy Lasorda with his signature under an inscription to the owner touting the quality of his establishment's pasta fagioli, gnocchi or cannoli.
"When it comes to Tommy Lasorda, right up there with baseball, people associate him with great Italian food and Italian culture," said Bill Goldberg who has been handling the Hall of Famer's business affairs since 1997. According to Goldberg, Tommy may bleed Dodger Blue, but the blood that pulsates through his veins also has a high olive oil content. "He has always been very proud of his Italian heritage and he loves food, wine, and people," said Goldberg. "And what Tommy really loves is to share food and wine with people."
Since the summer of 2008, sharing his love of wine with people has become an easier thing for Lasorda to do. After a lengthy period of meticulous research by Goldberg, artistic production by the some of the leading wine producers of Italy, and selections by master sommeliers, Lasorda launched a selection of eight varietals. Produced from grapes grown in the country in which Tommy's father, Sabatino Lasorda, created bottles of homemade wine as a young man, Tommy's wines have been enthusiastically received by connoisseurs and have been awarded gold and bronze medals at the Los Angeles International Wine Competition.
The concept of Tommy offering a line of wines was the brainchild of Goldberg who owned an art company for 31 years that specialized in Twentieth Century masters and fine art. He also represented artists and photographers; dealt in the retail art market, and was contracted by major companies and corporations including The Walt Disney Company.
A native of the South Bronx, Goldberg, like Tommy and the Dodgers before him, left New York for California, not to play ball, but to pursue his dream of becoming an attorney. "I came out to California to go to law school," said Goldberg. "But quickly found out that I didn't like it."
After realizing he didn't have the stomach for law, Goldberg found that he did have an eye for art. "I'm not an artist myself but I have a good eye and after representing artists for many years, Tommy Lasorda came to me in 1997 and asked me to handle his affairs."
Today, Goldberg actually wears three different hats when it comes to his dealings with Lasorda. Along with handling his business dealings and being his close friend, Goldberg is the husband of Tommy's daughter, Laura, and the father of Tommy's granddaughter, Emily Tess. "I'm Tommy's representative, his buddy and his son-in-law," he said with a laugh.
Goldberg said that while he and Tommy are very close today, he was quite intimidated by him when they first met. "I would equate our first meeting with the movie (Guess Who's Coming to Dinner)," Goldberg said laughing. "If you think Sydney Poitier's character had a hard time, that was nothing when it came to going to Tommy's house to take out his daughter, especially being as that I was not a Dodgers fan. I grew up a New York Giants fan. When the Giants left New York, I became a Mets fan and I still pull for them today."
While Tommy may not have been happy with Goldberg's team allegiance, and the fact that his daughter's new boyfriend actually rooted against him and his team, they rapidly warmed up to one another. "Tommy is truly the real deal," said Goldberg. "And if he can make a New York fan like me believe, that's a big thing. While I've never been a Dodger fan, I am a Lasorda fan. Guys like Tommy transcend a team and even a sport. They are what the American dream is all about."
According to Goldberg, like his father-in-law, he has harbored a deep love affair with the country of Italy. "I love the place and have spent a lot of time there over the years," said Goldberg. "It was actually those trips to Italy that became the catalyst for Tommy's involvement in wine. I would be driving from one end of Italy to another and get caught up in the romance of the country and the wine. Now I'm not a wine connoisseur, but I have done a lot of research on wine and, as with other things I don't know much about, I try to find someone who is an expert to educate me and help me."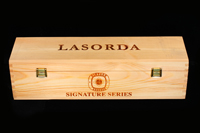 Goldberg said that the dream of producing and importing wine became a bit of an obsession for him. "I started chasing this idea and kept going back and forth to Italy. I attended two of the world's biggest wine shows, one in Bordeaux and the other in Verona that is called Vinitaly. I did as much as I could to learn as much as I could about wine. Then I finally approached Tommy with my idea."
Lasorda was immediately intrigued, perhaps because he saw the creation of a wine as a homage of sorts to his father and his childhood memories. "Tommy's father, Sabatino, was from a little town in Italy called Tollo in the Abruzzo Region of Italy," Goldberg relayed. "He was a wine maker and, when he immigrated to Norristown, Pennsylvania, he brought his wine press with him. When Tommy was a little boy, his father would take him by the hand and have Tommy watch as he checked the grapes he was growing. He would make wine for the local card players, people in the neighborhood, and for his family. I knew about that, and I thought it was a great story that connected Tommy with his dad."
During all of his years in representing artists, and now serving as Tommy's business representative, Goldberg has become a savvy businessman and deal maker, although he downplays his astute business acumen. "I have found that, over the years, the best deals I have made are the ones I didn't make," he said with a laugh. "They are the ones that have come together naturally."
After two and a half years of educating himself on the production and importing of wine, Goldberg had done his due diligence and was ready to strike a deal. Working with various producers, he was acutely aware of the fact that the product had to be of an exceptional quality. "For me, it was all about Tommy and his legacy," said Goldberg. "When I am working on his behalf, I am always aware that I am representing a Hall of Famer and if he is going to be associated with a product, it has to be a great product."
As time went by, Goldberg began to realize how difficult it was to produce and import a wine and at times thought it would never happen. "Some things in Italy just didn't work out and I figured if we were to try to put anything together, we would probably work with people from Napa, California. I found it was just so difficult to produce an Italian wine - establishing the trust, making sure the right wine would get in the right bottles, and so forth. So, I figured working domestically might be a bit less complicated, but frankly, if we couldn't do an Italian wine I was ready to chalk it all up to a great learning experience."
And then, when Goldberg stopped working so hard to put a deal together - a deal just came to him naturally.
"The word had gotten out that we were thinking about getting into the wine business, said Goldberg. "So, to prove my point that my best deals are the ones I don't make, I was on the golf course one day and I met this guy who knew I was interested in wine and he wanted me to meet another guy."
Hesitant at first, Goldberg finally agreed to the meeting. "To make a long story short, this led me to Casa Torelli, a family from Tuscany who had a little vineyard. They had 36 wines in their portfolio here in Santa Monica and they couldn't generate any interest. So we talked and, after months and months of talking, I came up with an idea. Tommy is a guy who is known all over the country - all over the world - and by attaching his name to the wine we could probably put it on the map. However, I told them that I thought it would be hard to sell because I would not personally buy a bottle of wine with Lasorda's name on it because I would just think it was a licensing deal. I told them that if we were going to do this, I wanted the wine to be a really high quality product. I didn't' want it to simply be marketed as a celebrity wine but rather as a truly great wine that was supported by a celebrity."
Goldberg thought that while Lasorda and Dodgers fans may buy a bottle because of their love for Tommy, they would not come back and become a repeat buyer unless they opened the bottles, tasted the wine, and realized how good it was.
As for the quality of the wine, Goldberg said he worked very hard to get it just right. "I know what I know," said Goldberg. "But more importantly, I know what I don't know. I am confident in my taste buds, and I know Italian wines better than any other wines, but I am no connoisseur. The one thing I was sure of was that we needed something recognizable like a Chianti or a Pinot Grigio because Americans are attracted to wines they are familiar with. So, we brought in a ton of wines and went through them all. There are about 85 master sommeliers in the entire world and I hired two of them to go through the wines. At first, they thought I was just another guy wanting to get into the wine business, but they were really blown away by the wines we had selected. They confirmed the selections and, after many years of work, we brought the wines to market in August of 2008."
When it came to designing the label for the bottles, Goldberg said he didn't want it to be a typical cheesy celebrity thing. "I didn't want a picture of Tommy in a uniform waving his hands in the air or something," said Goldberg. "I wanted the label to have a dignified, strong graphic with just his last name. I wanted people to see the label and wonder if it was the same Lasorda they knew from baseball."
When Goldberg and Lasorda first brought the wines to market, it was decided that Tommy would not do any signings. "I didn't want the wine to begin as a baseball collectible," Goldberg explained. "I wanted people to try the wine. My concern was that if people were buying signed bottles, they would never open them and drink the wine. That is what happened and today the wine has been well received and we are in major markets, boutique wineries and great restaurants such as Napa Rose in Anaheim that Zagat has called one of the best in California. Once people found out it was a quality product, then Tommy began doing signings of the bottles."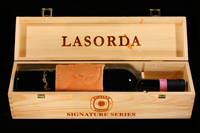 According to Goldberg, if three bottles are purchased, Tommy will sign one out of the three at no additional cost. "That way, we can assure that along with getting a collectible, people will also be trying the wine in the unsigned bottles," said Goldberg. "We want people to take it home and share it with their girlfriends, or wives or buddies - not just put it on a shelf. Getting into the market was exciting, but staying in the market is what it is all about - getting people to come back to buy it again and again after they have tasted it."
Although Goldberg's first desire was to have the wines accepted for their taste, he knew that they would in fact have a great appeal to collectors. "On our web site, we offer a special bottle of Carmignano for collectors," he said. "We put the wine in a magnum and found a Florentine artist who did a profile of Tommy by hand in terracotta that was affixed to the bottle. We then had Tommy sign the bottle. There are restaurants that have this wine on the menu for $1,000. People enjoy it for dinner and then have the bottle to take home as a collectible. We also produced 97 bottles that include a HOF '97 inscription being as that 1997 was the year Tommy was inducted in the Baseball Hall of Fame. They come in a wooden box and they sell through our site for $500 with the Hall of Fame edition selling for $600."
While collectors may be delighted with the signature they find on the label of the bottle, they will be equally delighted with the signature wine they find on the inside. The Carmignano comes from a small wine producing region in Tuscany called Carmignano, just outside the city of Florence. This particular offering, by DOGC standard, is made using a controlled blend of 70% Sangiovese Grosso, 10% Canaiolo, 15% Cabernet Sauvignon and 5% Merlot. DOGC stands for Denominazione di Origine Controllata and is an Italian quality assurance label for food products and especially wines. It is then aged for 12 months in French Allier Barriques (oak barrels) and then refined for 12 more months in the bottle. Wine experts have said that the Carmignano possesses a wonderful character and complexity. It is deep ruby red in color with maroon highlights. As for the nose, it is wide and full with nuances of wild red berries, vanilla, and spiced notes originating from the Allier Barriques. The flavor has an intense rich body, while soft, warm and persistent, with a long and wonderful finish. It has been called an excellent wine to accompany pork, roasted meats, poultry, wild game, and pastas.
"I'm very proud that the wine has traction and that it's a really good product," said Goldberg. "We have won numerous wine competitions including eight awards for our Pinot Grigio at the international wine competition. Tommy has never put his name on something he doesn't believe in and he believes in this wine. It's a perfect fit. Because of his Italian family tradition and also because Tommy has a heart institute named after him and studies have shown that, when handled properly and in moderation, wine can have health benefits. The interesting thing about Tommy is that he is not a wine connoisseur. He has trouble even saying the words Pinot Grigio. What he does know is what tastes good. This wine was made by a great team. And just like Tommy's great baseball teams on the field, he and I assembled a great team of true wine connoisseurs to create this wine."
When Goldberg looks back on this quixotic odyssey that resulted in the importing of a high quality wine, his pride is palpable. "It's been a fun journey," he said. "For me, having spent the majority of my career in the arts, I have seen so many similarities between the art business and the wine business. When you think about how long it takes for a vine to grow, what it receives and is subjected to by Mother Nature, how it is nurtured, when it is picked, how the grapes are skinned and then sit in barrels and then stainless vats, the process is incredible right on to the bottling, labeling, boxing and shipping. It's a true art and it's also amazing that every bottle of wine doesn't cost $200 because each one is like a work of art."
When it comes to their wines, the thing that makes Goldberg the happiest is the same thing that makes Tommy happy - that they can imagine people sitting around talking with friends and family while enjoying their wine. "Tommy is very proud of this wine and so am I," said Goldberg. "We're proud that we are giving people a great product at a great value. We're proud that we are offering a true Hall of Fame quality wine."
For further information or to purchase signed bottles of Lasorda Wine visit www.lasordawine.com. To arrange for Tommy Lasorda to do a personal signing appearance, or for any business inquiries regarding Lasorda Wines, you may contact Bill Goldberg at International Athletic Representation, 5850 Canoga Avenue, Suite 220, Woodland Hills, CA 91367 or call (818) 716-3654.