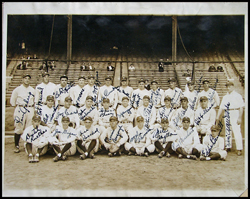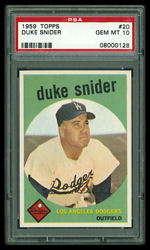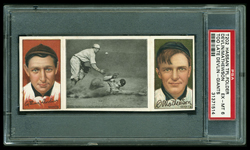 Legacy Sports Rarities of Traverse City, Michigan, is currently conducting its "Summer 2009 Vintage Trading Cards and Memorabilia" catalog/internet auction. The sale features 414 lots of important rarities, finest known examples, and legendary Hall-of-Famer issues. Bidding ends on August 22, 2009
Highlights of the auction include:
Featured Items:
19th Century Rarities such as 1887 Large Gypsy Queen John Ward (VG/EX), 1888 Yum Yum Tobacco Tim Keefe (EX/NM), N300 Mayo Cap Anson (NM), and N300 Mayo Buck Ewing - Cleveland (NM)
1888 New York Giants Imperial Team Photo by Joseph Hall
1908 E102 Christy Mathewson (NM)
1909 T206 Ty Cobb Portrait - Green Background (NM+)
1910 E93 Standard Caramel Christy Mathewson (NM)
1911 T201 Cobb/Crawford (NM/MT+)
1921 Koester Bread Babe Ruth (EX/NM)
1931 W517 Complete Set of Three Card Panels
1933 Goudey Napoleon Lajoie (PSA 6)
Babe Ruth Single Signed Baseball (PSA/DNA)
1939 Play Ball Joe DiMaggio (MINT)
Newly discovered 1927 New York Yankees Championship Team Signed Photo (PSA/DNA and JSA)
Pre-War Baseball:
1886 McLoughlin Baseball Game
High grade 1887 Chicago Baseball Currency
AJ Reach Signed Letter to Harry Wright
Outstanding selection of high-grade T206 Hall-of-Famers, including: Chief Bender Portrait (PSA 8), Walter Johnson Portrait (PSA 7), and Christy Mathewson Portrait (NM)
Finest PSA graded 1910 D322 Tip Top (Owen Wilson - NM 7)
Rare E90-3 American Caramel Solly "Hofnlan" error
An amazing selection of finest known 1911 PE2 Diamond Gum Pins, including: Napoleon Lajoie (PSA 7), Honus Wagner (PSA 7), and Christy Mathewson (PSA 8)
Several highest graded T205 Gold Borders, including: Mordecai Brown (NM/MT), and Eddie Collins - Mouth Closed (NM/MT)
A spectacular selection of 45 different high-quality, PSA graded, 1912 T202 Triplefolders, including: the rarest card in the set - Mathewson/Too Late For Devlin/Devlin (Rustlers) in EX-MT 6, and the most popular card in the set - Jennings/Ty Cobb Steals Third/Ty Cobb in NM 7
1939 Play Ball Ted Williams (NM/MT+)
1940 Play Ball Joe Jackson (NM/MT+)
Post-War Baseball:
1948 Leaf Jackie Robinson (NM/MT)
1949 Bowman Roy Campanella (MINT)
1952 Bowman Mickey Mantle (NM/MT+)
1953 Bowman Mickey Mantle (PSA 8.5)
1953 Bowman Stan Musial (MINT)
1953 Topps Satchel Paige (NM/MT+)
1954 Dan Dee Potato Chips Mickey Mantle (NM/MT)
1954 Red Heart Mickey Mantle (MINT)
1954 Red Man #1 Richie Ashburn (PSA 9)
1955 Red Man #1 Richie Ashburn (PSA 9)
1955 Topps Roberto Clemente (PSA 8)
An outstanding variety of 49 different 1957 Topps in PSA 9
1959 Topps Duke Snider (PSA 10)
1967 Topps Roger Maris Yankees Blank Back Proof (NM)
Other Sports:
1891 McLoughlin Football Game
1935 National Chicle Knute Rockne (NM/MT)
1951 Parkhurst Gordie Howe (NM)
1933 Sport Kings Joseph Lopchick (PSA 8)
circa 1860 to 1870 CD Fredericks & Co. CDV of boxer John Heenan (Authentic) - regarded as the first boxing card
1893 N266 Red Cross Tobacco boxing near set of 23/24 cards
1910 T223 Dixie Queen John L Sullivan (EX/NM)
1910 T223 Dixie Queen boxing near set of 47/50 cards
Several graded 1951 Topps Ringside two-card panels, including: #49/90 Bob Murphy/Barrone (NM+ 86)
1951 Topps Ringside boxing complete PSA and SGC graded set
1900 Cope Brothers & Co. golf cards complete graded set
Non-Sports:
A spectacular selection of 34 different, PSA graded NM-MT 8 or better, 1938 Horrors of War cards. Included are several Pop 1 NM-MT 8 and MINT 9 examples, and the highest graded copy of card #286 Chamberlain Meets Hitler (NM-MT+ 8.5).
Several different low population, PSA graded MINT 9, 1959 Fleer Three Stooges cards.
Full color catalogs are available free of charge, either by calling Legacy at (231) 922-8037, or through their website at www.legacyrarities.com. Online registration can also be done at www.legacyrarities.com.
Lots are available to be viewed in person at Legacy's Traverse City, Michigan office. Viewing is by appointment only and anyone interested should call (231) 922-8037.
Legacy's owner, Greg Bussineau, comments: "I'm very pleased with the wide variety of outstanding pieces we've assembled for this sale. In particular, the 19th Century baseball card rarities, the PE2 Diamond Gum Pins, the T202 Triplefolders, the early boxing issues and the selection of 1938 Horrors of War really stand out. Additionally, the newly discovered 1927 New York Yankees Championship Team Signed Photo is simply amazing. I've never seen a finer Lou Gehrig signature."
Legacy's next auction is scheduled for late 2009 / early 2010. Consignments for the sale are currently being accepted. Anyone interested in consigning items to the auction should call Greg Bussineau at (231) 922-8037.
Legacy Sports Rarities
PO Box 6047
Traverse City, MI 49696
Ph: (231) 922-8037
Fax: (231) 922-9593
www.legacyrarities.com
Legacy Sports Rarities was founded in 2002 by veteran dealer Greg Bussineau. Bussineau founded Superior Sportcard in 1982 and Superior Sports Auctions in 1996. Superior Sports Auctions was purchased by Collectors Universe in 1999, upon agreement that Bussineau would stay on and run the company for three years. At the end of this agreement, Bussineau decided to go back into business for himself and formed Legacy Sports Rarities.
In addition to buying and selling virtually every major important sportscard ever produced, Bussineau has been instrumental in helping to assemble some of the greatest sportscard collections in history. He was chosen to auction off the personal memorabilia collection of basketball Hall-of-Famer Bill Sharman, as well as the personal sportscard collection of PSA founder David Hall. Bussineau was also one of three people who helped to formulate the original grading standards employed by PSA - the world's largest independent sportscard third-party grading and authentication service.