Huggins and Scott's Current Auction is Open for Bidding and Ends on May 27th and 28th, 2009:
Huggins and Scott Auctions will be celebrating the 100th anniversary of the T206 White Border baseball issue in the upcoming May 2009 catalog and internet auction. The full color catalog opens with a beautiful graded 1909-11 T206 near set (520/524), the extremely rare T206 Eddie Plank, T206 Sherry Magie (Magee error, graded), several large groupings from the famed "Monster" set and an incredible array of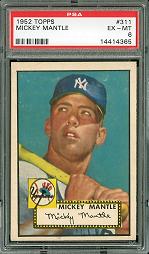 sports cards, memorabilia, Americana and autographs. This 300-page full-color catalog featuring 1,557 lots of sports and non-sports cards and memorabilia will be presented to thousands of the best bidders around the world. This auction will feature a revolutionary concept, designed to save bidders money and increase the profits for consignors. The unique graduated buyers' premium proved to be a success with the bidders as hammer prices showed a moderate increase in an unstable economy.
Highlights for this great auction include a stunning single-signed Babe Ruth baseball, a 1927 Philadelphia Athletics signed team ball with Cobb, Foxx, Wheat, Mack, Simmons; 1951 NY Yankees signed team baseball; a game-used bat collection that includes a 1925 Ken Williams, 1927-30 Rogers Hornsby, 1970s lumber from Aaron, Bench, Rose, Schmidt and more; a collection of NFL pioneer Bert Bell signed checks including Mara, Halas, Hewitt, O'Brien and Carr; a near complete graded 1894 Mayo N302 Football card set; a 1952 Topps #311 Mickey Mantle (PSA 6); dozens of UDA autographed items to include Tiger Woods, MJ, Kobe Bryant, LeBron James and many more.
Other notable items include hundreds of quality autographs including Babe Ruth, Lou Gehrig, Jimmie Foxx and dozens of rare Hall of Famers; Art Deco items with a trio of beautiful Erte bronze statues, dozens of limited edition Mystery Cuts from Sweet Spot with Einstein, Reagan and Brando (all 1/1); a game worn Mark Messier NY Rangers jersey, 1983 Phillies NL Championship ring, and a litany of rare and highly desirable SGC-Graded cards from the pre- war era and much more. Huggins and Scott prides itself on offering collectibles to all levels of collectors with an affordable grouping of lots and items.
This promises to be another tremendous sale from the fastest growing auction company in the industry. Visit www.hugginsandscott.com to register, bid or to get a free catalog. They are the only company that updates their website every day with new items that will be included in their upcoming auction. The auction will begin on May 10th and will end on May 27th and 28th, 2009. We are currently accepting consignments for our next auction and welcome all those who are looking for quality and personal customer service.