If you're looking to get your non-sports card collection off the ground, the 1933-34 National Chicle Sky Birds set is a good place to start.
Educational and challenging, this historic 108-card offering is generally more affordable than sports issues from the same era.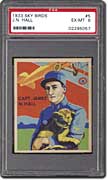 "I thought building this set would be a fun challenge and a little educational along the way," said Mike Presnell, who built and recently sold the No. 1 All-Time Finest Sky Birds set on the PSA Set Registry.
Brent Butcher, owner of the No. 2 Current Finest Registry set, was drawn to this offering for similar reasons.
"I love history, and the whole set is based on true historical figures," he said.
Like Butcher, Tad Ringo, proprietor of the Registry's top Current Finest set, is also a history buff.
"I've always been fascinated by aviation history, the World War I period in particular. My dad was a history teacher and a pilot, so I come by the interest honestly," he said.
Highlighting famous pilots, aviation pioneers and aircraft from the early 20th century, cards from this set measure 2-3/8" by 2-7/8" and were distributed in one-cent packs. Ringo has seen at least four different wrappers. Promotional offers and coupons redeemable for prizes were included on these wrappers.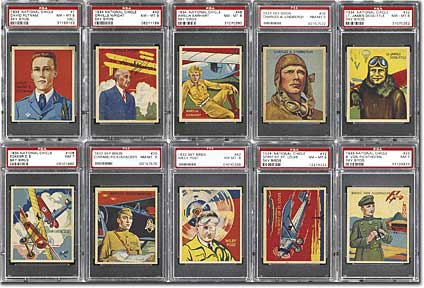 Employing both vertical and horizontal layouts, the card fronts boast colorful artwork and showcase the aviator or aircraft's name. Backs feature the card number, information about the subject and copyright details.
Despite the fact that only 108 cards were issued, most backs indicate that the cards are one of "a series of 144 cards." The fonts, spacing and coloring vary slightly on some of the backs.
Ringo points out that the first 24 cards (printed in 1933) can sometimes be found with a brighter, white border along the bottom than the other cards in the set. He also adds that each of the first two dozen cards feature World War I pilots. Six of the subjects on the initial 24 cards are also members of the Lafayette Escadrille, notes Ringo, which explains why Capt. James N. Hall (#5) and Lt. Norman Prince (#11) are holding lion cubs in their pictures.
"The Lafayette Escadrille had lion cubs as squadron pets," explained Ringo.
It's believed that National Chicle initially intended to produce a 48-card Sky Birds set, and the fact that the gum manufacturer unveiled the first four dozen cards with backs indicating that they were part of "a series of 48 cards" supports this. At some point, however, the Massachusetts-based company decided to create a larger set (144 cards), and when this decision was made, the set's second 24 cards (#25 to #48) were reprinted with backs indicating that they were part of "a series of 144 cards." As a result, cards from #25 to #48 can be found with two different backs. Despite the fact that the cards with the "series of 48 cards" notation are significantly rarer, there's generally no premium for either version, and most collectors find either incarnation acceptable for their sets.
Butcher notes that cards from #49 to #60 are difficult to uncover in top condition, as are the high number singles. General hobby consensus appears to be that cards #85 to #96 are less elusive than cards #97 to #107, but Butcher hasn't found this to be the case.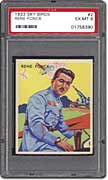 "The numbers #85 through #96 were actually tougher than the last 12 cards," he said.
No definitive explanation exists as to why the high numbers are so tough to find.
"I think it's just simply that there weren't as many of those cards produced as there were the lower numbers," said Ringo.
The set's last card, featuring the Fokker D8, a German fighter plane, is widely hailed as the set's most elusive in high-grade. Butcher attributes this to the fact that it's the last card in the set and was subjected to additional wear, such as rubber band marks.
Of the 23 Fokker D8 cards submitted, the highest grade doled out has been PSA NM 7. A PSA VG-EX 4 sold for $125.00 in June 2008.
David Putnam, the set's first card, suffers from similar conditional woes. Butcher says it also boasts poor centering. There are just three PSA NM-MT 8 Putnam cards (with no examples grading higher).
The set's most coveted single is the Charles Lindbergh (#36). The first pilot to complete a non-stop flight from New York to Paris, this pioneer was well-known and highly respected until his death in 1974.
"The Holy Grail of the set is the Lindbergh card with the 'series of 144' (notation on the) back," said Ringo.
Like the Lindbergh card, the Amelia Earhart (#48) can also be uncovered with the "series of 144" back. The first female to fly across the Atlantic, her card was printed three years prior to her disappearance.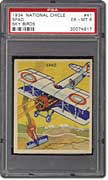 "Lindbergh and Earhart get three times as many bids as anyone else in this set when I put them on eBay, and I think this is because there are collectors out there that are into Lindbergh and Earhart memorabilia," said Presnell.
Another key card is Orville Wright (#49). Thirty of the airplane inventor's cards have been submitted and no copy has graded above PSA NM-MT 8. One PSA 8 fetched $688 on eBay in May 2008.
The Baron Manfred von Richthofen – also known as The Red Baron – card (#23) is also popular. In World War I, this German flying ace is credited with 80 air combat victories. A PSA NM 7 sold for $144.09 on eBay in March 2008.
The James Doolittle (#32) is another single that commands significant interest. A World War II hero, Doolittle was the first pilot to fly and land a plane with a covered cockpit.
Aside from the wear and discoloration to be expected from 75-year-old pasteboards, these cards suffer from few condition issues.
"Typically, you're just going to see worn-down corners, creases and tears," said Presnell.
Butcher agrees.
"Some of the low numbers – like cards #1 through #3 – always have centering issues. It must have been their sheet placement. But considering these were printed in the 1930s, when quality control wasn't a big issue, they were pretty good with the Sky Birds. There isn't really a lot of centering issues," he said.
Like many vintage, non-sports issues, the Sky Birds set seems to be gaining in popularity.
"At the time when I started this set four years ago, I don't think there were really any widely publicized complete sets of the series. There just wasn't that many guys out there collecting them. It's hard to believe the number of these cards on eBay now," said Presnell.
Ringo concurs.
"The number of collectors has been slowly growing," he said.
So it might be a good idea to get your non-sports collection off the ground by picking up some 1933-34 National Sky Birds Set cards before the demand gets too high. You don't want to be left on the ground as this set continues to ascend in hobby prominence.
---
Please feel free to contact Kevin Glew at [email protected] if you have any additional information or comments. Mastro Auctions and Tad Ringo provided pictures for this article. Please note that the Population Report figures quoted are those as of press time.