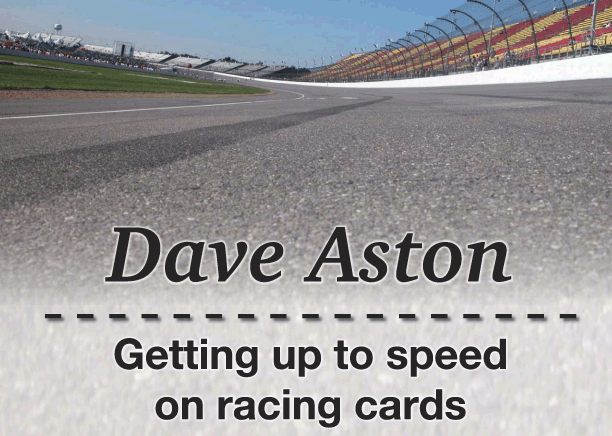 When most collectors look at their sportscards, they see the images of iconic young men outfitted in a cap and pinstripes with a hefty hunk of lumber resting on their shoulder. Some also see heavily-muscled athletes armored in a helmet and pads clutching a pointed prolate spheroid pig skin or tall, lanky legends in tank-top style jerseys and matching shorts propelling an inflated sphere through a 10-foot high hoop.
There is no doubting that when it comes to sportscard collecting, baseball has been, and always will be, the granddaddy of 'em all, with football and basketball placing and showing. That said, it is important to realize that there are a significant number of card collectors whose treasures don't feature an athlete on a field, gridiron or a court – or even on the links, a rink or a ring. For some, it's the icons of the speedway that revs up their collecting interests.

Cards that honor the men and machines of auto racing represent a relatively small but extremely loyal group of collectors – a segment of the hobby that is most often overlooked by mainstream card collectors and dealers. Even the most diehard auto racing fans will concede that when it comes to the sportscard hobby, they are not going to be grabbing any checkered flags away from those who collect baseball, football and basketball cards by collecting those that feature men wearing fire-retardant suits so heavily emblazoned with sponsor's patches that they look like walking billboards.
Still, auto racing, especially NASCAR, with roots in the Southeastern United States, has grown to become the second-most popular professional sport in terms of television ratings ranking only behind the National Football League. Today, NASCAR boasts over 75,000,000 fans with over 1,500 sanctioned races including the Daytona 500 and the Brickyard 400 that are run on over 100 tracks in 39 states, Canada, and Mexico. Race fans are also brand-loyal diehards who annually purchase over $3 billion dollars in NASCAR licensed products.
Along with the stars of every other major sport, the drivers of NASCAR also have their share of sportscards. And, while baseball card offerings feature the names and images of hundreds and hundreds of desirable players, in NASCAR the most coveted cards are limited, mostly focusing on a handful of the sport's big name stars such as Dale Earnhardt, Richard Petty; Davey Allison; Jeff Gordon and Dale Earnhardt Jr.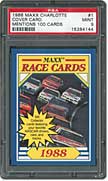 Among the collectors who are most enamored with racing sportscards is a college math professor from South Carolina by the name of Dave Aston. Originally from West Virginia where he worked as a secondary school teacher and a basketball coach, Aston's father served as a lap judge for local car races in the 1950s. "That's when I first got into racing," said Aston who explained that he got even more into the sport when he moved to the heart of NASCAR territory – South Carolina.
Today, with over two decades of experience in racing card collecting, Aston is perhaps one of the most important advocates of those who collect racing cards. He is an adamant believer that racing card collectors must educate themselves on the sportscard hobby and he is the man who successfully lobbied and convinced Sports Market Report Publisher Joe Orlando to include racing cards in the magazine's price guide.
"A while back, I had called Joe Orlando and asked why there was not any information on racing cards in the SMR Price Guide and he explained that there was limited interest as compared to other sports," said Aston. "I told Joe that I felt there was clearly as much interest in NASCAR as there is in hockey and SMR covered hockey cards. So Joe agreed with that and he asked me to put together some information which I did. Since then Joe has been including information on racing cards in SMR."
According to Aston, the first series of recognized racing cards were manufactured in 1987 by MAXX Race Cards who made the only trading card that was devoted to the Winston Cup Series. "They started the company in Myrtle Beach, South Carolina and then moved to Charlotte," said Aston. "They were the first ones to put out racing cards although there were some rouge sets that had been put out in 1986 and some as early as 1972. There were also a few other racing cards that came out here and there, but the first real mainstream racing cards were the MAXX cards that they started putting out in mass in 1988."
Aston said that as a mathematician it is the numbers that speak loud and clear to him. "The numbers tell the story and obviously, you are not going to find the popularity in racing cards as you will with baseball," he freely admitted. "Just look at the numbers in the PSA Population Report. There are roughly six-million baseball cards listed and only around 15,000 racing cards. But I believe there is a huge untapped market for racing cards and as the sport generates more fans outside of the Southeastern region of the United States, they will become more popular, desirable and valued."
A baseball card collector from the time he was a kid, Aston said that when he got started in collecting on a more serious level, in the 1980s. The market was so flooded with the boom of baseball cards that he decided to stay out of the fray and focus on collecting racing cards. "When I first started collecting racing cards, in the late 1980s and early 90s, I was aware of card grading because I had previously been a baseball card collector," Aston explained. "When racing cards first came out there was a problem. The people who are interested in them didn't really understand the card hobby. They would go to shows and buy cards that had dinged corners and were printed off-center. They were only interested in the driver and didn't pay much attention to the condition of the card. Racing card collectors just got cards that had their favorite drivers on them – period."
Aston said he believes that in order for racing cards to reach a higher prominence in the hobby, the people who collect them must get a bit more savvy on how the hobby works.
"Grading is the most important thing that racing collectors need to be educated about," said Aston. "There are the obvious reasons for having our racing collectibles professionally graded, such as verifying their authenticity and protecting and preserving their future value. But there is a more specific and immediate reason why racing fans should become better educated on grading. While researching the prices, I have found that a raw card can be purchased for about the same price as a card graded 8 by PSA. Now we know that there is no guarantee that any given raw card can meet the standard of a card graded an 8, but some racing collectors don't understand the difference. They have to learn how grading works and why it is done. They have to see that a card graded Mint 9 will have an immediate value increase as opposed to a raw card. Some collectors may be fortunate enough to have cards that will grade Gem Mint 10. They should know why that is important, and that by having their cards graded it can have an immediate impact on their value. A raw card is just that. It doesn't have a true value until it is put through a standard grading procedure by a professional authenticator and given a value based on its condition. We have to remember, racing collectibles are relatively new compared to other sports, so as racing hobbyists, we need to become better educated in having our cards preserved, protected and given a reliable value. That is why I believe that the most important thing for racing collectors is to become informed and educated about SMR, the PSA Set Registry and PSA grading. My advice to any racing collector would be to get a subscription to SMR and begin to educate yourself on what PSA does and then get you cards graded."
Aston also believes that new racing card fans should get to know the current crop of drivers as well as familiarizing themselves with drivers from the past. He said that a good collection would include rookie cards of well-known drivers, cards of current champions, retired stars, and big race winners.
Aston said that he also feels the sport of racing has begun to spread out beyond the Southeast. "Racing has become big in Texas, Arizona and California," he said. "I think NASCAR has been working to make the sport one that is more national than just one with regional appeal. To really appreciate racing, you have to go to a race. If you watch a race on TV, the cars look like they're going around the track at 50 miles per hour. You just can't get an understanding on TV for how fast these cars are traveling. It is the speed and competiveness that attracts fans. That is what attracts me to racing." He also said that he believes that racing collectors collect in a different way than those who collect cards of other sports. "I would say that with racing card collectors you don't see people collecting sets like you do with baseball," he opined. "In racing, it's about collecting a specific driver. I have put together a few sets but I'm much more interested in collecting drivers."
Listing Dale Earnhardt, Jeff Gordon, and Richard Petty at the top of the list, Aston said that other drivers whose cards have great desirability with collectors are those that feature Jimmie Johnson, Carl Edwards and Dale Earnhardt, Jr. He said that while most racing collectors are inclined to collect favorite drivers, some also like to collect the winners or participants of specific races with The Daytona 500 winners being the most desirable. Recognized as the crown jewel of NASCAR's annual schedule, The Daytona 500 has eclipsed The Indianapolis 500 in popularity and has become the most watched auto race in the world. Of the men who have victoriously driven away with Daytona's Harley J. Earl Trophy, the ones whose cards are amongst the most valued are those of Richard Petty; Davey Allison; Ryan Newman; Kevin Harvick; Jimmie Johnson; Jeff Gordon; Dale Earnhardt, Jr.; Michael Waltrip; Dale Jarrett and Sterling Marlin.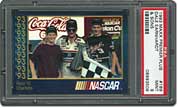 "In racing, you have cards that are the classics and cards that are eventually going to be looked at like the Mickey Mantle rookie card is in baseball," said Aston. "But what you have to remember is that racing is at least 40 years behind baseball as a sport. It will take a while before you see racing cards commanding thousands of dollars. I would say the Dale Earnhardt rookie card that came out in 1989 is a highly desirable card with racing collectors. As a raw card, it might be worth somewhere around $30 today. As a PSA 10, it may go for ten times that amount. Other very desirable cards would be the 1992 Traks Autograph Series with Earnhardt and Richard Petty that was offered as a chase card, and a 1986 Sports Photo-Graphics Earnhardt card."
Aston said that by all means his favorite cards are those that feature Dale Earnhardt. "I have six or seven of his rookie cards, one in a PSA 8 and two graded PSA 9," said Aston. "I would love to have that card in a 10. That is what I am on the lookout for. I love all the Earnhardt cards especially the ones put out by STP in 1973. There were only about 13 different STP cards ever made. I also like Jeff Gordon cards. There was a card of his put out by The World of Outlaws in 1987 that is one of my favorites. I have a few of them graded PSA 10."
When not in the classroom, Aston said he also works part-time at a local golf course and spends a lot of his time looking for cards on the Internet. "Back in the 1980s, I used to go to card shows quite a bit. Today, I have found the Internet to be a much better marketplace. It's a lot easier and its fun. It's like treasure hunting. I also collect some racing programs so I'm always looking for them too. I have most of them from the Southern 500 at Darlington Raceway from back in the 1950s."
While Aston is clearly a fan of Dale Earnhardt, the driver who has the most appeal with the majority of racing collectors today is Dale Earnhardt, Jr. who has won over fans of his late father by establishing himself with his own personality and talent. Racing card manufacturers are well aware of "Junior's" popularity with fans and have released cards that include his autograph and pieces of his race-used items. Press Pass and Upper Deck have both issued cards with Earnhardt, Jr. used tire rubber and sheet metal from the body of his cars. In 2000, Junior teamed up with his father to produce the one and only 2000 Maxximum Signatures # DE2. The card has surfaced at auction periodically and has always fetched a four-digit price.
---
If you are a racing card collector or would like to get started in the hobby, Dave Aston would love to communicate with you. You can contact him by e-mail at: [email protected]