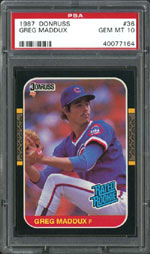 This professor taught class every five days.
His students were not in lecture halls, but in dugouts, bullpens and batter's boxes.
Yes, for 23 seasons, Greg Maddux -- aptly nicknamed The Professor -- has been endorsing a brains-over-brawn approach from the mound.
"People think I'm smart? You know what makes you smart? Locate your fastball down and away. That's what makes you smart," Maddux told Sports Illustrated in their January 2000 edition. "You talk to Sandy Koufax, Bob Gibson, or Tom Seaver. They'll all tell you the same thing. It's not your arm that makes you a great pitcher. It's that thing between both of your ears we call a brain."
It's a philosophy that has won the four-time Cy Young Award winner a fan in Jorge Pesquera, who owns the No. 5 Maddux Master Set on the PSA Registry.
"The best thing about Greg Maddux is that he's a student of the game. He's not like all of the other textbook pitchers. He uses his mind more than power or his arm," he said.
Until recently, however, the crafty right-hander had been overshadowed by the brawn of Roger Clemens. But Maddux's 350th win, coupled with the aftermath of the Mitchell Report, has pundits now proclaiming the Padres hurler the best pitcher of his generation.
"There has been an increase in recognition. I've seen evidence of that. Maddux has been overlooked in a lot of ways," said Greg McPeak, who owns the registry's No. 6 Maddux Basic and Collector Issues Set. "I don't think people realized that he was not only over 300 wins, but was pushing 350, and what an extraordinarily rare accomplishment that really is."
Jeff Brownell, who owns the top Maddux Master Set, agrees.
"I definitely think there has been a little more attention paid to his cards since the Mitchell Report and certainly since winning his 350th game," he said.
Four Maddux sets are listed on the PSA Set Registry, including the Basic and Collector Issues (223 cards), Master (986 cards), Basic Topps (20 cards) and Master Topps (157 cards).
One of the most challenging Maddux cards to track down is his 1986 Pittsfield Cubs ProCards minor league single. Produced in much smaller quantities than his regular 1987 rookies, these singles were reportedly sold as part of a team set.
"It's been a long time since I've seen one of those up on eBay," said Brownell.
Of the 199 graded by PSA, there have been 32 PSA Gem-Mt 10s and 104 PSA Mint 9s. A PSA 10 sold for $770 on eBay in January 2008.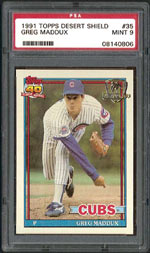 Of his major league rookies, his 1987 Donruss single (#36) is his most popular.
"There were three major sets out that year and Donruss was the only company that included him in the regular set," noted McPeak.
Despite its black borders, this card is not difficult to uncover in high-grade. There have been 25,097 of these submitted to PSA and 991 have been deemed PSA 10s. PSA 10s generally fetch around $80 each on eBay.
Manufactured in much smaller quantities than his regular Donruss single, the Canadian Leaf equivalent is considerably more elusive.
"There's definitely a premium on those compared to the regular Donruss issue," said Brownell.
Just 85 PSA 10 Leaf rookies have been uncovered and one sold for $456 on eBay in May 2008.
His 1987 Topps Traded Tiffany card (#70) is also popular. With a reported print run of 30,000, these glossy singles can be difficult to track down. Of the 2,016 evaluated by PSA, there have been 195 PSA 10s and 1,212 PSA 9s. A PSA 10 copy netted $275 on eBay in May 2008.
"His 1987 Topps Tiffany Traded card is selling for a little more of a premium than it did, six months ago," said Brownell.
Hobbyists argue, however, that Maddux's 1987 David Berg Hot Dogs Cubs card is his most elusive. Distributed as part of a team set given away at Wrigley Field on July 29, 1987, this oversized single measures 2-7/8" by 4-1/4" and boasts white borders and a color photo. The backs showcase personal and statistical information, as well as a full color picture of a hot dog.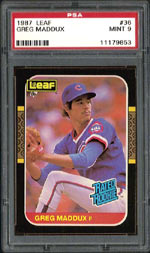 "Being a giveaway, especially back in 1987, not many people held onto those cards or kept good care of them," noted Brownell.
Just 25 of these have been submitted to PSA, and there have been 12 PSA 10s and nine PSA 9s. A PSA 9 sold for $185.50 on eBay in May 2008.
Another tough Maddux card is his 1990 Topps TV Cubs single. This was part of 66-card set sold in a limited TV offer. The card fronts boast a glossy surface, while the backs feature statistics and biographical data.
"Those are hard to come by," said Brownell. "I finally bought one awhile back, but I paid a premium for it."
Just eight Topps TV Maddux cards have been graded by PSA and there have only been two PSA 10s.
Also elusive is Maddux's 1991 Topps Desert Shield card (#35). Issued in wax packs to U.S. troops serving in the Persian Gulf, the Desert Shield set boasts the same 792-card checklist as the regular Topps issue. A gold Desert Shield logo on the front of these cards distinguishes them from the regular cards. Anywhere from 6,300 to 6,800 copies of each card are believed to have been manufactured. Military supply personnel reportedly sold some stock to hobby dealers before it was shipped to the Middle East, but many of the cards that made it to the troops were destroyed or damaged. Just two PSA 10 Maddux Desert Shield cards exist.
Another desirable single is Maddux's 1993 Finest Refractor card (#85). With a reported print run of just 241 of each card, the 199-card Refractor issue is arguably the most high-profile '90s insert set. There are 27 PSA 10 Maddux Refractors, and one of these sold for $401 on eBay in May 2008.
And as Maddux continues to rack up more wins, these elusive cards are bound to become more coveted.
"I think the value of his cards is certainly going to hold up well," said Brownell. "He produced great numbers in the steroid era and he's not going to have the suspicion hanging over him like Clemens will."
So for now, The Professor will continue to teach from the mound every five days, but chances are he will find himself sharing his wisdom from behind a podium in Cooperstown in the not-so-distant future.