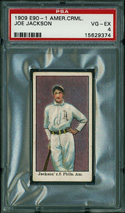 I am pleased to announce the successful completion of our inaugural catalog/internet auction event. Concluded on Saturday, March 28th, the auction generated total prices realized of $737,058. There were 3,351 registered bidders, and 95 different winning bidders. A total of 235 lots were featured, of which 234 were sold. There were 2,502 bids placed, for an average of close to 11 bids per lot.
The following PSA graded items received the most bids:
Lot 5 - 1912 T202 Devlin (Rustlers) - Devlin Gets His Man - Mathewson PSA NM-MT 8 -- 55 bids
Lot 7 - 1921 E220 National Caramel Babe Ruth PSA EX 5 -- 38 bids
Lot 1 - 1887 N28 Allen & Ginter Cap Anson PSA 8 -- 34 bids
Lot 172 - 1954 NY Journal American Willie Mays PSA 8 -- 34 bids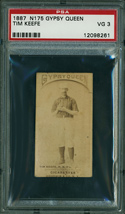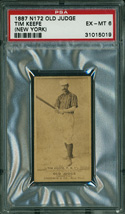 Some 19th Century highlights include: Lot 1 - 1887 N28 Cap Anson PSA 8 at $14,400, Lot 22 - 1887 N175 Gypsy Queen Tim Keefe PSA 3 at $8400, Lot 23 - 1887 N172 Old Judge Tim Keefe PSA 6 at $8640, Lot 27 - 1887 N172 Old Judge Sam Thompson PSA 7 at $5208 and Lot 32 - 1888 N43 Allen & Ginter Buck Ewing PSA 6 at $8640.
Tobacco and E-card highlights include: Lot 3 - 1909 E90-1 American Caramel Joe Jackson PSA 4 at $34,800, Lot 5 - 1912 T 202 Triple Folder Devlin (Rustlers) - Devlin Gets His Man - Mathewson PSA 8 at $12,000, and Lot 7 - 1921 E220 National Caramel Babe Ruth PSA 5 at $12,000.
Early gum card highlights include: Lot 143 - 1937 O-Pee-Chee #118 Joe DiMaggio PSA 7 at $7920, Lot 230 - 1932 US Caramel #3 Bobby Jones PSA 6 at $5400, and Lot 234 - 1938 Horrors of War #14 Bomb Kills Passengers on Shanghai Trolley PSA 8 at $3612.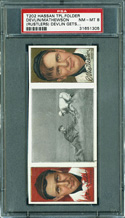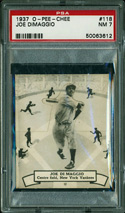 Post-war highlights include: Lot 17 - 1954 Red Man #16 Whitey Ford PSA 10 at $4800, Lot 21 - 1966 Topps USA #35 Bobby Orr PSA 7 at $10,560, Lot 155 - 1951 Bowman #253 Mickey Mantle PSA 7 at $9120, Lot 172 - 1954 NY Journal American Willie Mays PSA 8 at $3120, Lot 193 - 1960 Bell Brand #9 Sandy Koufax PSA 8 at $3606, Lot 219, and Lot 225 - 1951 Topps Ringside #32 Rocky Marciano PSA 8 at $3264.
I'd like to thank all of our clients who participated in the auction. The entire process went very smoothly. Several bidders commented on how easy it was to use our internet auction software, and how much they enjoyed the sale ending on a lot by lot basis. If anyone has thoughts on what we could do to make the auction even better, I'd certainly appreciate hearing from you.
Considering the economy, I'm extremely happy with the sales results. The true rarities did exceptionally well. There was intense bidding for many of the 19th Century cards, high-grade tobacco cards, and rare E-cards. As has been the case in many recent auctions, items t hat were virtually unique for the grade, or that had exceptional eye-appeal for the grade, did outstanding.
All lots, along with complete descriptions, high-resolution scans, and prices realized are permanently archived on the Legacy website at www.legacyrarities.com.
Anyone interested in receiving a copy of the complete auction catalog with all prices realized, or interested in receiving future auction catalogs, can call Jennifer Heard at (231) 922-8037. Or, they can go to the Legacy website at www.legacyrarities.com and click on "Request a Catalog."
Legacy's next auction is scheduled for August 8, 2009. We are now accepting consignments to the sale. Cash advances are available. A special commission structure with sizable incentives for large consignmen ts is also available. The deadline for consignments is June 1st, 2009. Anyone interested in consigning should call me at (231) 922-8037.
Sincerely,
Greg Bussineau
Legacy Sports Rarities
PO Box 6047
Traverse City, MI 49696
Ph: (231) 922-8037 • Fax: (231) 922-9593
www.legacyrarities.com
---
Legacy Sports Rarities was founded in 2002 by veteran dealer Greg Bussineau. Bussineau founded Superior Sportcard in 1982 and Superior Sports Auctions in 1996. Superior Sports Auctions was purchased by Collectors Universe in 1999, upon agreement that Bussineau would stay on and run the company for three years. At the end of this agreement, Bussineau decided to go back into business for himself and formed Legacy Sports Rarities.
In addition to buying and selling virtually every major important sportscard ever produced, Bussineau has been instrumental in helping to assemble some of the greatest sportscard collections in history. He was chosen to auction off the personal memorabilia collection of basketball Hall-of-Famer Bill Sharman, as well as the personal sportscard collection of PSA founder David Hall. Bussineau was also one of three people who helped to formulate the original grading standards employed by PSA - the world's largest independent sportscard third-party grading and authentication service.