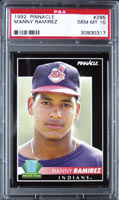 Baseball needs more characters.
At least, that's what Jordon Wertheimer believes; this also explains the veteran hobbyist's affinity for Manny Ramirez.
"Manny just looks like he's always clowning around and having a good time. That may not always be how you're supposed to act in professional sports, but he brings fun to the game," said Wertheimer, who owns the No. 1 Manny Basic Topps set on the PSA Set Registry. "I think his personality is classic. I wish more ballplayers had a little bit more spunk in them."
Of course, quirks are easily overlooked when you're productive. With over 500 home runs, 12 all-star selections, nine Silver Slugger awards and two World Series rings, "Man-Ram" can get away with almost anything.
After arriving in Los Angeles at the trade deadline, the dreadlocked outfielder belted 17 homers and hit .396 – the highest batting average (minimum 30 games) ever recorded for an in-season acquisition. He also hit .520 and smacked four homers in the postseason. These mind-boggling numbers help us forget his legendary mental lapses, phantom injuries and chronic fielding debacles.
"That's what makes baseball different than any other sport: you can go out there and act all crazy, but if you go 4 for 4, it doesn't matter," said Wertheimer.
Jamie Carr, who owns many of the top Ramirez sets on the registry, agrees.
"Manny can be pretty frustrating at times, but he seems to make up for everything he does," he said.
It's all part of Manny being Manny – a mantra embraced by a group of Set Registry enthusiasts (Call them Manny collectors being Manny collectors). Five Ramirez sets – Master (710 cards), Basic & Collector Issues (596), Basic Topps (15), Master Topps (142) and Rookie (7) – have been created on the registry.
Most of Manny's early cards were mass-produced and remain relatively inexpensive. His 1991 Front Row Draft Picks Autograph (#AU47) single, however, is one that's tough to track down. Just 1,900 of these were signed and though it's a minor league card, it's Ramirez's first certified autograph single.
"It's really cool because you can actually see all of the letters in his name in his signature on this card," said Carr. "He was a senior in high school at the time. It was probably the first autograph signing that he did."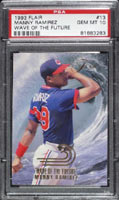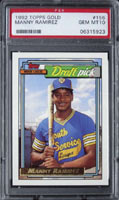 Although plentiful in high-grade, "Man-Rams" 1992 Bowman rookie (#532) is his most heralded. So far, 9,660 have been graded and there are 1,723 PSA GEM MT 10s. These cards generally command $30 to $50 each.
One less prevalent rookie is his 1992 Topps Gold (#156). With a reported print run of 12,000, this card has been submitted to PSA 503 times. Seventy-seven PSA 10 copies have been uncovered – one of which garnered $132.28 on eBay in October 2008.
Even rarer than the Gold rookie is Ramirez's 1992 O-Pee-Chee single (#156). Printed in Canada, this card boasts bilingual information and was produced in smaller quantities than its Topps counterpart. Of the 62 O-Pee-Chee rookies sent in to PSA, there are 29 PSA 10s. A PSA10 sold for $75.78 on eBay in October 2008.
His toughest rookie to track down in pristine condition, however, is his 1992 Pinnacle single (#343).
"That one is brutal because of the black borders," noted Carr.
Of the 983 submitted, there have been just 45 PSA 10s. A PSA 10 fetched $154.39 on eBay in October 2008.
Manny's 1996 Select Certified Mirror Gold (#51) is another elusive card. Part of an issue that features gold foil versions of the 144 singles in the regular 1996 Select Certified Set, this card was limited to 30 copies, seven of which have been submitted to PSA.
Ramirez's first major league certified autograph issue was included in the 1996 Leaf Signature set. While most players inked 5,000 cards in three variations (Gold (500 cards), Silver (1,000 cards) and Bronze (3,500 cards) for this series, Manny was one of 10 players to sign just 1,000 cards (100 Gold, 200 Silver, 700 Bronze). Only four have been submitted to PSA, and there have been two PSA NM-MT 8s and two PSA Mint 9s.
Wertheimer points out that some of Manny's cards from 2000 to present are also difficult to find in high-grade because people generally don't submit them to PSA. He notes that there's only one PSA10 Manny from each of the 2003 and 2007 Topps sets.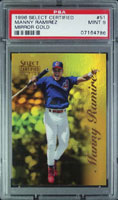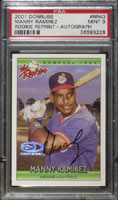 "A 2007 PSA 10 Manny would probably sell for $40 to $50," he said.
But for a 500-home run hitter, Manny's cards remain relatively affordable.
"I first started buying some of his PSA-graded rookie cards because I thought they were a really good investment. It just seemed like he was really undervalued," said Carr. " Looking forward, it looks like he has a chance to make a run at some pretty amazing records, especially in the home run and RBI categories."
Interest in Manny cards has picked up since his trade to Los Angeles. Wertheimer says the deal inspired him to try to finish his Basic Topps set and to order some Topps Traded sets to obtain the future Hall of Famer's first Dodgers card.
Carr has also seen more people pursuing Manny singles.
"Over the past year or two, it seems like there are a lot more people that are collecting his cards," he said.
And as Manny continues his ascent towards the top of several all-time offensive categories, he's bound to attract even more collectors.
"Not only is Manny one of the greatest pure hitters of all-time, he's also one of the best personalities of all-time," said Wertheimer.
The veteran hobbyist is right. Love'm or hate'm Manny is an incredible talent and truly one of the best "characters" of the modern era.