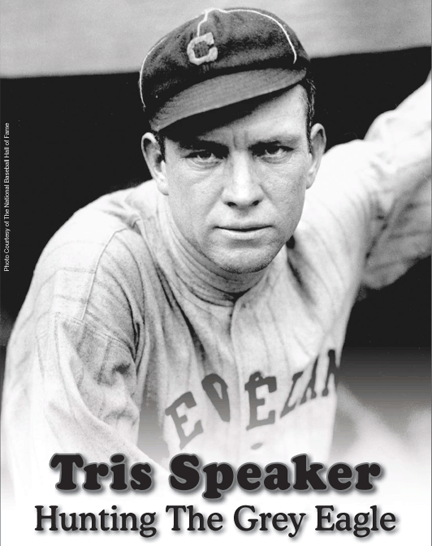 He has been called one of the best defensive center fielders to ever play the game, and yet his offensive stats would be the envy of any Major Leaguer. The most prolific doubles hitter in the history of the game, he batted .345 in 22 seasons. He led the Cleveland Indians to their first World Series Championship, played an instrumental role with the Boston Red Sox, and, along with teammates Duffy Lewis and Harry Hooper, gave the game one of its greatest outfields. While his teammates called him "Spoke," a play on his last name, he was also tagged with the nickname "The Grey Eagle" for his prematurely grey hair. His birth certificate, however, listed his given name as Tristram E. Speaker.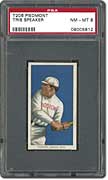 That certificate of birth was issued in Hubbard, Texas on April 4, 1888, when Tris was born to Archie and Nancy Poer Speaker. Active and athletic from a very young age, Tris badly broke his right arm when, as a kid, he was bucked off a horse. His injured arm caused him great pain and discomfort and, during the long healing process, the right-handed Tris began using his left hand and arm to do everything from eating to throwing a ball. As time went by, Tris became so accustomed to using his left arm, he continued to use it even after his right arm healed. It would not be the last time an arm injury would impact his life.
In 1905, Tris enrolled at Fort Worth Polytechnic Institute where he played a single year of college baseball. It was during that time, while playing football, that his left arm was seriously injured. Rushed to the hospital, surgeons assessed the condition of his injury and advised that the damaged limb be amputated. Tris adamantly refused to agree to the amputation and diligently worked to rehab the arm.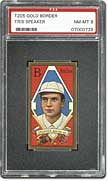 By 1907, Tris had rehabbed himself to such an extent that he was playing baseball for the Houston franchise of the Texas League. That was where he was spotted by a scout from the Boston Red Sox who offered the team's owner $750 for Speaker's services. Tris did not exactly take Bean Town by storm – in fact, he almost never made it to New England. Having shown little promise at the plate during training camp, he was not offered a contract. In fact, the only value that Tris seemed to have to the Red Sox was that they turned him over to the Little Rock, Arkansas franchise of the Southern League in lieu of making their rental payment for the use of their facilities for spring training. It was there that Tris excelled, and when the big boys from Boston got wind of what they had left behind, they came rushing back to Little Rock for another look and with a contract offering Tris the grand sum of $500.
Once in a Major League uniform, Tris was determined to do all he could to improve his play. Once, while speaking with a sports writer and reflecting on his rookie year, Tris told the story of how Cy Young had spent hours hitting fly balls to him so that he could improve his fielding abilities and gain judgment on the distance and direction a ball would take from the way it left the bat. Speaker also worked diligently to perfect his skill with the bat and, despite his early arm injuries, proved to be a powerful hitter. That fact, coupled with his great speed, made Boston fans sit up and take notice of this southern kid who swung impressively and played a shallow centerfield.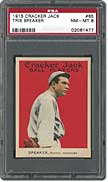 By 1910, it was being taken for granted that Speaker would perform at the plate and, when he fell into an early-season slump, Red Sox Manager Patsy Donovan made the suggestion that he yield his third-place spot in the lineup. "Like hell I will!" Speaker replied. Donovan backed down and Tris went on to finish the 1910 season as the team's best hitter turning in an impressive .340 average.
Over the following five seasons, Speaker worked the Boston outfield with teammates Duffy Lewis and Harry Hooper. Lewis always referred to him as the king of the outfield and, on many occasions, lauded Speaker for being the type of player who always made the right call. "With Tris it was always 'Take it,' or 'I got it,'" Lewis said of Speaker after their playing days were over. "In all (those) years, we never bumped each other."
From 1910 until 1915, Speaker became a Boston favorite. In 1912, he received the Chalmers AL Award (today's equivalent to the MVP). Upon hearing of Speaker being named the Chalmers winner, a local Boston jeweler created a sterling-silver bat valued at $500 and presented it to Tris as a gift to honor his accomplishment. Speaker was also the darling of manufacturers who clamored to get him to endorse their products. He became the spokesman for Boston Garters and a New England hat maker created a Tris Speaker straw hat. He was also the recipient of Mackinaw coats and wool sweaters from a clothing manufacturer who wanted to tout they were the company responsible for keeping Speaker well-dressed and warm.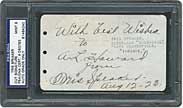 While the Boston Red Sox of the era were a team that could boast of cordial relations among teammates, the same was not true of the relationships between the players and the team's front office. There was a definite chill in the air, even when the team did well. This fact was most evident in 1915 when the Sox won the World Series. The team's president, Joe Lannin, called Speaker into his office after the Championship season and told him he was going to cut his salary because Speaker's batting average had consecutively fallen from a 1912 high of .383 to a 1915 low of .322. Speaker hit the roof and, in a fit of anger, told Lannin he would never agree to a contract that would have taken his salary below $10,000. Lannin was unfazed; he simply retracted the offer and, without fanfare, traded Speaker to the Cleveland Indians. Speaker had only suited up as a Boston Red Sox player for seven seasons, and yet, to this day, he still holds the team's second place honors for all-time triples (106) and stolen bases (266). He is also just third behind Wade Boggs and Ted Williams in batting with an average of .337.
The easy-going Speaker took the trade to Cleveland in stride and as both a player and a manager. He averaged .354 at the plate and, in 1920, he played an instrumental role in seeing the Indians take their first World Series Championship. During that year's campaign, Speaker hit .388 and chalked up 50 doubles.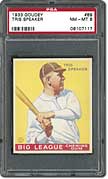 In Cleveland, Speaker was well received by teammates and fans alike. It was during this time of his career that he struck up a close friendship with a man who didn't go out of his ways to make friends – Ty Cobb. Speaker and Cobb shared a love for hunting and neither was a big fan of the legendary Babe Ruth. "The Babe was a great ballplayer," Speaker once said. "But Cobb was even greater. The Babe could knock your brains out, but Cobb would drive you crazy." Cobb was also highly impressed with Speaker's work, both at the plate and in the field. Never known to dish out accolades to anyone, Cobb is on record as having said he believed Speaker to be one of the greatest players of the era.
In 1926, Speaker and Cobb were alleged to have participated in the questionable outcome of a 1919 game that resulted in a gambling scandal. Pitcher Dutch Leonard had admitted to fixing a World Series game and made charges that Speaker, Cobb, and Smoky Joe Wood had been in on the fix. Leonard provided American League president Ban Johnson, with letters and documents to support his allegations. After perusing the material, Johnson paid Leonard $20,000 to have them suppressed. Commissioner Kenesaw Mountain Landis soon got wind of the cover-up and, when he exposed it, Johnson asked Speaker and Cobb for their resignations before being forced out of his job overseeing the league he had established.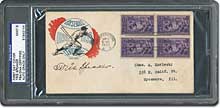 Cobb and Speaker vehemently denied any involvement in the fixing of any games. Cobb said he had never played in a game he knew was fixed and went further, saying the only games he had ever bet on were two 1919 World Series games in which he lost $150. Cobb explained that the letters he had written to Leonard had been about business investments, not gambling. Landis eventually let both players remain in baseball because they had not been found guilty of fixing any game themselves. It was that case that instituted the rule that any professional player found guilty of betting on baseball would be suspended for a year, and that any player found to have bet on his own team would be barred from the game for life. As a postscript to the story, after his retirement Cobb claimed that the legal team representing him and Speaker had negotiated their reinstatement by threatening to expose other scandals in baseball if the two were not cleared.

After his departure from Cleveland, Speaker played with the Senators and then capped off his career with the Athletics. He had led the American League in doubles for eight seasons and is the all-time Major League leader in doubles having chalked up a whooping career 792 two-baggers. Speaker is also the all-time ML leader in outfield assists (448) and double plays (139), as well as the AL leader in outfield putouts (6,706). He is fifth in hits and seventh in triples. During his nineteen full seasons and three partial seasons in the Major Leagues, Speaker failed to bat over .300 only once. And, while he has made his mark on the game by chalking up an incredible career batting average of .345, Speaker is far better known for his superb fielding skills.
In 1937, Tris Speaker was the seventh player elected to Baseball's Hall of Fame. His plaque at Cooperstown lauds him as "the greatest centerfielder of his day." Speaker died on December 8, 1958, in Lake Whitney, Texas, at the age of 70.
If you have been on the hunt for one of The Grey Eagle's cards, you are then well aware that they are clearly on the endangered species list. While not in the league with Cobb or Ruth, Speaker offerings are still tough to find and greatly desired by collectors. The T205 Speaker card is perhaps the toughest to find, while the 1914/15 #65 Cracker Jack card is widely considered to be the most aesthetically attractive. That said, the Speaker card that is his most popular issue is the 1909-11 T206 white border offering.