First impressions are very important in the fickle sports card industry.
But what happens if your first impression turns out to be your best impression?
This is the quandary that many hobbyists feel that Topps faced after it released its beautifully designed, inaugural hockey issue in 1954-55.
"It's just a spectacular set. I still don't think, to this day, they've come up with one that looks as good," said Chris Raney, whose No. 1 set boasts an incredible 8.44 GPA and was inducted into the PSA Set Registry Hall of Fame in 2005.
Tom Malito, who owns the Registry's No. 4 set, concurs.
"They (Topps) never came close to designing any other set with the same level of eye-appeal," he said
Simon Tuma, proud proprietor of the Registry's No. 2 set, agrees.
"In my opinion, it was the first and the best – as far as design is concerned," he said. "There are other sets out there that have other things to offer in terms of more star power, more rookie cards . . . that sort of thing. But for me, there aren't any that come close to having this set's outstanding design."
In fact, so revered is this set's design that the original artwork of seven cards fetched $1,725 in a Robert Edward's auction in 2004.
Measuring 2-5/8" by 3-3/4", singles from this 60-card set feature players from the NHL's four U.S. teams (Boston, Chicago, Detroit and New York). Parkhurst manufactured cards for the Canadian teams (Toronto and Montreal).
"I was eight years old when these cards came out and I used to buy them (1954-55 Topps) all the time . . . I was a Toronto Maple Leaf fan, so I kept buying these packs and was getting very frustrated that I couldn't find any Maple Leafs. Of course, at eight years old, I didn't realize I wasn't getting any Canadiens either," said Raney.
Cards were issued in one-cent and five-cent packs. Five-cent packs included six cards, a piece of gum and two wrappers.
"There were six cards and an insert wrapper," explained Bobby Burrell, author of Vintage Hockey Collector. "It was double-wrapped – the only year that ever happened for hockey . . . They put an extra wrapper inside where collectors could send away for binoculars or trinkets or goggles or whatever they had."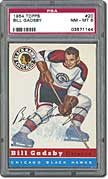 This was also the only year since 1950 that Topps issued one-cent packs, notes Burrell. The one-cent packs harbored one card and a piece of gum.
Despite the adulation it enjoys today, this set couldn't have been a huge success when it was initially released. If it was, surely Topps wouldn't have waited until 1957-58 to unveil its next hockey issue. One potential factor in Topps's decision to temporarily halt production may have been that their primary market was Canada.
"Topps had an uphill battle with this, because they were marketing (a product with) U.S. teams mainly in Canada," noted Burrell.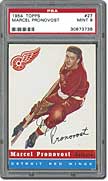 Raney also notes that the demand for hockey cards in the U.S. was relatively small at the time.
"Hockey was a national game in Canada, but it wasn't close to being a national game in the states. There were four places that hockey had a big following: Detroit, Boston, New York and Chicago . . . so you're carving out a very small chunk of the U.S." he said.
The colorful fronts of these cards feature a picture, facsimile autograph, team logo, and the player's name and position in a vibrant, red nameplate. A blue border showcasing the team name runs along the bottom.
"For me, it's just a great design with the bold red and blue against that creamy white background, and the facsimile autograph . . . The players (pictures) take up most of the cards. It's almost as if they're coming right out at you," said Tuma.
Despite the fact that these singles were primarily distributed in Canada, the card backs were not bilingual. The backs feature biographical information, 1953-54 player stats, a random hockey fact and the card number. The text is in blue and red.
The blue borders on the bottom of the fronts are susceptible to chipping. Unfortunately to correct this, some collectors have resorted to recoloring the cards.
"A lot of the times people, will touch up the blue border with a marker or something. It was not uncommon to find raw cards at a show only to find out that they've been colored," said Malito.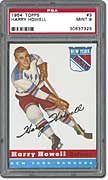 A number of high-profile Hall of Famers are featured in this set, including Gump Worsley (#10), Alex Delvecchio (#39), Terry Sawchuk (#58) and Gordie Howe (#8). The Howe is the most coveted card. A PSA Mint 9 example sold for $7,225 in 2002. More Howes have been graded than any other card in the set, but it's still difficult to track down in high-grade.
"I think you can find it pretty much out there in the marketplace in PSA NM 7 or NM-MT 8 form. The (PSA) 9s are scarce and obviously command a very high market value," said Tuma.
The centerpiece of Raney's Hall of Fame set is his PSA 9 Howe.
"It was an expensive card, but I've never seen another one up for auction . . . They're probably being held by Hall of Fame collectors or Gordie Howe collectors," said Raney.
Of the 296 Howes graded, there have been three PSA 9s and 46 PSA 8s.
Two of the most difficult singles to uncover in top condition are the set's first and last cards. The Dick Gamble (#1) tends to suffer from the usual wear and tear (rubber band marks, etc.) associated with the first card in vintage sets.
So far, 110 have been graded and there has been one PSA 9 and 15 PSA 8s. A PSA 8 Gamble sold for $1,572 in 2004.
Milt Schmidt, the set's last card, is also tough to track down in pristine condition. No Schmidts have been graded higher than PSA 8.
"The Schmidt is probably one of the toughest to get in high-grade . . . It was handled more and when you stacked your cards and used a rubber band, it always got damaged," said Malito.
The veteran collector also notes that the set's second (Bob Chrystal) and second-last card (Marcel Bonin) suffer from similar condition woes. Neither of these cards has had an example that has graded above PSA 8. The Bonin card also has the lowest number of PSA 8s of any card in the set.
"For some reason, even getting the #59 card (Bonin) in a (PSA) 8 was extremely difficult . . . For whatever reason, there's always a card or two somewhere that are nobodies, not star cards, but for whatever reason, they're just really difficult to get a hold of. In this set, it was the #59 Bonin card," said Raney.
The condition sensitivity of these cards has made competition for high-grade examples fierce. Fourteen hobbyists have completed this set on the PSA Registry, but many of them have spent a lot of money to do so.
"The bidding is very competitive . . . in the auction houses, generally speaking, the (common PSA) 9s will go for anywhere from $2,000 to $4,000," said Tuma.
This is proof, that more than 50 years later, Topps' inaugural hockey issue did, indeed, make a great first impression – an impression so good that many believe it has yet to be topped.
---
Please feel free to contact Kevin Glew at [email protected] if you have any additional information or comments. Chris Raney provided pictures for this article. Please note that the Population Report figures quoted are those as of press time.