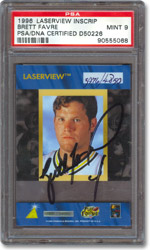 The 2007 season appeared to be a storybook ending for Brett Favre.
Piloting a surprisingly potent Packers squad to a division title, the future Hall of Famer set new NFL marks for career touchdown passes and wins. So, when the durable quarterback tearfully announced his retirement on March 4, it was a sad, yet fitting end.
Just a few months later, however, Favre would have second thoughts. But committed to Aaron Rodgers as their starting pivot, Favre's former team didn't want the legendary signal-caller back. And, after about a month of squabbling, Favre was dealt to the New York Jets.
While Packers fans mourned the August 7 trade, The Big Apple was abuzz with talk of the new quarterback in town. CNBC.com reported that www.nflshop.com sold a record 6,500 Favre Jets jerseys on the day of the transaction.
"I think it's the first time in awhile that ticket holders are excited about going to a Jets game," said Dan Levy, vice-president of Grandstand Sports in New York.
But what about Packer fans? Don't they feel slighted by the quarterback they've embraced for so many years?
"As a fan, I would've loved to have seen him retire in a green and gold jersey, but you know, so be it. I actually purchased a Favre Jets jersey for my father's birthday," said Troy Jilot, a hardcore Packers fan who has completed the Favre Rookie Set on the PSA Set Registry.
Chad Lom, who has also completed the Favre Rookie registry set, shares similar sentiments.
"I still like him. I'm a Packers fan first. When he's on TV, I'll watch, but I probably won't go out of my way to watch Jets games. But it's not like I'm going to get rid of all my cards," he said.
Steve Gales, who owns the registry's No. 4 Favre Master Set, agrees.
"He's still a Packer at heart. It's not going to change my mind about working on the (registry) set," he said.
Jay Radke, proud proprietor of the top Master set, will also persevere. He's attempting to collect a ticket from every game Favre plays in.
"I'll probably be going after the Jets tickets to keep my collection going," he said. This type of devotion is the reason that three Favre sets - Basic and Collector Issues Set (623 cards), Master Set (1,987 cards) and Rookie Set (8 cards) - have been formed on the registry.
The size of Favre's Master Set, in particular, makes it challenging to assemble.
"It's one of those sets that's going to be close to impossible to complete," admitted Radke.
Thousands of Favre cards have been released, but here's a rundown of some of his key pasteboards:
1991 Topps Stadium Club (#94)
Favre's most coveted mainstream rookie features the nine-time Pro Bowler in his University of Southern Mississippi uniform. His name is misspelled (Farve). Of the 8,073 graded, there are 765 PSA GEM MT 10 copies. A PSA GEM MT 10 sold for $214.99 on eBay in August.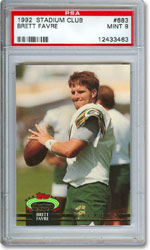 Several condition issues hamper this card, says Gales, who works at Price's Sports Collectibles in Greendale, WI.
"The cards in the packs can stick together. So what you'll get is some residue from the card in front transferred on to the card behind and that can be troublesome because it won't come off," he explained.
Jilot concurs, adding that the borderless fronts can also create issues.
"With no borders, it's hard to determine the centering. I mean you can see the up and down centering with the nameplate on the bottom. But side to side, I have no clue about the centering," he said.
1991 Stadium Club Super Bowl XXVI (#94)
A rare parallel of the regular Stadium Club issue, these cards were distributed in cellophane packs at a Super Bowl event in Minneapolis in 1992. These can be distinguished from the regular cards by the Super Bowl XXVI logo that appears on the top right or left corner on the card front. Just 41 Favres have been submitted to PSA and there have been four PSA GEM MT 10s.
1991 Wild Card College Draft Picks -1000 Stripes (#119) Issued in packs, these cards boast a regular version and six parallel "striped" versions (5,10, 20, 50, 100 and 1,000). Favre's 1,000 striped version is his rarest. Just two PSA GEM MT 10, 1,000 Stripe Favres have been uncovered and one sold for $6,600 on eBay in January 2008.
"Their marketing campaign was to get trading back into cards," explained Jilot.
Wild Card assigned a value to cards in this set. Each base card, for example, was worth one stripe (or point), so collectors who amassed 20 base Favre cards could trade them for a 20-Stripe Favre card. Five 20-Stripe Favre cards could then be dealt for a 100-Stripe Favre and so on.
Unfortunately, the collation of these cards was abysmal.
"I've purchased probably two or three boxes in the last couple of years to try to find a Favre 'striped.' There are 36 packs in a box and I ended up with 20 of the Herman Moore card. Sometimes, there were three of certain common players in the same pack," said Jilot.
1991 Star Pics Autographs (#65)
Favre's first certified autograph issue was randomly inserted into 1991 Star Pics factory sets. Cards exist with Favre's signature on the front or the back. Hobbyists say these cards must include the Star Pics' authenticity stamp to be legitimate.
"I guess what ended up happening was there was a gold (Star Pics authenticity) sticker and the sticker was supposed to touch some part of the autograph," said Jilot.
Radke adds that cards with the signature on the front are rarer and are generally more expensive. Collectors also have to be wary of forgeries of this card.
"That's definitely a card I would never buy raw," said Gales. "I'd feel more comfortable that it was authenticated by PSA/DNA to make sure it was legit."
Lom has also exercised caution with this card.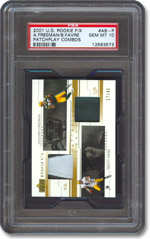 "I've heard rumors that there are fakes," he said.
1992 Stadium Club (#683)
Part of an elusive, high-number series, this is Favre's first Packer card. It generally sells for more than his Stadium Club rookie.
"The 1992 Stadium Club fetches good money in a (PSA) 10. That's a $500 card," said Gales.
But Radke ranks this card below the 1991 Wild Card 1,000 Stripes in terms of scarcity.
"I'd say it's much tougher to get a 1,000-Stripes Wild Card than a 1992 Stadium Club," he said.
Eighty PSA 10s and 980 PSA 9s exist of this single. A PSA Mint 9 sold for $105.50 on eBay in August 2008.
Fast forwarding to the present, card companies are scrambling to get cards of Favre in a Jets uniform into their products. And, while New York fans may eagerly await these, Packer fans will likely collect them begrudgingly.
"It will be painful, but yes, I will add Favre's Jets cards," said Gales.
So after a dramatic off-season, it will be interesting to see if Favre is a hit on Broadway. For the sake of his legacy, let's hope this season in The Big Apple goes more gracefully than his exit from Wisconsin.