The 1970-71 O-Pee-Chee (OPC) set introduced hobbyists to the expansion Buffalo Sabres and Vancouver Canucks, but it's the Boston Bruins that make this issue a "bear" to complete.

Fresh off a Stanley Cup championship when these cards were produced, the Bruins figure prominently in this offering. Eleven Boston cards lead off the set, including Bobby Orr's regular pasteboard (#3). The dazzling defenseman is also showcased on five other cards in the set.
Joe Henninger, who owns the top 1970-71 OPC Basic Set on the PSA Set Registry, says that being the set's third card meant that Orr's regular single was near the top of collector piles and subjected to additional wear. So far, just one PSA GEM MT 10 has been uncovered, and a PSA MINT 9 sold for $1,412.50 on eBay in July 2007.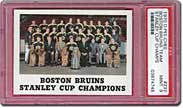 Another elusive Bruin is Fred Stanfield (#5). This is the only single Henninger needs to own every 1970-71 OPC card in PSA NM-MT 8 or higher. Located in the top row of the first series sheets, this card is susceptible to centering problems.
"It's often off-center top to bottom," said Henninger.
Of the 12 Stanfields evaluated, there have been two PSA 8s, with no cards receiving a higher grade. A PSA 8 sold for $161.50 on eBay in December 2007.
Clearly the Bruins have a strong presence in this 264-card set. Released in two, 132-card series, this was the first hockey release to carry the OPC's company name in the copyright line. Each pack in the first series is comprised of eight cards and a sticker/stamp. The 33 stickers measure 2-1/2" by 3-1/2" each and boast color pictures and player and team names.
"Series one cards are much tougher to find than series two cards," said David Susko, who owns the No. 2 Basic Registry set.
Deckle edge cards were substituted for stickers in second series packs. Measuring 2-1/4" by 3-1/4", the 48 deckle edge cards showcase black and white pictures and facsimile autographs.
The standard 1970-71 OPC cards boast a photo, the player name, team, position and white borders on their fronts. The backs are predominantly green and showcase statistics, biographical information (in French and in English), a card number and a sketch of a hockey player.
The Brit Selby card (#111) is the most renowned variation. Most Selby singles showcase the St. Louis Blues as his team name, accompanied by the notation "Traded From Toronto Nov. 13/70." But a rare version featuring Selby as a member of the Toronto Maple Leafs without this trade notation also exists. Burrell believes that Selby was traded early in the first series print run and that presses were stopped to update this card. He estimates that for every "few hundred" traded examples, you'll find one non-traded version.
"You can look for two years on eBay and you're lucky to see one card without the trade notation," said Burrell.
A similar variation exists of Mickey Redmond (#175). One version of his card showcases "Traded to Detroit January 13, 1971" in the upper right corner. In Redmond's case, the version without this traded notation is more abundant than the card with the transaction information.
Two versions of the Bobby Orr Norris Trophy winner single (#248) have also been discovered. One incarnation notes "Gordie Howe N.H.L. All-Time Leading Scorer" on the back, while another version doesn't. A premium is generally not realized for either version.
On top of the six Orr cards, this set boasts singles of hockey legends Phil Esposito (#11) Bobby Hull (#15), Gordie Howe (#29) and Terry Sawchuk (#231). Five Hall of Famer rookies – Bobby Clarke (#195), Darryl Sittler (#218), Brad Park (#67), Guy Lapointe (#177) and Gilbert Perreault (#131) – are also part of this set.
"It's pretty much loaded with stars or even semi-stars you could say. There are a lot of "under the radar" rookies like Guy Lapointe and Keith Magnuson (#151)," said James Holt, who owns the No. 7 Basic Registry set.
Most regard the Clarke card as the key rookie, but it's not that difficult to uncover in high-grade. Of the 197 cards submitted, there have been two PSA 10s and 19 PSA 9s. A PSA 9 sold for $658 on eBay in April 2008.
The Perreault rookie, in comparison, is much more elusive in pristine condition. Of the 77 graded, there has been just one PSA 10 and two PSA 9s. Henninger points out that this card – like Stanfield – was in the top row of the first series sheets.
"The centering top-to-bottom seems to be the biggest issue," said Holt.
The sole PSA 10 Perreault sold for $2,827.77 on eBay in June 2008.
Other rookies in this set include Wayne Cashman (#7), Don Marcotte (#138) and Walt McKechnie (#172). Some of the most elusive cards in top condition, however, are commons. Aside from the Stanfield, the Gary Doak (#114) is also difficult to find in flawless form. Of the 23 sent into PSA, the highest grade recorded has been PSA 8.
"The centering is way off on that card," said Holt.
Located in the second row (right below the Perreault) on the first series sheet, this card may have also suffered due to its sheet position. A PSA 8 Doak sold for $201.50 on eBay in January 2008.
Andre Boudrias (#121) is also evasive in top condition. Ten of these have been evaluated and only two have graded as high as a PSA 8. Like Stanfield and Perreault, this single is also located in the top row of the first series sheet. A PSA 8 sold for $210.21 on eBay in March 2008.
These low population commons, combined with the demand for its long list of Hall of Famers, make this set challenging to assemble. But those who stay the course and complete this set may be rewarded. Many consider it one of the best hockey sets ever produced.
"With its terrific crop of rookie cards and large number of Orr cards, it has to be considered one of the best OPC sets of all-time," said Susko.
---
Please feel free to contact Kevin Glew at [email protected] if you have any additional information or comments. James Holt, David Susko, Joe Henninger and Mastro Auctions provided pictures for this article. Please note that the Population Report figures quoted are those as of press time.