Brotherly love was indeed on the mind of Philadelphian Benjamin Franklin in this 1757 letter to his sister, dispensing advice on family matters, which sold for $36,920.
AMHERST, N.H.-"Above all I dislike family quarrels" -- so says Benjamin Franklin in a fascinating letter to his sister, written in 1757 as he waited in New York for the ship that would carry him to England as a colonial agent for Pennsylvania.
The detailed letter, filled with advice and observations that recall the witty maxims Franklin made famous in his Poor Richard's Almanack, highlighted the offerings in R&R Enterprises' November auction, which concluded on November 12. The letter sold for $36,290, the top result among more than 1,500 lots.
More than a century after Franklin put pen to paper, President Abraham Lincoln sought a favor on behalf of the son of a strong supporter, not-so-subtly hinting to the Secretary of War that "my heart is in this." Lincoln's handwritten letter, dated April 19, 1862, led the presidential category with a final price of $25,216.
Politics gave way to pinups with an early signed photo of Marilyn Monroe in a cheeky swimsuit pose. Perennial collector demand for signed images of this most fabled of Hollywood legends spurred bidding to $25,216.
Other notable results in the presidential category included a 1795 George Washington appointment for a treasury official, $18,944; a handwritten presidential letter from FDR sending good wishes to the ailing former director of the U.S. Mint, $12,286; a war-dated letter from U.S. Grant to General Sherman, $8,390; a 1792 document related to pensions for widows and orphans, signed by Thomas Jefferson as Secretary of State, $8,030; and a letter from Mary Todd Lincoln to the Secretary of the Navy, $6,489.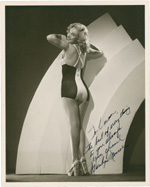 Marilyn plus cheesecake equals catnip for collectors of vintage Hollywood memorabilia, one of whom paid $25,216 for this early signed swimsuit photo.
A full spectrum of historical figures, from statesmen to scientists, performed similarly well, led by a signed photo of Martin Luther King, Jr., $15,307; a 1787 land grant signed by Franklin, $9,615; two pages from an Apollo 11-flown document, each signed by Buzz Aldrin, $8,638; a 1777 letter from Declaration of Independence signer Richard Henry Lee, proclaiming the Continental Army "secure against all the efforts of tyranny," $8,390; and a signed photo of the Apollo 11 crew, $5,729.
Art and literature standouts included a remarkable handwritten art-philosphical essay by René Magritte, $9,502; a first printing of Gone with the Wind signed by Margaret Mitchell, $8,638; and Walt Disney's 1940 life insurance application, $4,874.
Music fans enjoyed a full spectrum of styles and genres, from opera to rock, with such notable items as Frank Sinatra's 1944 New Jersey driver's license, together with his handsome custom snakeskin wallet, $14,867; a signed musical quotation from Gioacchino Rossini, the composer whose William Tell Overture thrilled scores of baby boomers as the theme from The Lone Ranger, $5,729; a scarce and superb signed photo of tragic blues legend Billie Holiday, $5,328; a signed quotation from Johann Strauss's Beautiful Blue Danube, $3,912; and a set of signatures from Jimi Hendrix and bandmates Noel Redding and Mitch Mitchell, $2,737.
The entertainment category boasted such star-studded treasures as a signed photo of a young Steve McQueen, $4,734; an early television reference signed by more than 600, $3,600; and an early MGM photo signed by more than two dozen stars, including Greta Garbo and Lon Chaney, Sr., $2,670.
R&R Enterprises' next auction begins on November 24 and ends on December 10. Bids are accepted online or via telephone, fax, or e-mail. For information, visit the R&R web site at www.rrauction.com or contact Elizebeth Otto at [email protected].