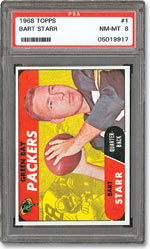 Basking in the glory of a Super Bowl win, the Green Bay Packers were the toast of the football world in 1968.
It was only fitting then that Packer players be afforded special treatment in the 1968 Topps Football set. Along with their Super Bowl II opponents, the Oakland Raiders, the Green Bay gridironers are celebrated on eye-catching, horizontal cards.
Deified by cheeseheads, Packer greats Bart Starr and Ray Nitschke were used to such pedestal status, but wide receiver Carroll Dale might not have been. But it's the lesser light ball catcher whose card (#27) is worshipped by 1968 Topps enthusiasts.
"It's impossible to get that card centered where it will pull a PSA 8," explained Kirk Robinson, who owns the registry's No. 4, 1968 Topps set.
Jack Emerson, whose set is No. 3 on the registry, concurs.
"I was the first to get the Carroll Dale in a (PSA) 8 and that took years," he said.
Joe Henninger, proprietor of the registry's No. 2 set, echoes Emerson's frustrations.
"The Carroll Dale is the toughest one. There are only four (PSA) 8s," he said.
Henninger believes the card's horizontal layout adds to its condition woes.
"It's got smaller borders on it. The Packers and the Raiders (pictures) seem to take up a little bit more of the card and (the pictures) don't have as much border around them, so it seems to be tougher to get them centered," he explained.
A PSA 8 Dale sold for $153.18 on eBay in January 2007.
The Dale single is the most elusive of the 219 cards that comprise the 1968 Topps Football set. This 40-year-old offering features AFL and NFL players, marking the first time in five years that Topps produced NFL cards. From 1964 to 1967, NFL cards were released by Philadelphia Gum.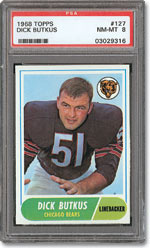 "It combined the best of both the old AFL and the NFL. It was the first set that really combined them, so you didn't have to make a choice. It didn't have to be, 'Oh Namath and the AFL guys or Unitas in the NFL," said Emerson.
The non-Packer and Raider singles in this set showcase a standard, vertical alignment. The white-bordered fronts feature photos with a natural background, along with the player's name, position, team and team logo.
"I just like the photography," said Robinson. "A lot of times, Topps would leave the backgrounds blank on 1960s cards. I like to see the backdrops and the stadiums."
Biographical information, statistics and a cartoon are featured on the card backs.
Available in wax packs, rack packs and cellos, these cards were released in two series (#1- 131, 132-219). First series singles have green printing on their backs, while the second series cards showcase blue printed backs. Two groups of 10 cards in the second series boast backs that form Bart Starr and Len Dawson puzzles. Robinson points out that the Dawson puzzle presents the quarterback in a Cleveland Browns uniform, despite the fact that the Hall of Fame pivot had not played for the Browns since 1961.
On top of Dawson (#171) and Starr, the set is loaded with other Hall of Famers, including Paul Warfield (#49), Joe Namath (#65), Gale Sayers (#75), Johnny Unitas (#100), Dick Butkus (#127), George Blanda (#142), Fran Tarkenton (#161) and Mike Ditka (#162). Rookies in the set include Jim Hart (#60), Craig Morton (#155), Floyd Little (#173) and Bob Griese (#196).
Hobbyists seem to agree that the Griese rookie is the top card in the set.
"That card has really jumped up in (value) the last couple of years because there is an awful lot of Hall of Fame collectors," said Robinson.
Emerson agrees.
"The Hall of Fame rookies registry set is on fire, so if you've got a Hall of Fame rookie card in your set, that's always going to be the No. 1 driver," he said.
Of the 523 Grieses graded, there have been 31 PSA 9s and 145 PSA 8s. A PSA 9 sold for $1,825 on eBay in December 2007.
The Namath (#65) card also commands big bucks. A PSA 9 copy sold for $1,137.12 on eBay in February, the same month that a PSA 9 Sayers netted $1,280.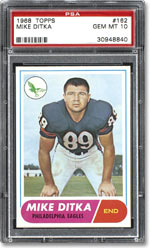 The Starr and Nitschke cards are also very popular. Starr is the first card in the set, and of the 262 evaluated, there have been 10 PSA 9s and 68 PSA 8s. A PSA 9 sold for $636 on eBay in January 2007. Four PSA 9 Nitschkes (#157) exist, and one sold for $455 on eBay in January 2008.
Outside of Dale, another card that's elusive in top condition is John Mackey (#74).
"Mackey was the second to the last card I needed to complete my set in all (PSA) 8s," said Henninger.
Just 26 Mackeys have been submitted, and the highest grade doled out has been PSA 8.
Bad centering is the most common condition problem with these cards.
"The 1968 set is inherently a horribly centered issue, probably as bad, if not the worst of the '60s," said Emerson.
This set also boasts inserts. Robinson says that series one wax packs include a poster. Measuring 5" by 7", these posters (16 in total) were printed on paper stock and were folded to fit in packs. Unitas, Starr, Sayers and Dawson are the among the stars featured.
The second series packs boast stand-up inserts, notes Robinson. These cards will stand up if the back is removed and the card is folded. Namath and Don Meredith are the most valuable stand-ups.
"Those cards (stand-ups) are really condition sensitive because you popped them out or they just got beat up. They had red borders on the bottom so they showed chipping, so it's really hard to get a nice grade on those," said Henninger.
Despite these enticing inserts, the high percentage of Hall of Famers and the eye-catching Packers and Raiders cards, this set remains relatively affordable.
"It's a really collectible set because of all the stars. But you could build a set relatively reasonably if you were going to do it in all (PSA) 8s," said Henninger.
The Packer cards may be a little more expensive than the others. Starr and Nitschke are cheesehead favorites and continue to enjoy pedestal status in the football world. Carroll Dale is not as celebrated, but his 1968 Topps single has clearly earned him pedestal status amongst followers of this 40-year-old set.