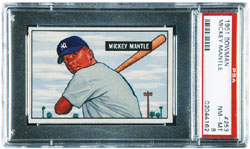 We are in what many financial analysts refer to as a "flight to quality" market. Uncertain economic times steer investors to the basics. High quality collectibles, proven to be exceptional investments in the past, shine even more brightly.
Thankfully for Memory Lane Inc., quality has always been the hallmark of its vintage sports card and memorabilia auctions. Collectors and investors know that MLI auctions are among a select few that present the opportunity to see the best of the best come to market.
When the dust settles, records are set.
High profile cards change hands.
The hobby takes notice.
The upcoming Winter Extravaganza Rarities auction is no different. It has been scant weeks since the last MLI sale closed with over $2.75 million in sales. Now, the company has reloaded its next full-color auction catalog with extraordinary opportunities for the discriminating collector or investor. And they're ready to have one last blast before a phenomenally successful 2008 sales year comes to a close and preparations begin for 2009.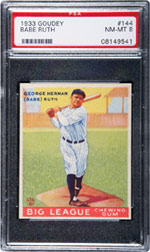 Featured in the upcoming auction, which begins November 21 and closes Dec. 13 is a virtual history of baseball, told within its classic cards. Among those offered will be an unprecedented run of high grade Mickey Mantle cards from the Bruce Griggs Collection, third best on the PSA Set Registry's Basic Mickey Mantle Set rankings. The set features a perfect run of PSA 8 graded Mantle cards from his rookie year of 1951 to his final baseball card appearance in 1969 (and including both white and yellow letter variations).
The rest of the auction reads like a Hall of Fame roster. There is an ultra-rare 1909-1911 T206 Piedmont Sherry Magie graded error card. Considered one of the Big Four rarities in the T206 set, the Magie card is on the want list of virtually every T206 collector and in the dreams of those who one day hope to tackle this classic set.
There is a W600 Sporting Life Eddie Plank graded PSA 5. A phenomenal M116 Sport Life Walter Johnson, incredible in its PSA 9 holder. A 1915 Cracker Jack #68 Honus Wagner card, looking like it just came out of the box in PSA 8 form. What MLI auction would be complete without a 1933 Goudey Babe Ruth #144? This auction offers a PSA 8 beauty. The 1934 Goudey set featured Jimmie Foxx as its #1 card and MLI brings the must-have card from this popular set to the forefront, presenting a PSA 8 copy to those who want to start with the highest quality.
Some chase pre-War vintage cards, others prefer Hall of Fame rookie cards of baseball's most iconic players. The Winter Rarities auction will include perhaps the ultimate Hall of Fame rookie card, when a mint, graded 1954 Topps Hank Aaron hits the block. Mantle collectors are already salivating over a rare chance to own the 1968 Topps card of the Mick featured in this sale. It's sitting beautifully in a PSA 10 (gem mint) case, ready to challenge any economic slowdown with the same force the Mick used against pitchers for nearly two decades.
The Winter Rarities Extravaganza catalog will arrive on the doorstep of collectors around the world in the coming days. Bids are welcome by phone 877-606-5263 or fax 714-730-0602. You may also bid via our website at: www.memorylaneinc.com.