It's only fitting to celebrate No. 60 on the 60th anniversary of the 1948 Leaf Football Set.
No. 60 is the uniform number of Chuck Bednarik, the Eagles linebacker whose bone-crunching tackles earned him the nickname "Concrete Charlie" and cemented him a bust in the Pro Football Hall of Fame.
The hard-hitter's cardboard debut was in the 1948 Leaf set, and when collectors compete for a high-grade copy of his rookie, they must feel like they've absorbed one of Bednarik's trademark hits. The sole PSA 8 1948 Leaf Bednarik sold for $38,561.15 in a Goodwin and Co. auction in November 2007.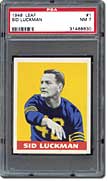 But hobbyists can probably give you 60 reasons why No. 60's card garnered such strong bidding. With the increasing popularity of PSA's Pro Football Hall of Fame Rookie Players Set, this card is now coveted by an additional group of passionate hobbyists. It's also tough to find in top condition.
"Bednarik is difficult to find centered," said Jay Miller, who owns the PSA Set Registry's top 1948 Leaf Master Set.
Jeff Mazzeo, proprietor of the No. 8 Basic Set, agrees.
"That's just an incredibly hard card to get," he said. "The centering is usually a real challenge. The one I have in my PSA set is a (PSA) 7OC, it's quite a bit off-center."
Like many 1948 Leaf singles, the Bednarik card also boasts two variations: one with a yellow background on the front and the other with an orange background. Hobby publications generally don't list a premium for either variation.
The Registry's 1948 Leaf Football Master Set incorporates 28 different variations (126 cards in total). The Basic Set, without the variations, consists of 98 cards. The last 49 cards (#50-98) are more difficult to obtain than the low-numbers.
"The high-number series is short-printed and they're exceptionally tough to get in top condition," said Mazzeo.
Measuring 2-3/8" by 2-7/8", the 1948 Leaf Football cards showcase color pictures, with only the flesh portion of the player in black and white. Card backs exhibit personal and biographical information on a cream-colored or gray background.
"I think, generally, the gray backs are tougher to get," said Scott Fabry, who owns the Registry's No. 4 Basic Set.
The gray backs are just one of the color variations that can be found on these cards, others include different colored backgrounds, jerseys, pants and names.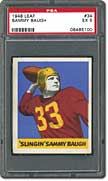 "It was a multiple color (printing) process, where they would lay down one color and then another color and then another color," explained Miller. "And I think that either the color jets got plugged and the color didn't come out or they pulled the sheet off early in the process. I guess it could have been a million things."
Two spelling variations also exist. The Johnny Lujack card (#13) can be found with his first name spelled incorrectly (Jonny). Just seven copies of this version have been submitted to PSA, with PSA 5 being the highest grade recorded. That PSA 5 copy sold for $787.88 on eBay in January 2008.
There are also two incarnations of the George McAfee card (#19). The scarcer version showcases his nickname "Gorgeous George" on the front. Just 18 of the Gorgeous George cards have been evaluated and a PSA 4 fetched $258.88 on eBay in January 2008.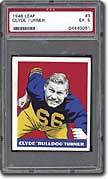 Variations are just one of the aspects of this set that collectors enjoy. They also savor the large number of Hall of Famer rookies that are featured.
"It's just one of those early postwar sets that just has a lot of great players," said Fabry.
Among the Hall of Famers whose inaugural singles are featured are Bednarik, McAfee, Doak Walker (#4) Bobby Layne (#6), Steve Van Buren (#22), Bob Waterfield (#26), Charley Trippi (#29), Bill Dudley (#36), George Connor (#37) and Leo Nomellini (#52).
One of the most prominent rookies is Sammy Baugh (#34). Of the 184 Baughs submitted, there has been one PSA 9 and 11 PSA 8s. A PSA 8 sold in a Robert Edward Auction for $12,925 in April 2007.
Sid Luckman, another Hall of Famer, is the set's first card. Found with a white or yellow background on the front, this single is highly coveted by collectors. A PSA 7 with a yellow background fetched $6,114 in a Goodwin and Co. auction in November 2007.
"The first and last cards are typically found with more wear than others," said Miller.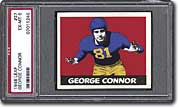 The last card is Al DiMarco (#98).
"DiMarco is usually off-center," said Miller.
"To me, finding those (DiMarco cards) in (PSA) 6 or better is an exceptional challenge. You don't see them a lot and when you do see them, they just go for ridiculously high prices," added Mazzeo.
Of the 45 submitted, there have been two PSA 7s (nothing graded higher). One of those PSA 7s sold for $3,201 on eBay in June 2007.
The centering issues that plague the DiMarco card also hinder other cards in this set. Miller says that the card stock and the production process also make these cards difficult to track down in top condition.
"Leaf, in general, did a really poor job in quality control," said Miller.
Hobbyists also have to wary of trimmed cards.
"People would take the tougher cards . . . and they would just slightly trim them and make the corners sharper," said Mazzeo.
Miller says people continue to trim these cards today.
"That's more of an issue now than it was in the past. It seems like the card doctors are doing a better job now on 'improving' cards," he said.
These condition issues, coupled with the general spike in demand for vintage football cards, have made high-grade 1948 Leaf cards a hot commodity.
"The prices of this particular set have drastically increased since I've started collecting it (four years ago)," said Fabry. "The challenge is to get a reasonably priced (PSA) 7 or an 8 on some of these cards, which is impossible . . . There's just not a lot of those cards floating around and when they do come up, people go crazy for them."
And collectors are going crazy over No. 60, Chuck Bednarik, more than anyone else. On the 60th anniversary of his cardboard debut, the hard-hitting linebacker's rookie card has never been more popular. Fortunately or unfortunately, the only hits Bednarik is dishing out these days are on collector wallets.
---
Please feel free to contact Kevin Glew at [email protected] if you have any additional information or comments. Please note that the Population Report figures quoted are those as of press time.