"Chamberlain won the scoring titles; Russell simply won."
Ron Flatter, ESPN.com
It's taken almost 40 years, but Celtics legend, Bill Russell, who fought tenacious battles in the paint with Wilt Chamberlain, is finally emerging from the shadow of his contemporary.
"It wasn't a matter of Wilt versus Russell with Bill," explained former Celtics teammate John Havlicek on ESPN's SportsCentury. "He would let Wilt score 50, if we won. The thing that was most important to him was championships, rings and winning."
And win he did. In 13 NBA seasons, Russell captured 11 championships. Prior to his pro career, he also won two NCAA titles (1955, 1956) and a gold medal at the 1956 Olympics.
"Russell is probably the greatest winner in all of sports," said Michael Rakosi, who owns the top Russell set on the PSA Set Registry. "He made people better. He took guys that had never won and he made them win continually."
The pioneering role Russell played in professional basketball, however, was even more important than his championships. He was the NBA's first African-American superstar and, in 1966, he became the first African-American coach in any major pro sport in the post-Depression era when the Celtics hired him.
But, despite all of his victories, Russell's relationship with Boston fans was icy. Outspoken about civil rights issues, Russell was subjected to racial taunts from some Boston fans. His refusal to sign autographs was well known. He once remarked, "You owe the public the same thing it owes you. Nothing."
"He wouldn't sign autographs for his teammates. Only on very rare occasions did he sign. It had to be something really special," explained Art Sainsbury, who owns the registry's No. 2 Basketball Hall of Fame Players Autographs Set.
His bitterness towards Celtics fans has waned in recent years. In 1999, he participated in a ceremony at the FleetCenter to re-retire his number. The more than 12,000 fans present gave him a thunderous ovation.
Thanks to a deal with Hollywood Collectibles, Russell is now signing autographs as well.
"I would say in the last five years or so, his autograph has been easy to obtain," said Sainsbury, noting that Russell has signed cards for major manufacturers.
With the return of the Celtics to the top of the NBA standings, there has also been a resurgence of interest in older Boston players. A push is now underway to erect a statue in Russell's honor.
All of this has translated into increased interest in Russell on the PSA Set Registry. Because basketball cards were printed infrequently during Russell's playing years, his Master Set consists of just four cards.
His rookie card can be found in the 1957-58 Topps set (#77). Poor centering, miscuts and print snow all tend to plague this card. Of the 415 Russells graded, there has yet to be a PSA 10 and there are just three PSA 9s. A PSA 8 sold for $4,915.20 in a Mastro Auctions sale in December 2007.
Rakosi owns two of the PSA 9 rookies.
"That's a really hard card, especially finding it centered," he said.
Steven Lambert, who owns the registry's No. 4 Russell Set, says that the 1957-58 card is much more difficult to uncover in top condition than Russell's regular 1961-62 Fleer card (#38).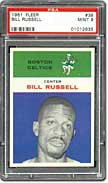 "You see those fairly regularly," said Lambert of the 1961-62 Fleer cards. "It's easier to get in better shape."
Of the 527 regular, 1961-62 Fleer Russells graded, there has yet to be a PSA 10 and there are 22 PSA 9s. A PSA 9 sold for $3,000 in a Mastro Auctions sale in May 2008.
Russell is also featured on a 1961-62 Fleer In Action single (#62). No PSA 10s exist of this card and there are just 17 PSA 9s. A PSA 9 sold for $735 on eBay in January 2007.
The most elusive Russell card, however, is his 1968 Topps Test issue (#4). The singles in this 22-card offering boast a black and white photo on the front, accompanied by the player's name, team and height. The card backs are a piece of a puzzle that showcases Chamberlain dunking. The origins of this issue remain a mystery. Some hobbyists believe it was produced internally by Topps and never marketed externally.
For many years, hobbyists were uncertain if there was a card #1 and card #4 for this set. These cards turned out to be Chamberlain and Russell respectively. Seven Russells have been evaluated, and there are two PSA 8s. No graded Russells have been sold at major auction in recent years.
"That's extremely hard to get. I can't imagine how much a Bill Russell would cost," said Lambert.
"My guess is that a Russell (PSA) 8, if it came up for sale today, would be $9,000 or $10,000," said Rakosi.
And with Russell returning to the public spotlight in recent years, it might even sell for more. This rise in hobby popularity seems fitting for a basketball pioneer and Celtics legend "who just won."
---
Please feel free to contact Kevin Glew at [email protected] if you have any additional information or comments. Mastro Auctions and Michael Rakosi provided pictures for this article. Please note that the Population Report figures quoted are those as of press time.