As a young boy growing up on New York's Long Island in the 1970s, Rob Rosen was a prolific letter writer. He didn't correspond with his friends or family members nor did he pen pre-pubescent puppy love missives to any childhood sweethearts. Rob wrote to athletes - the big name athletes of the era that he watched on television.
"I would send them a self-addressed stamped envelope and almost every player I wrote to mailed something back," says Rosen who still harbors a good solid dose of shock that he received so many replies. "I would send them trading cards and they would sign them and return them to me. Sometimes, they would even include something else like a signed photo. Roger Maris wrote back to me. So did Henry Aaron. I couldn't wait to get home from school to see who had written back to me. I got responses from Gayle Sayers, Dick Butkus, Johnny Unitas - that was when I first started getting really excited about collecting. Today, that would simply never happen. Today, you would never receive a personal response from a player being as that they all have deals with one company or another. It wasn't a business back then, it was purely a hobby."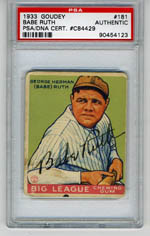 Once Rob made the decision to transition from being a serious hobbyist to a professional dealer, he realized he would have to do something to distinguish himself within the hobby. "I knew that there was a void in the hobby that needed to be filled," says Rob. "No one was willing to inventory and deal in extremely high-end, vintage, investment quality items. You would find this stuff at auction, but not with dealers."
Rob says that while most Long Islanders were National League fans, he rooted for the New York Yankees. He was also a big fan of the Jets and Knicks and especially loved the New York Islanders who played at Nassau Coliseum. "When I was in high school, in the early 1980s, I lived two miles from the Nassau Coliseum. I used to go over to the hotel where the Islander's visiting team would stay on a hunt for autographs. I had it all figured out. I would get there before the team bus arrived when the players were all assembling in the lobby. I got them to sign all sorts of things. Today, people do that all the time, scope out hotels where teams are staying, but back then, I was the only one there. I met Wayne Gretzky and all the players from the Edmonton Oilers before they won the Stanley Cup."
After graduating from college, Rob went on to earn a law degree from Brooklyn Law School. While most of his fresh-out-of-law-school young attorney colleagues were frantically trying to wave their Juris Doctor diplomas under the noses of any big law firm that would give them the time of day, Rob took another direction and began pursuing work in the recording industry. A huge music fan who loved going to the theatre and concerts, Rob ultimately landed a gig as the regional director of promotion and marketing with Atlantic Records. "I was the one who got the songs played on the radio," says Rob. "I got to work with artists like Hootie and the Blowfish, Matchbox Twenty, Phil Collins and Jewel."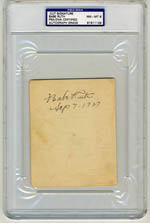 While Rob loved music, the music business proved to be a bit too corporate for his liking. During that time, he was still actively collecting all sorts of sports memorabilia and his evenings were spent communicating with other collectors and dealers and perusing collector catalogues, magazines and the Internet in search of new items.
By 2006, fed up with the corporate world and resettled in Palm Beach, FL, Rob decided to turn his lifelong hobby into a full-time career. "I wanted to start my own sports collectibles business for some time and figured I had already been working as a buyer and a seller during the evenings and on weekends so why not take it to the next level," Rob explains. I had been a big collector for so long and had built relationships with all the serious players from the dealers to the auction houses. So, I turned my hobby into a career and opened Babe Ruth Autographs.Com."
Today, Rob identifies his typical client as the person who has the desire and the financial wherewithal to own the best the hobby has to offer. "I don't deal with the guy who wants to buy a David Ortiz signed baseball for $75," says Rob. "The people I deal with want the best of the best. They want investment quality items. If someone is looking for a signed Ty Cobb ball, they are out there. You can find them easily online or through just about any dealer. However, if you want the best of the best quality Ty Cobb signed ball, that's the niche I deal in. I buy with the eye of a collector, and the reason I have been successful in dealing with these items is that I may not sell a certain item for three years. That's fine with me. Because even by not selling the type of items I deal in, they are still making me money sitting in my inventory."
As an example of that, Rob points to a Babe Ruth signed Christmas card that he recently sold. "I had that for over three years and originally had it listed for $10,000," says Rob. "No one called me about it. So, after a while, I raised the price to $12,000 and still no one bought it. The following year, I raised the price to $14,500 and I sold it. Some might wonder where was that buyer when I had the piece at $10,000. The answer is that when you deal in high-end items it just takes the right person at the just right time to see what I saw in the item. When you are dealing in the very best items, they continually increase in value. So, the longer I have something, the more its value increases."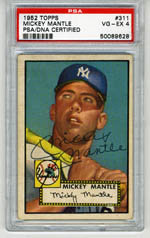 Rob also points out that his business is different than others in that his is not the place to negotiate deals. "I get calls from people all the time who tell me they love something they have seen on my site and want to know if I can lower the price. My answer is no," says Rob matter-of-factly. "I don't negotiate price because the items I am offering are not going to be easily found, and in some cases, like with the Ruth signed card, that's it. That's the only one. They just don't exist. Even though this is my business and my livelihood, I still have a hard time parting with this stuff. I get a bigger "high" from buying something then I do selling it - that's the collector in me. There's currently a beautiful Ruth signed Goudey card on my site and I'll be sick when I sell that. I know that sounds crazy but I know you can't just go out and replenish the inventory. Many of the things I deal in are one-of-a-kind items so I know that once it's gone, it's gone. When I sell that Ruth signed Goudey card, I know I will never have another one - it just doesn't exist. But that's what makes what I do special. My theory is that if you only deal in the most unique and special items, you will ultimately deal with the collectors who demand the most unique, best of the best that the hobby has to offer - that is my clientele."
Rob also believes that as a dealer of high-end items it is his moral responsibility to be a guardian of the integrity of the hobby. He also strives to make sure that his clients are knowledgeable and educated so they know they are getting an authentic item at a fair price.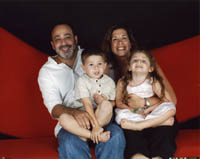 "It is the responsibility of any dealer to educate their clients and, the number one rule I tell everyone I deal with is to buy what you like," say Rob. "The second rule is to buy knowledgably so as that you are not buying to lose. My clients love the things they buy from me but they also understand that these things are investments. It's like buying a house. Unless you are purely an investment buyer, you don't buy a house that you are going to live in thinking this better go up in value next year. You buy it because it is a place that you want to live and can be comfortable in. But you are also not going to buy something that has very little chance of increasing in value or that will clearly lose some of its value. When you are buying a $30,000 item, you want to kick the tires. You should ask a lot of questions and be very sure about what you are buying. You can make a mistake buying a Derek Jeter signed baseball and it's not going to kill you. You don't want to make a mistake on a Babe Ruth signed baseball or a Lou Gehrig signed photograph. I don't want people to make mistakes. When someone buys from me, I want them to have the highest level of comfort. That is why I have never had an item returned."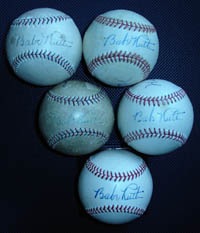 Rob says that along with his work with high-end collectors, he also works with many dealers. "A lot of dealers are not interested in keeping an inventory of high-end items,' Rob explains. "I don't know of any other sports dealer besides myself who has an inventory of at least 15 Babe Ruth balls at any one time. Most dealers don't carry any Ruth signed balls. But they know that I do, and so when there is a client out there looking for a Ruth signed ball, I know something is up about it because my phone starts ringing. When I get four dealers in a day all looking for a Ruth ball, I know that something is up."
As a life-long collector himself, Rob has amassed a magnificent collection of game-used bats. "I have owned two Babe Ruth bats that are graded PSA/DNA GU 10, a Mickey Mantle bat graded PSA/DNA GU 10, and bats that were used by most of the 500 Home Run Club. I also have a lot of very nice Ruth and Gehrig items tucked away. I have one of the nicest Ruth signed balls in the country and I have no desire to sell that."
Outside of running his business, Rob says he spends a lot of time with his wife, Wendy, and their five-year old twins, Zachary and Jessica, who have no interest in their dad's business. "They have no idea what I do," laughs Rob. "Now, if I dealt in Speed Racer items then that would be something else." He also loves going to concerts but says he doesn't really have many other outside interests being as that his business is his interest. "What I do for a living is fun. I'm lucky enough to have turned my hobby into a career and if you do that you never have to work a day in your life. What I do today is what I used to do purely for fun when I came home from work and on weekends. This is what I would do if I wasn't working."
Rob says that his typical day consists of keeping tabs on every major auction, placing listings on eBay, scouring eBay and other dealers' web sites to see what is being offered. "I'm always looking to purchase private collections, taking care of advertising and fielding the phone calls that come in, so that keeps me busy."
As a major player in the high-end sports collectibles market, Rob says he is acutely aware of how important PSA has been to the hobby. "PSA provides consumer confidence - period," says Rob. "People should always be leery about buying sports collectibles. The first thing I explain to prospective clients is what PSA does to authenticate items and that I do not personally authenticate my own stuff. When I have PSA authenticate something, it gives me and my client the highest level of consumer comfort."
Rob says his clients comfort level is paramount to him. "I will never sell anything that has not been authenticated," says Rob "At the end of every day, I have to look at myself in the mirror and sleep at night so I want to always end my day feeling I have done right by everyone I deal with. That doesn't mean that I am not in this business to make money. I am not running a non-profit company. I am in this business to make money. But if you don't conduct yourself in the highest ethical way, that will get around fast."
Rob says that unscrupulous dealers don't just hurt the hobby, they hurt themselves. "I have a passion and a love for this hobby and I know how very lucky I am to be in it. That is why I hate to see people abusing it and giving it a bad name. I would never sell an item to anyone for more than it is worth," says Rob. "Besides being wrong and unethical, there is another reason I wouldn't. When you deal with the type of stuff I deal in, and when you deal with the type of people I deal with, there is no reason to slam them in any way. The reason for that is if you slam them you are doing something that will eventually eliminate that buyer who has the potential of being a serious high-end collector in the hobby. If I am dealing with a guy who has a half a million dollars to spend on great vintage material and he got slammed by having been sold an item for $50,000 that was really worth $20,000, he is going to find out that he was taken advantage of. Then, the dealer who slammed him gets his reputation soiled and the buyer is going to say 'I'm moving on because I was slammed in the sports hobby so let me go back and buy more antiques or a Chagall painting'. So, I believe that, as a dealer, you have a moral responsibility to your client, yourself, and the betterment of the hobby, to be fair and offer the client the best price at the highest comfort level."
Realizing that many of his clients are buying with an eye to the investment end, Rob says he believes high-end sports items will not just hold their value but will greatly increase in value. "In 10, 15, 20 years from now, high-end stuff is going to all be worth much more than it is today, Rob reasons. "I've been closely watching this hobby for over 25 years and what I have seen is that the high-end, top quality stuff has consistently gone up. In a good economy - in a bad economy - it makes no difference when you are talking about high-end items. I really think we are just beginning to scratch the surface on how high the value and desirability of these items are going to go. The explosion is coming as we see the crossover from other non-traditional investment markets such as fine art, antiques and fine wine. The people who deal in those things for investment purposes are the ones who are also attracted to high-end sports items. When I'm dealing with a collector who lives in a $10,000,000 home in the Hamptons who has four Picasso paintings hanging on his wall that are worth a quarter of a million dollars apiece, I tell him that if he buys a $30,000 dollar Babe Ruth signed ball and he puts it on a stand in a glass case next to the Picassos, no one coming into his house will ever notice the Picassos anymore. If he puts a Babe Ruth game-used bat that has been graded by PSA in a case next to those Picassos, I guarantee you no one will notice the Picassos. They will want to take that bat out of its case and hold it and pose with it in front of a mirror. They will want to know the story behind it and how he got it. And he is going to love telling them about it much more than he is going to love taking about the Picassos. So, once that type of person gets to the point that they have a better understanding and a higher level of confidence in sports items, this stuff will explode. The future of high-end sports collectibles will be very exciting and the only reason we are not already there is because our hobby is really still in the early stages of breeding consumer confidence. PSA is a major player in bringing that confidence to the market and they will play a huge role in that consumer confidence going forward."
Asked why he believes the items he deals in strike such an incredible passion and emotion with people, Rob says it's not really something you can explain. "What drives a collector to collect sports memorabilia and autographs? I think there is a common thread with any collector who is attracted to autographs - they have a strong passion for history. Almost all autograph collectors are also history buffs and by obtaining an autograph they, to some degree, become a collector and curator of history. But the fact of the matter is if you have to explain to someone why these items are so valuable they are never going to get it. Take a Babe Ruth signed ball for example. In essence, it's a nickel worth of ink on a $2 ball. But by combining those two elements it becomes a highly sought-after piece of American history that can be worth $50,000. When you talk about Babe Ruth today you sometimes don't know if you are talking about someone who really lived or a mythical figure like Paul Bunyan. He has become such a legend, it's hard to think of him as a real person. But when you look at a ball that he actually held and signed, it makes him real."
Rob went on to say that as someone who has been involved with sports and sports collecting all his life, he has come to understand that there is a connection with sports, especially with the game of baseball, that goes beyond any common sense or logic. "It binds generations," he opines. "It binds fathers and sons in a way that cannot be explained. It's James Earl Jones as Terrance Mann in "Field of Dreams" when he tells Ray that there has been one constant through all the years - baseball. 'America has rolled by like an army of steamrollers. It has been erased like a blackboard, rebuilt and erased again. But baseball has marked the time. This game is a part of our past Ray. It reminds us all of what once was good, and could be again.' Why should someone pay thousands of dollars for something signed by Ty Cobb or Babe Ruth? Because they have stood the test of time and the items associated with those players, from the first half of the Twentieth Century till the 1960s - their bats, and cards and autographs will continually rise in desirability and value because of supply and demand. Today's game-used material is saved quite a bit. There is a ton of it out there. As far as produced collectibles - such as cards - from the 1980s to the present, they were mass produced in quantities that had never been seen prior to that time. And with signatures - Derek Jeter has already signed his name more times than any vintage player ever did - and he will continue to sign for maybe the next 50 years. So, it will always be the vintage items that will be the most desirable and valuable.
For more information on high-end collectibles, you can contact Rob by phone at (561) 799-0573, by e-mail at: [email protected], or log on to his Web site at: www.baberuthautographs.com