Karl Marx requests copies of a decades-old
article in this 1879 letter, penned in his
distinctive tiny hand from his final residence
in London.
AMHERST, N.H.— Bidders will be seeing "Red" at R&R Enterprises' October auction, commencing September 29, which features a scarce English-language letter from the influential philosopher, political theorist, and author Karl Marx.
In the 1879 letter, written from Marx's final residence in London to a member of the Collet family, the Communist icon requests copies of his article "Revelations of the Diplomatic History of the 18th Century." The article had originally been serialized two decades earlier in the journal The Free Press: A Diplomatic Review, edited by C. D. Collet.
Among the presidential offerings is a war-dated letter from an "exceedingly mortified" George Washington, who orders the procurement of much-need clothing for underequipped troops. Other standouts include a signed engraving of John Quincy Adams, one of the earliest autographed images of an American president in existence, as well as a letter penned in the hand of Oliver Ellsworth, the Union's first Civil War casualty, and signed by his Commander-in-Chief, Abraham Lincoln.
Historical highlights include a scarce document signed by Pennsylvania founder William Penn; a handwritten letter from Peter the Great; a bankruptcy document signed by Benjamin Franklin; a Virginia land grant signed by Patrick Henry; an oversized photo inscribed by Thomas Edison to an employee; and a signed photo of "Red Baron" Manfred von Richthofen in uniform.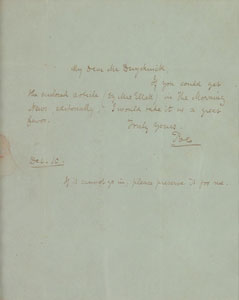 In a "fatal attraction" worthy of a horror icon,
Poe seeks a favor for an obsessive admirer
who later tried to destroy his reputation
in this circa 1845 letter.
Of particular interest among the art and literature offerings is a rare letter from Edgar Allan Poe seeking a favor on behalf of Elizabeth F. Ellett, an obsessive writer who would soon try to destroy his reputation by planting rumors of a scandal that never took place. Also featured is a letter from Herman Melville, a selection of signed Disney items, and an original Peanuts strip featuring Charlie Brown and Snoopy in a "pillow talk."
Music and entertainment treasures include a handwritten letter from Brahms to his publisher in which he fears being viewed as a "vain and conceited composer"; a remarkable jazz reference signed by more than 225 greats, including John Coltrane and Thelonious Monk; and a handsomely bound Gone with the Wind script presented by David O. Selznick to an important backer. B-movie fans will stand up and cheer for an elusive letter from legendary Plan 9 from Outer Space and Glen or Glenda? director Ed Wood to science-fiction pioneer Forrest J. Ackerman.
Exceptional sports items include a check twice signed in full by Babe Ruth less than two months before his death, as well as a signed first-edition copy of his memoirs; a note from Joe DiMaggio regarding the business interests of wife Marilyn Monroe; and a book on Native American football players signed by Jim Thorpe.
R&R Enterprises' October auction ends on October 15. Bids are accepted online or via telephone, fax, or e-mail. For information, visit the R&R web site at www.rrauction.com or contact Elizebeth Otto at elizebeth@rrauction.com.