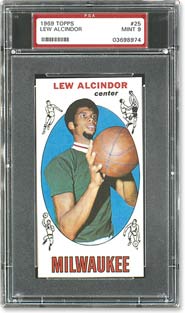 It would be a "tall" order to find a hardcourt issue that's more significant than the 1969-70 Topps Basketball set.
Showcasing skyscraping hoopsters on a long and lean design, the nearly 40-year-old Tall Boys series remains highly coveted.
"It's definitely one of the key basketball issues," said David Glickfield, who owns the registry's No. 5 Current Finest set.
Jon Darby, another Set Registry enthusiast, agrees.
"There's an argument for it being the No. 1 basketball set of all-time. The reason being is the '48 Bowman, with the exception of (George) Mikan, even huge basketball fans, can't tell you who's on those cards," he said. "The '61 (1961-62 Fleer set) is a really cool set . . . (but) even in that set there's quite a few players that people don't know. But with the '69 set you can go down that list and with the exception of maybe 15 players, they're all names that you still remember. It's just chock-full of great players."
Measuring 2-1/2" by 4-11/16", these singles were distributed in 10-card packs that included gum and a pin-up insert. Color photos are framed in an oval on the front, with the player's name and position indicated at the top of the card. The team name is emblazoned across the bottom and biographical information, statistics and a cartoon providing more player data is showcased on the backs.
Likely due to licensing issues, team logos are not featured. It appears that some players were asked to wear their jerseys backwards to comply with licensing restrictions.
This set's 99 cards were printed on a sheet that boasted nine rows of 11 cards. The last card on the right in the bottom row was the checklist, a sheet position that has made it vulnerable to condition flaws.
"The centering is always just terrible (on the checklist), plus it's the last card in the set. With those two things combined, it's always got a lot of wear," said Glickfield.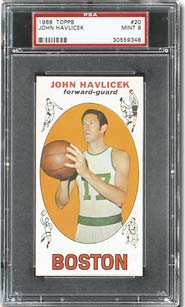 Allon Kesselman, who owns the No. 15 Current Finest registry set, concurs.
"I've looked at a lot of these checklists over the years and a lot of the times it has been miscut or off-center," he said.
On top of poor centering, the checklists were often marked up by collectors. Just three have been deemed PSA 9s, and a PSA 7 netted $515 in an eBay auction in April 2007.
Rife with rookies of Hall of Famers, this set includes the cardboard debuts of Dave Bing, Bill Bradley, Billy Cunningham, Dave DeBusschere, Walt Frazier, John Havlicek, Connie Hawkins, Elvin Hayes, Jerry Lucas, Earl Monroe, Willis Reed, Nate Thurmond and Wes Unseld.
"Since there was a gap between the '61 (1961-62 Fleer) and the '68 Topps Test, this was the rookie card of all the guys that started after '61... You just have a plethora of Hall of Famers and real quality ballplayers," noted Geoff Burt, who owns the registry's No. 7 Current Finest set.
The most notable rookie is, of course, Lew Alcindor (#25) – later known as Kareem Abdul-Jabbar. Of the 943 Alcindors evaluated, there have been two PSA 10s, 14 PSA 9s and 108 PSA 8s.
"For the Alcindor rookie –a major, major rookie – to only have 108 (PSA) 8s – I think that says something. If you look at any of the other sets from that same time period, football or basketball, that's one of the lowest (PSA Populations of a superstar rookie). If that's not the lowest, then it's up there," said Glickfield.
A PSA 9 Alcindor sold for $10,143.80 in a Memory Lane auction in September 2007.
The Havlicek (#20) is also a popular card. There is one PSA 10 and 13 PSA 9s of the Celtics legend. A PSA 9 sold for $5,248 on eBay in March 2007.
"The Havlicek card is gaining a lot of momentum. I've seen some pretty big prices paid for that," said Burt.
Also included in this issue are singles of legends like Oscar Robertson (#50), Jerry West (#90) and Wilt Chamberlain. Wilt the Stilt is featured on the first card, making his single difficult to uncover in top condition.
"That (card) is really hard because you've got the first card, plus it's Wilt, so everyone is after it," said Kesselman.
Darby concurs.
"That Wilt Chamberlain card is very popular. It's a very difficult card to find in high-grade," he said.
Of the 440 Chamberlains graded, there has yet to be a PSA 10. There are just eight PSA 9s and 61 PSA 8s.
Tom Meschery (#19) and Joe Caldwell (#41) are two commons that are elusive in mint condition. There has not been a PSA 10 example of either of these cards and they have just two PSA 9s – the lowest number of any card in the set. In a Memory Lane auction in April 2007, a PSA 9 Meschery sold for $713.23.
Poor centering is the most common flaw with cards from this issue.
"The centering is always a problem – especially the side-to-side. The oval sneaks up on the side real quick, and it's really noticeable because there's not a lot of room on either side anyway," said Glickfield.
Trimming is also relatively common.
"That's probably one of the biggest problems with people jimmying with the cards," said Kesselman. "I had one or two that I submitted that came back trimmed that I bought from dealers over the years."
The size of these cards also makes them tough to uncover in high-grade.
"There wasn't proper storage media for them for many years. People didn't have holders for them," said Kesselman.
Darby, who collected these cards as a kid, agrees.
"They didn't even have pages or anything that you could put them in," he said.
The pin-up inserts included in packs are known as "Rulers." Measuring 2-1/2" by 9-7/8", these collectibles are printed on thin paper stock and feature cartoon drawings of players to the right of a ruler. An arrow pointing towards the ruler indicates the player's height. There was supposed to be 24 inserts, but No. 5 (reported to be Bill Russell) was not issued. Alcindor, Havlicek, Chamberlain and West are among the superstars featured.
"They're fun because you can see the players and their heights on them and they can be tough to find in good shape too," said Kesselman.
The Rulers enhance the collectibility of this popular set, which continues to rank as one of the most coveted hoops issues of all-time.
"The '61 (1961-62) Fleer, the '69 (1969-70) Topps and '86 (1986-87) Fleer, those are the three marquee collection years in basketball," said Burt.
But after close to 40 years, it's clear that it's still a "tall" order to find a more significant hardcourt issue than the 1969-70 Topps set.