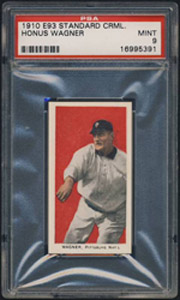 (TUSTIN,CA) Just weeks before department store Christmas catalogs begin showing up in mailboxes of families across the country, sports collectors found their preferred wish book again chock full of incredible vintage cards and memorabilia. Memory Lane Incorporated's Hot Summer Classic Rarities catalog sale was simply loaded with quality. And no one had to wait until Christmas to get a look at the goodies. The sale closed over the weekend with a lot of happy winning bidders awaiting their packages like kids on Christmas morning.
Over 1300 lots were sold in the auction, which closed in the wee hours of Sunday, September 14. The sale was highlighted by a 1910 E93 Standard Caramel Honus Wagner card in astonishing PSA 9 (Mint) grade, which brought a realized price of $218,549.99. The stunning card had been part of a recent discovery of similar high-grade issues. E93 is one of the most popular pre-War vintage baseball card issues, with eighteen Hall of Famers featured in the 30-card set. While the famed T206 Wagner card often generates hobby headlines, this sale is generating a buzz of its own. The last bid, registered late Saturday evening, was $186,000. The 17.5% buyer's premium pushed the total passed the $200K mark, easily setting a record for an E93 Wagner.
Record-smashing prices have become the norm at Memory Lane Inc., and the auction proved that true collectors will go to the mat for truly special items. Total sales for the auction exceeded a whopping $2.75 million, similar to the figure reached in the company's last sale, just four months earlier. Bidding took place by phone, internet and fax over a three-week period. In a perpetual treasure hunt for quality sports cards and memorabilia to offer its large and ever-growing list of customers, MLI again came through with a diverse catalog full of sports collectors' eye candy.
"What is unbelievable about this event is that we had just come off our record-setting auction in May and fired back with this auction," said J.P. Cohen of Memory Lane. "The quality of the pieces we were able to present was incredible and even though we again had some very special, high-end cards that sold for a lot of money, we also had some things that were still affordable to average collectors."
Consignors realize that MLI is the fastest growing auction house in the sports collectible hobby, offering the best return for the confidence placed in the company and its aggressive marketing efforts. Case in point: Two other cards sold for over $80,000 in the auction. 32 different auction lots brought at least $10,000 each.
A 1951 Bowman #253 Mickey Mantle rookie card graded SGC 96 (mint) was purchased for $88,125 while an 1887 Four Base Hits James Mutrie in PSA 5 condition sold for $83,092. Two other 19th century cards brought impressive winning bids; an 1886 N167 Old Judge Roger Conner (PSA 3) went for $28,724 while an 1887 N370 Lone Jack Charles Comiskey (PSA 4) sold for $22,849. A high-grade 1911-14 Brunners Bread Ty Cobb went to a new home for $21,992.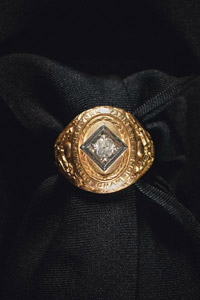 Throughout its history, MLI has been a magnet for consignments of mint and near mint, graded and authenticated sports cards and baseball is typically king of the hill with collectors who seek only the finest graded examples flocking to the sales which are never without a large cache of cards limited in supply and dazzling in condition. A 1952 Topps Pee Wee Reese from the rare series and graded PSA 10, started a bidding war that ended at $53,462. Another 1952 Topps rarity, a #337 Jim Hearn graded PSA 8.5 sold for $5076. A 1953 Topps Willie Mays graded 8.5 sold for $30,526.
Two of baseball's most popular collectible players showed strong results amid the array of superior 1960s cards offered. A 1961 Topps PSA 10 Roberto Clemente sold for $25,092 and a 1962 Topps Sandy Koufax, graded PSA 9, brought $24,651. Meanwhile, a 1960 Topps Willie McCovey rookie card (PSA 9) peaked at $6703 while a 1959 Topps #82 Bob Boyd 'common' card proved not so common in the eyes of collectors seeking a gem mint example. The Boyd card, graded PSA 10, soared to $5076.
Football collectors found a number of targets to chase, highlighted by a pair of early 50s gems. One of only two 1952 Bowman 'large' football #144 Jim Lansford cards graded PSA 9 sold for $25,517 while a stunning and one-of-a-kind PSA 10 1951 Bowman rookie card of Tom Landry brought $19,642.
A run of late 1940s and early 50s baseball cards found a legion of fans who pushed bids higher as time ticked down in the auction. While the Mantle rookie soared highest, a PSA 10 1949 Bowman Billy Cox reached an impressive $13,598. A high-grade rarity, the 1950 Bowman Mel Parnell in PSA 8 grade, sold for $10,795. Other sales from the era included: 1948 Leaf Babe Ruth (PSA 8) $8383; 1949 Bowman Jackie Mayo (PSA 9) $6141; 1949 Bowman Frank McCormick (PSA 9) $5076; 1949 Bowman Eddie Waitkus (PSA 9) $4097; 1953 Topps Gil McDougald (PSA 8.5) $3078 and a 1951 Bowman Joe Page (PSA 8.5) $2238.
1933 Goudey collectors were impressed by a PSA 9 Lafayette Thompson card with $13,902 required to nail down a terrific addition to the ever-popular set. Not far behind was a '33 Goudey Adam Comorosky (PSA 9) that sold for $7260. Other pre-War card highlights included a 1913 National Game Ty Cobb (PSA 10) $7376 and a 1915 Cracker Jack Zach Wheat (PSA 8) $7364. PSA's move to half-point grading scales helped push a pair of 1941 Play Ball cards. An 8.5 Whit Wyatt sold for $3078 while a Luke Hamlin, also graded 8.5, went for $2798.
There was, however, ample proof that cards need not be ancient to attract an audience. The world's finest 1978 Topps baseball set, including 537 PSA 10s, ranked #1 of all-time on the PSA registry, sold for $24,929.
The number of bids and realized prices weren't confined to one era or specialty. Memory Lane offered lots ranging from rare vintage hockey cards to modern-era memorabilia. Leading the hockey parade were two completely-graded Parkhurst hockey sets. The #1-ranked 1954 set sold for $21,992 while a graded 1961 Parkie set brought $8175.
Among the many lots of memorabilia sold by Memory Lane was a 1936 Monte Pearson World Series ring. Pearson was a key player in what would become the first of four Yankee titles in the Gehrig-DiMaggio era, winning game four of the series against the New York Giants. The ring brought a final price of $31,979. A 1973 Hank Aaron signed road jersey graded A10 by MEARS, sold for $24,342 while an official American League baseball signed by Babe Ruth is headed to the happy winning bidder at a price of $23,167. Other eclectic pieces ranged from a 1943 Green Bay Packers team signed photo including Curly Lambeau and 29 others ($7183), to a signed Mickey Mantle Mitchell & Ness flannel jersey ($4014) to a 1930s Luke Appling glove ($3466) to a Carlo Gambino signed, framed cancelled check with photo ($3386).
Complete results for the 2008 Hot Summer Classic Rarities Auction can be found on the MLI website.