It's only fitting that Ty Cobb and Sam Crawford share the same legs on a baseball card. After all, the Tigers teammates formed one of the best double steal combinations in major league history.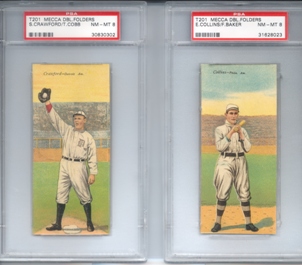 The Georgia Peach and Wahoo Sam are featured together in the 1911 T201 Mecca Double Folders set. Singles from this series showcase one player when the card is open and another when it's folded. The design dictates that both players employ the same pair of legs.
"Sam Crawford is actually one of the few people that Cobb tolerated, so it's kind of neat to have them on the same card," said Brian Weisner, who owns the No. 9, T201 set on the PSA Registry.
Of the 211 Cobb/Crawford cards submitted, the highest grade recorded has been PSA 8. One PSA 8 example netted $11,824 in a Mastro Auctions sale in October 2006.
"That's (the Cobb/Crawford card) definitely the premier card in the set," said PSA Set Registry Hall of Famer, Don Spence, who owns the registry's top T201 set.
The Tiger tandem represents one of the 50 cards in this offering. Distributed with Mecca cigarettes, these unnumbered cards feature color lithographs with the player's name and team listed in the top left. The card backs are reportedly the first to boast player statistics, and also flaunt the series name (Base Ball Folder Series) and a Mecca cigarettes advertisement.
This set's innovative design has inspired a number of hobbyists to pursue it, and at 50 cards, its size is also appealing.
"It's hard to complete a T206 set these days. There are 525 cards, plus you'll never get the Wagner and the Doyle," noted Weisner.
Derek Irwin, who owns the registry's No. 12 set, agrees.
"I wanted to put my toes in the water on an early 20th century set and the T206 is a monster. This (T201 set) would probably be the easiest one to finish," he said.
Complicating matters, however, is that these cards are difficult to track down in high-grade. When PSA grades these, they take into account that they were designed to be folded, but soft corners, creases and miscuts often hamper these singles.
"The biggest problem I've seen is little pieces of paper loss on the back from the thinness of the cards. It's very easy to get a small paper nick or tear," said Weisner.
Veteran hobbyist Doug Koztoski says that centering problems are also common.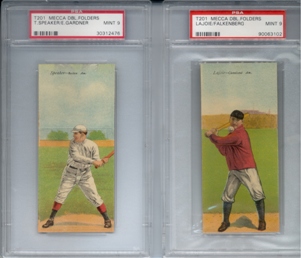 "One piece of advice I would give a hobbyist considering adding a T201 to their collection is make sure you look at the centering of the card back, because sometimes the card front looks great and the back is way off, maybe 90/10 or 80/20 – especially in the stats area," he said.
While this set is rife with Hall of Famers, one immortal who's not included is Cy Young. Hobbyists speculate that it could be because 1911 was the pitching great's final season.
Aside from the Cobb/Crawford, a number of other Cooperstowners also share cardboard in this issue. Frank Baker and Eddie Collins are pictured on the same single, as are Roger Bresnahan and Miller Huggins, and Johnny Evers and Frank Chance.
Pitching giants Walter Johnson and Christy Mathewson are also represented. The Big Train shares a card with Charles Street. Of the 151 Johnsons evaluated, there have been eight PSA 8s, one of those sold for $5,070.44 in a January 2007 Mile High Card Company auction.
Mathewson appears alongside Albert Bridwell. Ten of his cards have been deemed PSA 8s, with one selling for $3,781 in a Goodwin & Co. auction last November.
The only short-printed card showcases Patsy Dougherty and Harry Lord. Singles from this series were printed at two factories, with the factory designation being listed on the bottom of the card backs under the cigarette ad. Weisner points out that the Dougherty and Lord card is only found with the factory 649 designation and not factory 30, the second facility.
"They (Dougherty/Lord singles) weren't inserted into the packs in factory 30 and that's why there's a short print," said Weisner.
A PSA 8 Dougherty/Lord card sold for $3,523.20 in a Mastro Auctions sale in December 2006.
Irwin, who's working on his second T201 set, says the most elusive card for him has been the Charles Herzog/Roy Miller card.
"It's the lowest population card in grades (PSA) 5, 6 and 7 combined. It's got the fewest number of (PSA) 5s. It's got the fewest number of (PSA) 6s and it's right up there with the fewest number of 7s," he said. "It was the last card I found the first time I finished the set and I need it again."
A PSA 8 copy sold for $3,049.01 on eBay in June 2006.
Despite selling for hundreds of dollars each, many hobbyists believe these cards are still a bargain.
"I just don't understand why if you buy a Ty Cobb (PSA) 8 in a T206 set, it's going to run you $20,000 to $30,000 depending on which one you get. But the T201s (Cobb/Crawford singles) are $12,000 to $15,000... There's too much price disparity," said Spence.
Weisner believes that this set will rise in value in the future.
"I think it will (rise in value) because there's not that many sets from the period that have that many Hall of Famers that you can actually complete," he said.
While putting his second set together, Irwin has noticed an increase in interest in this issue.
"What's happened is the first time I did it (put the T201 set together), they were very plentiful and they were relatively inexpensive.... They're getting tougher to find. The prices have really skyrocketed in the last year or so and I just can't seem to find them like I used to," he said.
Spence shares similar sentiments.
"I know that the (PSA) population of the cards has gone up about 50% in the last four or five years," he said.
So, if you're thinking of starting a T201 set, it might be a good idea to begin now, because these sets might become a staple in vintage collections in the near future – perhaps as common as a Cobb and Crawford double steal.